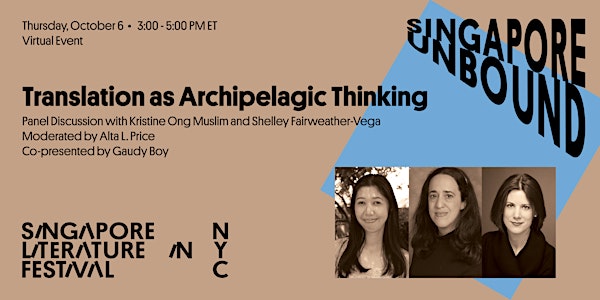 SLF 2022: Translation as Archipelagic Thinking
SLF 2022: Translation as Archipelagic Thinking with Kristine Ong Muslim and Shelley Fairweather-Vega, moderated by Alta L. Price
About this event
Translation as Archipelagic Thinking
Panel Discussion with Kristine Ong Muslim and Shelley Fairweather-Vega
Moderated by Alta L. Price
Co-presented by Gaudy Boy
Committed to carrying over the sense in one language to another, translation may, in fact, replace one language with another. For instance, the translation of a Chinese-language novel into English eliminates the need to learn Chinese in order to read the work. How may translation practice what Édouard Glissant calls "archipelagic thinking," which he defines as "one that opens, one that confirms diversity — one that is not made to obtain unity, but rather a new kind of Relation"? Translators Kristine Ong Muslim (Ulirát: Best Contemporary Short Stories in Translation from the Philippines) and Shelley Fairweather-Vega (Amanat: Women's Writings from Kazakhstan) join moderator Alta L. Price, a fellow translator, to consider this question.
Kristine Ong Muslim is the author of nine books of fiction and poetry, including the short story collections The Drone Outside, Butterfly Dream, and Age of Blight, as well as the poetry collections Black Arcadia, Meditations of a Beast, and Lifeboat. She co-edited the British Fantasy Award-winning anthology People of Colo(u)r Destroy Science Fiction! and Ulirát: Best Contemporary Stories in Translation from the Philippines. Muslim is the translator of Filipino authors Mesándel Virtusio Arguelles, Marlon Hacla, and Rogelio Braga. Her stories recently appeared in Conjunctions and Neo-Decadence Evangelion, an anthology from Zagava Books.
Shelley Fairweather-Vega is a professional translator of Russian and Uzbek, based in Seattle, Washington. She translates poetry, fiction, screenplays and more, with a special focus on the contemporary literature of Uzbekistan and Kazakhstan. Fairweather-Vega holds degrees in International Relations and Russian, East European and Central Asian Studies. As a translator, she is most interested in the intersection of culture and politics in modern history. Her published projects and work in progress are at fairvega.com/translation.
Alta L. Price runs a publishing consultancy specialized in literature and nonfiction texts on art, architecture, design, and culture. Recipient of the Gutekunst Prize, Alta's translations from German and Italian have appeared on BBC Radio 4, Trafika Europe, Words Without Borders, and elsewhere. Alta's translation of Juli Zeh's novel New Year (World Editions, 2021) was a finalist for the PEN America Translation Prize as well as the Helen & Kurt Wolff Prize, and Alta's translation of Mithu Sanyal's novel Identitti was published by Astra House this past July. Instagram: @alta_l_price