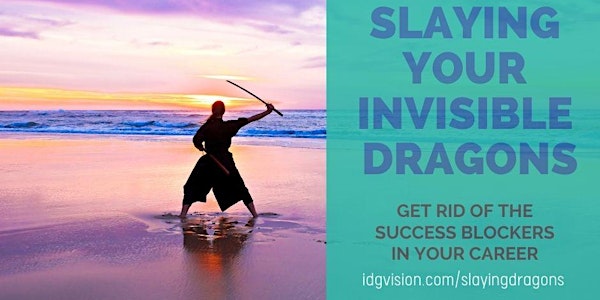 Slaying Your Invisible Dragons Mastermind
"Slaying Your Invisible Dragon" is a 4-part personal development series designed to help anyone who has struggled to achieve career success
About this event
Are you ready for the next level? Slaying your invisible dragon is about facing and conquering the fears and limiting beliefs that can hold you captive. These dragons can seem bigger than life while invisible to the naked eye. They can deprive you of the success you're capable of achieving. This group is all about getting rid of the success blockers in your path. You will create momentum by linking forces with others moving in the same direction.
Includes: 
- 4 LIVE GROUP SESSIONS: Tuesday evenings, February 22 - March 15, 2022 (Time: 7-8 pm, EST) facilitated by Dr. Andrea Bowens-Jones
- 1-ON-1 STRATEGY SESSION to maximize your growth
Registration Fee:  $350
(Limited seating. Not available to atend the live sessions? That's OK. All participants will receive the session recordings with exclusive access to the Dragon Slayer content page.)
___________
GROUP SESSION SCHEDULE:
(Tuesday, February 22, 2022 @ 7pm EST) Session 1- Knowing Your Truth.
(Tuesday, March 1, 2022 @ 7pm EST) Session 2 - Know Your Opponent.
(Tuesday, March 8, 2022 @ 7pm EST) Session 3 - Activate Your Inner Hero.
(Tuesday, March 15, 2022 @ 7pm EST) Session 4 - Sacrifice for the Win.
(Tuesday, April 12, 2022 @ 7pm EST) Celebration / Graduation
1-ON-1 PERSONAL STRATEGY SESSION:
Scheduled during the month of February at your convenience.