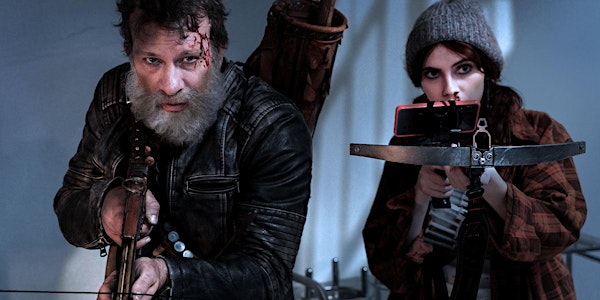 Slayers
Slayers Friday, October 14⋅7:30 – 9:30pm Q&A
When and where
Location
TCL Chinese 6 Theatres 6801 Hollywood Boulevard Los Angeles, CA 90028
About this event
Kick-ass vampire slayer, Elliot Jones (Thomas Jane), made it his life's mission to take revenge on the bloodsuckers who murdered his teenage daughter. After years of tracking them, he has finally reached their secret and hidden base. But to get to them he will need to use a motley crew of social media superstars. Enter 'The Stream Team': party-girl Jules (Abigail Breslin), gen-z pro-gamer Flynn (Kara Hayward) and their team of trend-makers and breakers! With a hundred million-plus combined followers, they have attracted the attention of reclusive billionaire Beverly Rektor (Malin Akerman), who invites them to party at her multimillion-dollar vacation compound. They soon discover these rich people are none other than the ancient vampires that Elliot Jones is chasing. When the team is being held captive in a house of horrors to serve the vampires plan to take over the world, Elliott is their only hope of survival. As he links up with Flynn, a slayer in her own right, will he take down the vampire hoard and save The Stream Team?
World PremiereRuntime: 88 Minutes
Country: United States
Directed by K. Asher Levin
Produced by Daniel Cummings, K. Asher Levin, Robert Dean, Abigail Breslin
Written by: K. Asher Levin, Zack Imbrogno
Main Cast: Thomas Jane, Abigail Breslin, Malin Akerman, Kara Hayward, Lydia Hearst, Jack Donnelly
_____________________________________________________________
$3 VALIDATED PARKING
Additional Screening Info:
Tickets are not refundable
Seating is general admission - first come first served.
Please bring your Eventbrite email confirmation with ticket pdf via your phone or printed to the TCL Chinese 6 Theaters located on the 3rd floor of Hollywood & Highland. Check in at the Screamfest Will Call table located in the lobby beginning thirty minutes prior to the screening, where you will show us your email confirmation e-ticket or printed e-ticket and we will check you in. If you cannot find your email confirmation just enter your email address at http://eventbrite.com/gettickets.
Don't forget to get your parking ticket validated at the Box Office.