Slayed Fashion Show @ Park at 14th on September 20th
Description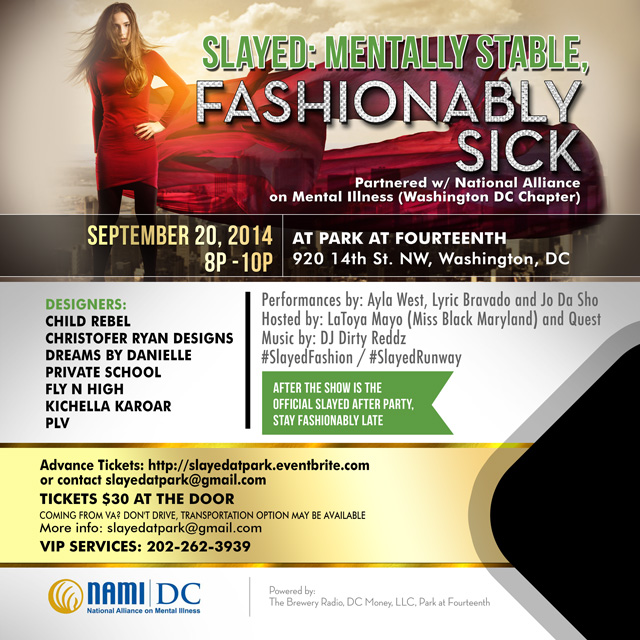 Slayed – Overachievement with excellence, swagger, domination and zeal.
Far from typical and beyond amazing, ChiChi the Vixen and CheekyTatted of "The Brewery Radio" bring you a fashion soiree that pushes beyond the boundaries of glamor and style and into the war on mental illness awareness. Slayed: Mentally Stable, Fashionably Sick takes you on an epic journey that starts on the runway with mouth dropping styles; and allows you to leave with a heart jerking responsibility to educate yourself about mental illness, detection, treatment and more.
The location for this event is the illustrious and history making Park at Fourteenth. On September 20th, 2014, from 8-10pm, we transform this restaurant/nightclub into a place of awareness for fashion and mental illness. The National Alliance for Mental Illness (NAMI), Washington DC Chapter has collaborated with this event to provide us with information, materials and even models that have been affected by mental illness. A portion of the proceeds collected at this event will be given to NAMI-DC.
---
Meet Our Designers and Musical Entertainers
Check out the designers for this event at http://www.thebreweryradio.webs.com
This event is packed with musical artist showcasing a display of vocal Excellency. Washington DC's own Alya West (http://www.alyawest.com) along with Lyric Bravado and Jo Da Sho will keep the energy flowing with amazing musical selections. The evening is POWERED by DC Money, LLC as DC's very own, DJ Dirty Reddz will be spinning. Your host for the night are none other than DC's Favorite Chicagoan, Quest, & Ms Black Maryland herself LaToya Mayo.
---
Slayed After Party and General Info
Don't leave us at 10pm!! Stick around for the Slayed: Afterparty. Meet the models, producers, designers, artist and more with an experience at Park at Fourteenth you will never forget.
Park at Fourteen enforces a strict dress code: Sports shoes, casual boots, flip flops, t-shirts, athletic apparel and tattered or ill-fitting clothing is not acceptable.
$5 Cocktail is from 8-8:30 ONLY
TICKETS are on-sale through EventBrite for $20 early bird special til 9/8 and $25 for general admission til 9/14 -http://slayedatpark.eventbrite.com
TICKETS WILL ALSO BE ON-SALE AT THE DOOR FOR $30
Are you ready to be SLAYED!!!!!
Can't make this event. Help us raise awareness on Mental Health. Donate to this event!
Organizer of Slayed Fashion Show @ Park at 14th on September 20th
The Brewery Radio are two opinionated females (ChiChi The Vixen & CheekyTatted) facilitating raw and unfiltered conversations about society's current trending issues.
The Park at Fourteenth is a four-story restaurant and lounge situated in the heart of D.C. across from historic Franklin Park. With an Art Deco vibe, low suede couches, blown-glass chandeliers, and strategically placed balconies, The Park is a good way to pass the evening, or party long into the night.
DC Money, LLC is a Community Service Entertainment company providing various entertainment services partnered with community organizers, organizations, agencies and more.  The focus of the company is to drive awareness to the community and assist in providing marketing, promitions and entertainment services.