Slavery & The Dark Side of the Renaissance

Tuesday, October 27, 2015 from 6:00 PM to 8:00 PM (MST)
Event Details
Slavery & The Dark Side of the Renaissance
A Public Symposium 
 
"The Multicolored Tragedy of Slavery in the Spanish and Portuguese Americas: Africans, Native Americans, and European Women"
Presented by Sharonah Fredrick, Assistant Director, ACMRS
"Barbary Pirates and Venetian Merchants: Ethnicity, Religion and Ancestry in Mediterranean Slavery"
Presented by Marsha Fazio, Lecturer, School of Humanities, Arts and Cultural Studies, ASU
"Linguistic Solidarity Now and Then: Pidgins, Creoles, and Digital Dialects"
Presented by Patricia Friedrich, Associate Director and Professor of Composition/Linguistics, School of Humanities, Arts and Cultural Studies, ASU
Free and open to the public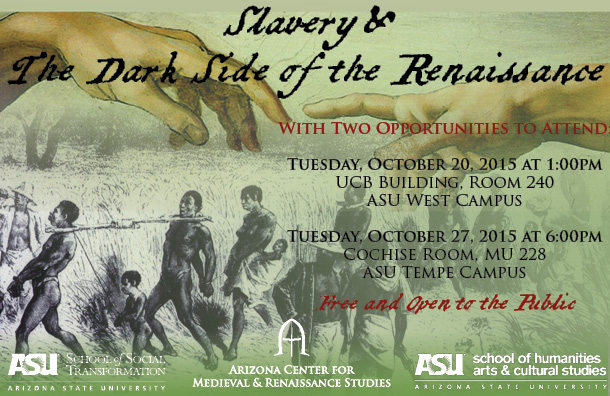 In a world where enslavement of human beings was culturally, politically and economically sanctioned, where the ruling elites of Europe and West Africa traded more than ten million of Africa's sons and daughters for guns, rum and molasses; where Barbary pirates captured and enslaved thousands of European Christians each year; where European colonizers enslaved masses of the indigenous civilizations of the Americas; and where slave-trading was the thriving and notorious "dirty business" common to all nations and peoples, the 16th and 17th centuries reveal the worldwide drama of everyone trying to enslave the "other," whatever that "other" happened to be.
When & Where

Memorial Union, Cochise Room (ASU Tempe Campus)
301 E Orange Mall
Cochise Room 228
Tempe, AZ 85281


Tuesday, October 27, 2015 from 6:00 PM to 8:00 PM (MST)
Add to my calendar
Organizer
The Arizona Center for Medieval and Renaissance Studies (ACMRS) was founded in 1981 as a state-wide research unit charged with stimulating the interdisciplinary exploration of medieval and Renaissance culture. Its activities cover a period roughly from AD 400 to 1700. ACMRS coordinates programs at ASU, Northern Arizona University in Flagstaff, and the University of Arizona in Tucson. Among the activities and programs the center sponsors are a semi-annual distinguished lecture and ad hoc lecture series, an annual distinguished visiting professorship, an annual conference, a public symposium, and summer study-abroad programs in the United Kingdom and Italy. The Center also awards undergraduate and graduate certificates in medieval and Renaissance studies to students completing required coursework.
---
MAJOR RESEARCH PROJECTS AND PUBLICATIONS
MAJOR RESEARCH FUNDING SOURCES
National Endowment for the Humanities

Program for Cultural Cooperation Between Spain's Ministry of Education, Culture and Sports and U.S. Universities

Iter Inc., (University of Toronto)

Samuel Kress Foundation

Institute for Humanities Research