Description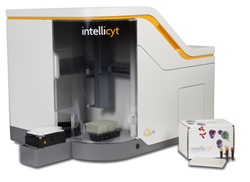 IntelliCyt's iQue™ Screener is part of a powerful new toolkit for phenotypic and target-based screening using suspension assays. This platform, which combines instrumentation, application-specific reagents and integrated multi-user analysis, enables screening of previously under-served targets. Researchers can now evaluate compound effects on primary immune system cells and molecular interactions using bead-based assays. IntelliCyt's screening platform completes the screening toolbox for cell and bead-based assays. Several IntelliCyt users will present their case studies. Seats are limited. Beverages and snacks will be provided.

Agenda

Joe Zock, IntelliCyt Corporation, Sr. Director, Product Management
Learn the latest advances in screening cells, beads, microbes and more from IntelliCyt. Discover the new MultiCyt QBead PlexScreen kits for secreted protein assays and the new iQue HD, the first 1536 system for screening in solution. This platform, which combines instrumentation, application-specific reagents and integrated multi-user analysis, enables screening of previously under-served targets and cost-effective phenotypic profiling.


Phenotypic Screening using GFP Reporter Cells to Accelerate the Search for Novel Acute Myeloid Leukemia (AML) Therapies
David Sykes, M.D., Ph.D. Mass General Hospital, Boston, MA

Acute myeloid leukemia (AML) is a devastating disease with a 5-year survival rate of 25%. One success story has been the discovery of drugs which trigger differentiation in the 10% of patients with acute promyelocytic leukemia. Differentiation therapies, including all-trans retinoic acid, are well-tolerated and extremely effective, leading to 5-year survival rates approaching 80% in the small subset of patients with acute promyelocytic leukemia. Differentiation therapy is unfortunately not available for the remaining 90% of patients with AML. We have engineered a cell line to permit the identification of small molecules that can potentiate differentiation. In this model, the cells become green fluorescent upon differentiation. We incubated cells with test compounds for four days. Using a high-throughput flow cytometry platform, the cells were screened for the combination of a built-in GFP indicator of cell differentiation as well as a confirmatory cell surface marker linked to APC.


Real World Screening with IntelliCyt's iQue Screener: Early Adopter Impressions
Sergio Lacayo, Agensys

Learn how Agensys has applied IntelliCyt technology to developing novel antibodies faster and more efficiently using IQue Screener.
---
FAQs

Are there ID requirements or an age limit to enter the event?

You must be a registered attendee of the SLAS2014 Conference in order to register and attend this tutorial.

Where can I contact the organizer with any questions?

crm@intellicyt.com

Do I have to bring my printed ticket to the event?

It is not required. If you are not registered for the tutorial we will ask that you register at entry.