Description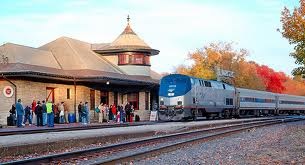 All aboard for SLAHU's Day at the Capitol event. Get your "Golden Ticket," which includes roundtrip Amtrak train service from Kirkwood Station to Jefferson City on April 5. This is a great opportunity to network, socialize or relax. No need to worry about weather and parking. All of the scheduled events are within walking distance. Amtrak departs at 9:40 a.m. from Kirkwood Station and then returns to Kirkwood, leaving Jefferson City at 7:03 p.m.
All Day at the Capitol tickets include lunch at Madison's Cafe, located near the Governor's mansion. The menu features a choice of pasta or chicken with a salad and drink. SLAHU has reserved a private seating area.
SLAHU will schedule appointments with State Representatives, Senators and key legislative staff starting at 1:30 p.m.
A house photographer will take a group picture.
SLAHU will host a reception in the third floor Rotunda from 3:30 to 5 p.m. This is a great time to visit, advocate and thank legislators.
For the train ride home, grab a bottle of wine and snacks from Cork's or Grand Cafe. Relax and enjoy the ride!