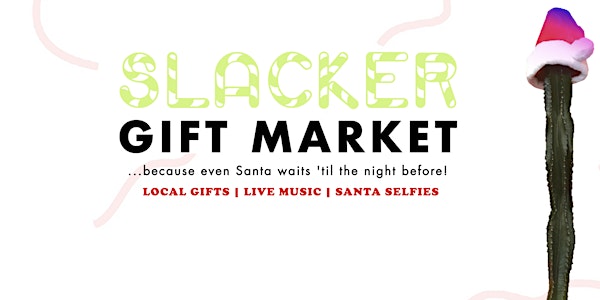 SLACKER MARKET :: a holiday gift market
Event Information
Location
Monorchid | Park
214 East Roosevelt Street
Phoenix, AZ 85004
local goods, last-minute :: a holiday gift market. local gifts. curated vintage. music. food. cocktails. beer & wine.
About this event
(ADMISSION TO SLACKER MARKET IS FREE + DONATION-BASED :: This Market is a pay-what-you-can market with a recommended donation of $5.)
Slackers, we've got you covered! Enjoy the good music, good people, and all the holiday goodies while you casually take care of this gifting business - without breaking a sweat! We've lined up some of our favorite artists, local makers & curated vintage vendors for a one-stop-shop so you can take care of your holiday gifting list or maybe just a few last stragglers in one final swoop! This year, we'll be hosting the market downtown in the Arts District all weekend long so we can take care of all you city slackers! So whether you have a few more gifts on your list or if you've finished your shopping early, come relax and enjoy those Az winter temps, local Pedal Haus craft beer + Kahvi Cafe flame-roasted-marshmallow cocktails, festive yet progressive music with RECORDBAR RADIO, a food truck picnic (BYOB Bring Your Own Blanket), 'SLEIGH' some Selfies with Santa w/ his custom lowriders, enjoy FREE brunch on Saturday, Yoga & Sound Bath w/ RoRo Flow Yoga on Sunday, painting workshops with The Painter's Lounge & Aura Photos with Cosmic Hour all weekend long, and more! Read below for more details!
::
THE ART OF SLACKING Slacker Market is excited to share with you the work of some of the best local creatives, makers and vintage curators. Please click here to see the full list of artists at this year's market.
::
MUSIC We are excited to partner with RECORDBAR RADIO, an independent arts collective exploring new pathways to community building and discovery; a hyper-amalgamation of subversive culture, media and commerce.
DJs on the line-up:
MyGodComPlex
Jules Quimby
Stellarwell-82
TK Nicholson
Ear Hustlin
Aaron Lim
Davina
Ty Hi
::
COCKTAILS, BEER, & WINE BAR hosted by Kahvi Cafe
Flame-Roasted-Marshmallow Bourbon Spiced Hot Cocoa
Classic Mulled Wine
Iced Vodka Orange Green Tea
Red & White Wine Selection
Pedal Haus Day Drinker Light Lager
::
SATURDAY + SUNDAY: LOWRIDER SELFIES with SANTA Santa will be making a (fashionably late) appearance between 12-2p on Saturday AND Sunday. All ages are welcomed and encouraged to snag a selfie with slacker Santa and his lowrider 'sleigh' provided by some of Phoenix's most iconic custom car clubs!
SATURDAY + SUNDAY: WESTWARD HOHOHO PAINTING WORKSHOPS Feeling like a slacker, but also kinda creative?!? PERFECT. The Painter's Lounge will be hosting two painting workshops daily. Seize this opportunity to become the artist you've always wanted to be and capture the magic of the historic Westward Ho building, Santa himself, a rare saguaro snowfall, or a neon winter wonderland! Workshop Times: Saturday 12p & 2pm | Sunday 12p & 2pm | RESERVE YOUR SPOT, click here. $29
SATURDAY + SUNDAY: AURA PHOTOS & READINGS w/ COSMIC HOUR Hey slacker, as the New Year approaches, we're casually recommending you ✨connect with intuition + brighten your aura with 🌈aura photographer and 🍄energy + sound alchemist Monika George of Cosmic Hour. Available inside of Phoenix General Store under the spiral staircase in the glass atrium all weekend long!
SATURDAY ONLY: FREE FRENCH TOAST & TACOS! 10am-1pm The Mana Mobile Food Truck will be stopping by to serve us FREE BRUNCH on Saturday. Mana Mobile is inspired by Teremana Tequila Founder Dwayne Johnson's famous phrase – "Mana. Gratitude. Tequila." Mana Mobile is the rolling envoy for Teremana Small Batch Tequila visiting towns, communities, and cities across the country, to Bring the Mana to America. ENJOY!
SUNDAY ONLY: SOUND BATH & OUTDOOR YOGA for SUPER SLACKERS 10:30-11:30a In the true holiday slacker spirit, we're starting off the day with some relaxation! The RoRo Flow Yoga class w/ Dani Butterly + Sound Bath w/ Holly Bennett will be popping up on Sunday to help you hurry up and slowwww down! RESERVE YOUR SPOT, click here. $25
::
CHARITY DONATION This year we will be donating 10% of proceeds of the Market to Mulligan's Manor, a group home dedicated to at-risk LGBTQIA and heterosexual teenagers. MM nurtures and empowers its youth to reach their full potential, as well as provide tools for living a safe and healthy life.
DONATE A GIFT TO A LOCAL TEEN In lieu of your admission donation, bring a gift for a teen who needs it and make their holiday a little brighter. We'll be collecting gifts this year at the entrance for One-n-Ten's Queermas Holiday Gifting Program. Shop their amazon wishlist here.
Date and time
Location
Monorchid | Park
214 East Roosevelt Street
Phoenix, AZ 85004