SLAC Public Lecture: Mutant Ribosomes and the Action of Antibiotics
Event Information
Location
SLAC National Accelerator Laboratory - Kavli Auditorium
2575 Sand Hill Rd
Menlo Park, CA 94025
Description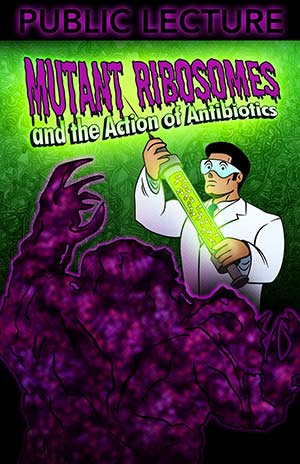 The ribosome, found in all living cells, is the molecular machine that builds proteins. It faithfully attaches together amino acids – the building blocks of proteins – in the order determined by messenger RNA molecules, which in turn follow the instructions contained in DNA. The ribosome also plays a crucial role in medicine. Most antibiotics attack bacteria by disabling their ribosomes, and the bacteria fight back with compensating mutations. Using X-rays, scientists can observe the setup of the ribosome's machinery and the changes in its structure caused by antibiotics and mutations. In this talk, we will explore how the ribosome is thought to translate the DNA and RNA codes into the amino acid language of proteins, and how the altered structures of the mutants give clues about how the machine operates.
The lecture is free, but seating is limited and registration is required for entry. If you register and later find you are unable to attend, we ask that you cancel your registration to make room for those on the waiting list.
The lecture will be streamed live for those who are unable to attend in person.
About the Speaker:
Hasan DeMirci obtained his bachelor's degrees in 2002 from Bosphorus University in Istanbul in the fields of molecular biology, genetics and chemistry. He started his PhD studies at Brown University in 2002, focusing on biochemical and X-ray structural studies of ribosome complexes in Gerwald Jogl's laboratory. In 2007, his PhD project received the Protein Data Bank award at the American Crystallography Association meeting in Salt Lake City. DeMirci continued as a postdoc at Brown University working with Albert Dahlberg, one of the pioneers in bacterial ribosome genetics. In the summer of 2008, he visited Venki Ramakrishnan's laboratory at the MRC Laboratory of Molecular Biology in Cambridge, UK, to receive training in ribosome crystallography. He started working as a visiting scientist at the Stanford Pulse Institute in May 2013 and joined the SLAC group as a research associate in 2014, working with the non-periodic imaging group and with Michael Soltis. Currently he is studying ribosome complexes using SLAC's Linac Coherent Light Source and single-molecule imaging techniques.
Date and time
Location
SLAC National Accelerator Laboratory - Kavli Auditorium
2575 Sand Hill Rd
Menlo Park, CA 94025