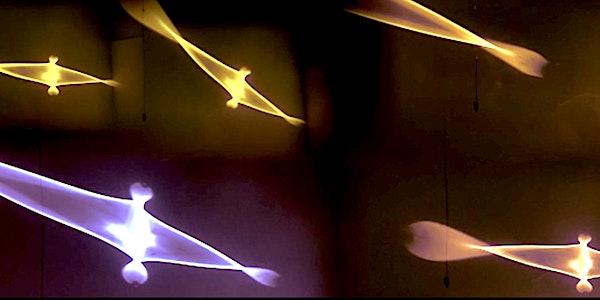 Multiple dates
Skyline Artist: Lightbirds "Fly" SalesforceTower Art Video Migration
Watch Party: Skyline Artist Therese Lahie's Lightbirds Fly Salesforce Tower!
Date and time
April 29 · 8pm - April 30 · 11pm PDT
Location
The View Lounge 780 Mission Street San Francisco, CA 94103
About this event
About this event
Skyline Artist Therese Lahie's Lightbirds Fly Salesforce Tower! Join the artist and her friends to watch the migratory light art soaring from the luxurious View Lounge atop the Marriot Marquis in downtown San Francisco.
Tickets are free, but space is limited. RSVP today!
What: Experience light artist Therese Lahie's Lightbirds fly atop Salesforce Tower
When: Saturday, April 29th & Sunday, April 30th, 8 pm to 11 pm.
Where: The View Lounge at the Marriot Marquis in San Francisco.
About The Artist:
Light installation artist Therese Lahaie is influenced by the movement of tides and migration of native seabirds she sees as an open-water swimmer in San Francisco Bay. Grounded in the rhythm of the earth's orbit around the sun, the Lightbirds are born from sunlight reflected off technically crafted optical mirrors. The Lightbirds remind us of our place on our little blue marble with its steady orbiting around the sun. The Lightbird's movement with the sun reminds us to let go of our daily hardships and fly with the currents of the air and tides of life.
Lahaie's collaborator/video editor is Hahn Nguyen from Running Reel Films, Nguyen is LA based Director, Cinematographer, and Editor and a graduate of California College of the Arts.
About The Curator:
Jim Campbell, the San Francisco based artist who engineered the Sales Force Tower display in 2018 also curates the tower artwork. Campbell invited Lahaie to fly her Lightbirds on the Tower screen. The Tower uses 11,000 RGBW LEDs to play video imagery 1000' high above the San Francisco Bay, and is experienced by 20,000 viewers daily.
Note to guests:
There is no host stand, and we will be located on the City Side of The View as that is where we can view Salesforce Tower!
We are not reserving tables
This is not a private event, The View will be open to the general public
You and your guest will have to open tabs through servers and/or bartenders
The View is first come first serve and we cannot guarantee a table
You don't have to be in San Francisco to enjoy the SalesForce Tower Lightbird performance, just watch this 10 minute video.
Frequently asked questions
Is the Marriott Hotel Event Private