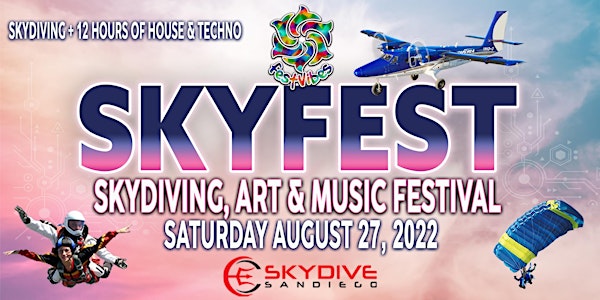 SKYFEST 2022 | SKYDIVING, ART & MUSIC FESTIVAL
Location
Skydive San Diego
13531 Otay Lakes Road
Jamul, CA 91935
Join us August 27th in San Diego, for a unique daylong music and arts festival where attendees will have the opportunity to tandem skydive!
About this event
Imagine going from the dance floor to 13,000 feet elevation and then back to the dance floor. Well, that's what you'll be able to do at SKYFEST once you purchase your Tandem Skydive ticket.
If you aren't skydiving you'll still be able to enjoy everything you'd expect from a music and arts festival but with skydiving on site! There will be hundreds of skydivers floating down all day long and the vibes are going to be incredible!
This is a one of kind event that you can be a part of. We are booking top DJs from all over the world that will have you grooving before and after you jump! It's a day you will always remember.
We have 200 spots available to Tandem Skydive with us so be sure to book as soon as possible!
The music will start at 9am and go until 9pm - "12 hours of house and techno" and will be followed by an afterparty at BLOOM nightclub in downtown San Diego.
We have shuttles for purchase that will be leaving from Law Street in Pacific Beach and dropping off there as well.
Can't stress enough there is limited capacity and this event WILL SELL OUT, so make sure to secure your spot in advance!
***This is a drug-free event, and alcohol consumption will not be permitted prior to any skydiving. If at the time of your jump, your instructor determines that you are intoxicated or not of sound mind, you will be denied your skydive with no refund. Alcohol consumption will only be permitted in a designated area to those who will not be skydiving, and to those who have already completed their skydive.***
Ticket Breakdown:
*This is a 21+ event*
TO TANDEM SKYDIVE- PURCHASE THE (GENERAL ADMISSION + TANDEM SKYDIVE) TICKET. ONCE YOU PAY THE $40 ADMISSION FEE WE WILL SEND YOU A LINK TO BOOK YOUR TANDEM SKYDIVE WHICH IS $239. WITH THIS LINK YOU CAN BOOK THE TIME YOU WANT TO TANDEM SKYDIVE AND ADD A VIDEO PACKAGE. *YOU HAVE TO PURCHASE YOUR VIDEO PACKAGE AT THE SAME TIME YOU PURCHASE YOUR TANDEM SKYDIVE*
IF YOU ARE NOT GOING TO SKYDIVE THEN PURCHASE THE GENERAL ADMISSIONS TICKET ONLY.
IF YOU ARE LICENSED SKYDIVER PURCHASE THE LICENSED SKYDIVER TICKET FOR ADMISSION ONLY.
General Admission + Tandem Skydive *Recommended!*
General Admission to Festival
Shuttle leaving and dropping off at Pacific Beach
Tandem Skydive - which will begin and land at the festival
MUST BOOK TANDEM SKYDIVE USING LINK PROVIDED IN CONFIRMATION EMAIL - $239
Be sure to arrive at Skydive San Diego prior to the specific time your Tandem Skydive is scheduled for!
Enjoy beer garden AFTER your skydive, food trucks, and other festivities
*Weight limit of 230lbs does apply*
General Admission
General Admission to Festival, with no skydive
Shuttle leaving and dropping off at Pacific Beach
Spectate parachute landings from dance floor
Enjoy beer garden, food trucks, and other festivities
Licensed Skydiver Registration
*MUST BE A LICENSED SKYDIVER*
General Admission to Festival
Limited slots available on loads
Finish your jumps with a crowd of spectators
Support your friends on their Tandems
Enjoy food trucks, festivities, and grab a drink at the beer garden when you're done jumping!
*SKYDIVE San Diego will not be providing rental gear, Must have you own!*
For more info reach out to Admin@festvibes.com
https://www.skyfest.io/