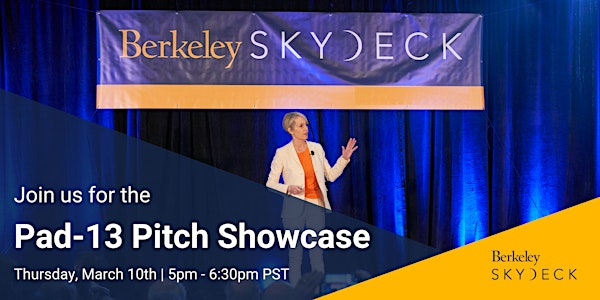 SkyDeck's Pad-13 Pitch Showcase
We're excited to invite you to check out SkyDeck's Pad-13 pitch showcase
About this event
Berkeley SkyDeck's Spring 2022 Pad-13 Pitch Showcase
We're excited to invite you to our Spring 2022 Pad-13 pitch showcase! It's a casual pitch showcase in the style of American Idol. Several Pad-13 companies will be selected to pitch, followed by one-minute feedback from each of the judges. Join us for a fun afternoon of pitches!
Judges will choose their favorite startup and the audience will also vote for an audience favorite.
Judges include: 
Caroline Winnett is Executive Director of Berkeley SkyDeck, UC Berkeley's flagship startup accelerator. At SkyDeck she leads a program that hosts over 200 companies per year.  
David Riemer is the founder of Box Out Industries where he works with entrepreneurs, business professionals, and artists to focus their ideas through the power of narrative. In short, he helps people get their stories straight.
Seth Bindernagel is an early stage scout for Sequoia Capital. He formerly worked at Twitter and Strava. He is also a Cal alum and SkyDeck advisor.
SkyDeck Advisors, Mentors, alumni founders, and friends of SkyDeck are ALL welcome!
Join us on zoom for this virtual event:
https://us02web.zoom.us/j/2122145136