Join us for a Buddhist nature-centered retreat in the historic and beautiful sky islands of Dragoon Mountains, Ariz
About this event
"Gone to a wilderness, or to the root of a tree, or to an empty hut. They sit down cross-legged, with their body straight, and establish mindfulness right there"
You will spend 10 days under the open sky, supported by stunning rock formations, bright stars, and dharma friends. There will be opportunities to practice a wide variety of nature-centered practices, in solitude under a rock or together in a group.
Prerequisites
This is a retreat for meditators that have some experience with meditation, are comfortable with hiking nature and are in moderate to good physical shape. Some trails can be steep, there is scrambeling invoved and the environment can be challenging. Cacti, mountain lions, rattlesnakes and scorpions are not uncommon.
You are expected to practice eight precepts.
Example Schedule
6:00 am Morning meditation/ Food preparation
7:00 am Breakfast and cleaning up
8:30 am Orientation
9:00 am Practise
12:00am Lunch & nap
01:00pm Practise
5:00 pm Optional tea and snack
6:00 pm Practise
7:30 pm Fireside Dharma chat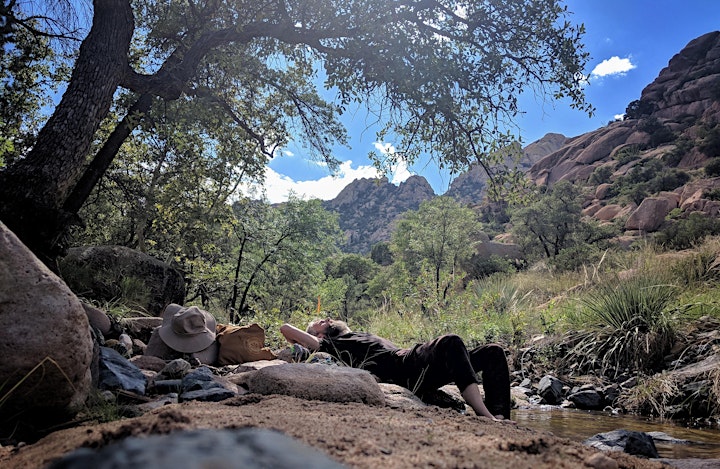 About the retreat attendant's
Rachel Perlman had been meditating for many years and have spent a lot of time doing different types of nature practise. She is engaged in environmental work and interested people's relationsship with nature.
John Williams has practiced since the 70's initially with Transcendental Meditation, and Nei Gung Meditation before coming to Vipassana Meditation in the late 90'S. He has meditated in various centers across North America and Europe and has participated in Buddhist pilgrimages in India and Tibet, he is a graduate of the MIndfulness Institute teacher training program.
Henrik A. Norberg has meditated in the mountains of Sri Lanka, the jungle of Thailand, and led forest monks on Tudong in the Mountains of Norway. He has meditated since the late '90s, is a certified TMI teacher, and is interested in traditional Anapanasati and samadhi practices.
Enrollment
The retreat is only open for 10 yogis, and a minimum enrollment of 5.
Cost
If you need transportation to and from the Tucson airport, there is a $200 roundtrip fee, which can be shared with other retreatants. Payment and arrangements must be made directly through Dharma Treasure, and are not included in retreat registration.
You will need to bring your own tent and sleeping bag. A limited number may be available from Dharma Treasure if needed - contact retreats@dharmatreasure.org to make arrangements.
All dana and proceeds after expenses will be donated to Dharma Treasure Retreat Center.