Description
Enjoy an intimate night of refreshments and socializing while viewing the classic Kevin's Room series. Attendees will enjoy the ambiance of Optima Signature's theater and gourmet kitchen, in this Streeterville highrise (with a brief tour of the amenities).
Space is limited. Reserve your spot with a $25 contribution.

.
PARKING
There is street parking on Grand between Columbus and St. Clair (one way going westbound) and street parking on Ohio between Michigan Avenue and Columbus/Fairbanks (one way going eastbound).
There is a garage at the cul de sac at the end of Illinois (City Front parking: 240 E. Illinois) going eastbound towards the lake, but it's pricey.
For rideshare (Uber or Lyft), be sure to tell your driver to travel on upper Illinois, not lower Illinois.
.
ABOUT KEVIN'S ROOM
The award-winning film Kevin's Room premeired on television in Chicago in 2001, on the UPN affiliate station, Channel 50 and was viewed by over 200,00 households.
Produced by the Chicago Department of Public Health, the film follows Kevin, a black gay social worker who starts a gay men's support group. Attended by his friends and others, they discuss such issues as HIV testing, relationships, AIDS, and sexual risk taking among black gay men.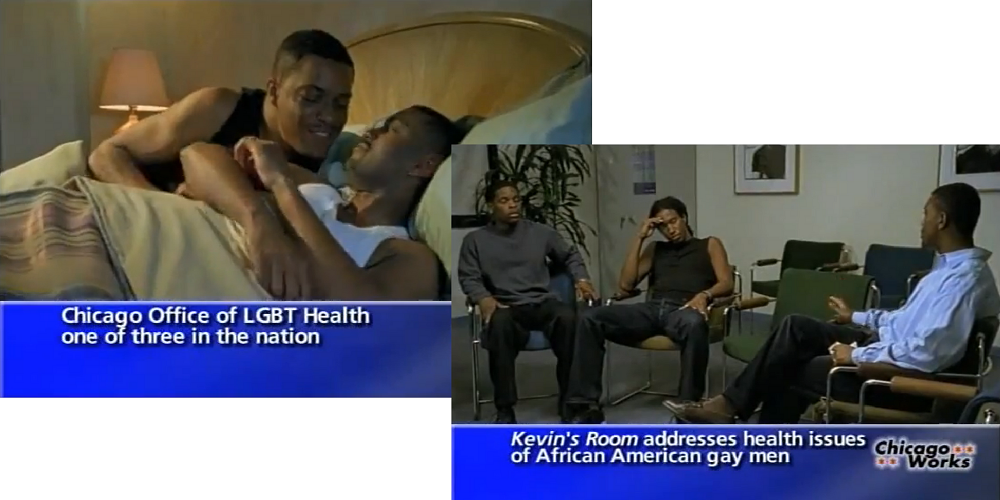 Created to educate, empower and encourage dialogue in communities of color, it was the first film of its kind to bring forth the social and health disparities impacting back gay men, drawing much needed attention to HIV/AIDS.
Kevin's Room was shown at more than 40 national and international film festivals and health conferences. It also was featured at various black pride events across the country. It's success spawned two additional sequels, Kevin's Room II and III.
Today, it is highly-regarded as one of the most innovative tools to educate communities of color about HIV/AIDS.
Watch the Behind the Scenes Trailer