Skully The Crystal Skull Spiritual Ecstasy Theatre in Sacramento, CA

Sunday, December 17, 2017 from 2:00 PM to 3:00 PM (PST)
Event Details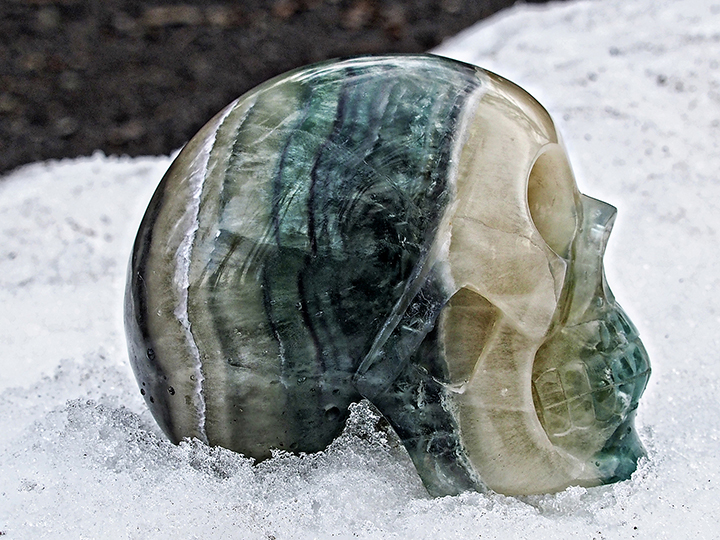 Have you wondered what it's like to experience the healing energy of an activated Crystal Skull? Are you curious about the power of crystals? Are you wanting to find your purpose? We offer individuals a once in a lifetime experience to download the dimensional information and healing energy that could create a shift in their life. We educate and teach individuals about the ancient history of crystal skulls; Why and how they are here to help the evolution of humanity move forward. We'll be doing Live Interactive Audience Participatory Theatre where YOU, the audience, gets to set the tone and the subject matter for each show and will last one hour.
SPIRITUAL ECSTASY  is taking you on our Spiritual Adventures as we travel the world with our Fluorite Crystal Skull affectionately called "Skully", healing people and the planet. We teach you how to Transform Your Life and how to participate in helping heal this planet.
Private Sessions with Skully are available after the show.
Misti Cooper

Spiritual Ecstasy

Spiritual Alchemist

Rebecca Dru

Spiritual Ecstasy

Intuitive Spiritual Entertainer



When & Where

Oblivion Comics & Coffee
1020 11th Street
Sacramento, CA 95814


Sunday, December 17, 2017 from 2:00 PM to 3:00 PM (PST)
Add to my calendar
Organizer
Misti Cooper & Rebecca Dru = SPIRITUAL ECSTASY
Misti Cooper

I AM the Spiritual Alchemist. 
Spiritual Alchemist•Worldwide Energetic Healer• Spiritual Consultant•Minister of LOVE•Author•Inspirational Speaker• Radio/TV Talk Show Host•Teacher•Leads Spiritual Adventures to Sacred Sites•Meditation & Qi Gong facilitator
Misti Cooper
is a guide and teacher who helps people improve their lives and wellbeing by providing the tools to take responsibility for their co-creative power in life and shares ancient wisdom for transformation. She is an empath with clairaudient gifts and has a magnetic energy that naturally draws people to her for healing. 
Misti's life began on earth with a near death experience at nine months old. 
She was visited by spirit again at age three and experienced a powerful transference of light that activated her energetic ability. 
Misti has experienced being taken out of body that was void of touch and in that moment she became one with all of life and was delivered into Spiritual Ecstasy. 
Misti Cooper
is a skilled energetic facilitator. She draws universal energy (love) into her body and transfers it into yours. She can activate your dream state to reveal blocks you didn't know you had. 
She believes supressed emotions create disease and conflict and by making contact with a persons energy field you create lumination and regeneration of cells which changes negative energetic patterns. 
She is 
educated in multiple energetic modalities and works w
ith the consciousness of crystals to change the electromagnetic frequency in your body. 
Misti is the emotional bridge between medicine and the immune system. She 
has worked with Clients suffering from a variety of disorders.
Misti Cooper
is a reservoir of knowledge in her fields of interest and unites science with spirituality. 
It's natural for her to challenge the belief system of the world and offer new insights for humanity to explore. 
She is a firm believer in Quantum Physics, Bioenergetics and sound frequency. She applies the works of Albert Einstein, Alice Bailey and Wilhelm Reich who discovered the Orgone Theory into daily practice.  Orgone is an energetic medicine to the cellular level and based on Na'scent sexual energy as the primary force of life. 
Misti Cooper's authenticity has given birth to her talent as a captivating writer and provocative speaker. Her words resonate in your heart and touch the truth of your soul. Her voice can soothe and seduce you. Her
 first book "Mistical Meditations" part 1 in a series of three is completed and will be published soon. 
Misti 
has been interviewed on various shows across the country and most recently has been asked to lay down a track for an upcoming album by rapper, song writer Chris Clarke, son of legendary jazz musician Stanley Clarke.
Misti Cooper and her business partner Rebecca Dru formed the company "
Spiritual Ecstasy Enterprise" 
producing a collection of spiritual multimedia products, lectures, books, music and created high grade organic essential oil with properties that promote health and wellbeing
. They
 travel the world with an Activated Seed Crystal Skull, affectionately named "Skully." Healing people and healing the planet. 
They lead people on Spiritual Adventures™ and Transform Lives and Activate Souls of those who are ready to change.
---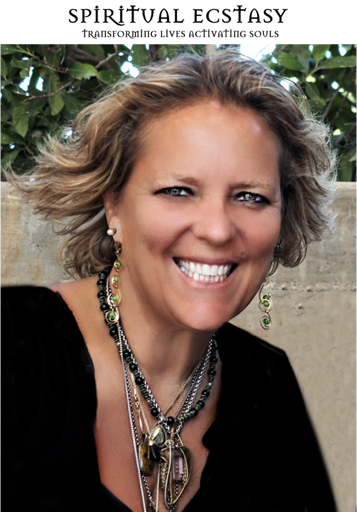 I AM DIVINE LOVE…I SEE THE ESSENCE OF YOUR SOUL…I TALK TO YOUR HIGHER SELF
Intuitive•Spiritual Consultant•Minister of LOVE•Soul Photographer•Teacher•Author• Grammy Nomin8ed Artist/Songwriter•Sound Freak Facilitator•Laughter Healing•Crystal Healing•Earth Healing•Spiritual Adventurer•Motiv8ional SpeakR• Radio/TV Talk
Rebecca Dru 
is
LOVE
.  She's a true Renaissance woman with a variety of interests and talents. At 3, Rebecca Dru was gifted as an Empathic Medical Intuitive in seeing life, death, disease, transition and second chances inside the body and the ability to facilitate healing with sound frequency. Rebecca is filled with
Laughter
&
LOVE
; she works your internal core with joy and wraps her arms around you with Pure Divine
LOVE
.  She's a Spiritual Entertainer working with
Misti Cooper
. They've created
Spiritual Ecstasy Enterprise
comprised of Travel, Teaching, Spiritual Life Coaching, Transformations and Activations, Multimedia, Books, Music, Merchandise, Sacred Oils, Lectures, Concerts and Live Audience Participation Theatre, Transforming Lives with Love everywhere they go.  
Rebecca Dru
is The Soul Photographer.  She captures the essence of your soul from her heart. She is UNCONDITIONAL LOVE. Rebecca Dru's photography is international, featured in The Guardian, The Daily Mail, The NY Times and a host of other publications. She's captured souls from Entertainment to Sports but her favorite is Transformational Photography. Galleria San Francisco in San Miguel de Allende will be featuring her photographs of Mexico in September 2018.
Rebecca Dru
is a multi-award winning Grammy nominated artist whose music has been heard worldwide. Ann Oldenburg of USA TODAY said, "Anyone who listens will fall under the spell of Rebecca Dru's rich vocals." Rebecca Dru has been given the gift of opening neural pathways with her music, instruments and voice. She and Misti Cooper are creating a new genre of music in the Spiritual realm to appeal to everyone.   You can purchase her music on
iTunes
,
CDBaby
and
Amazon
.  @DREAMPONYLULLABY
Rebecca Dru
is a Gifted Teacher. She has worked with children for over 40 years, intuitively gifted in understanding the functioning of each individual's brain and being able to open up new neural pathways with sound and movement. Her work has and will continue to revolutionize the learning capabilities of children who have been born with Fetal Alcohol Syndrome, Drug Addiction, Aspergers, Autism and more. She's currently working on a book and a teaching series based on her program, Bang!Crash!Boom!.
This from Rebecca Dru:
"I'm the photographer who gets inside your soul... who sees through all you are hiding from and brings out the essence of who you are. I am an intuitive who often times knows you better than you know yourself...and if you surrender yourself to me, my lens or my voice...you might be surprised by what you see…"
"I am the voice who will sing tones to create vibrations in your body and play unusual instruments to move frequency into the muscle striation and molecular structure of your cells."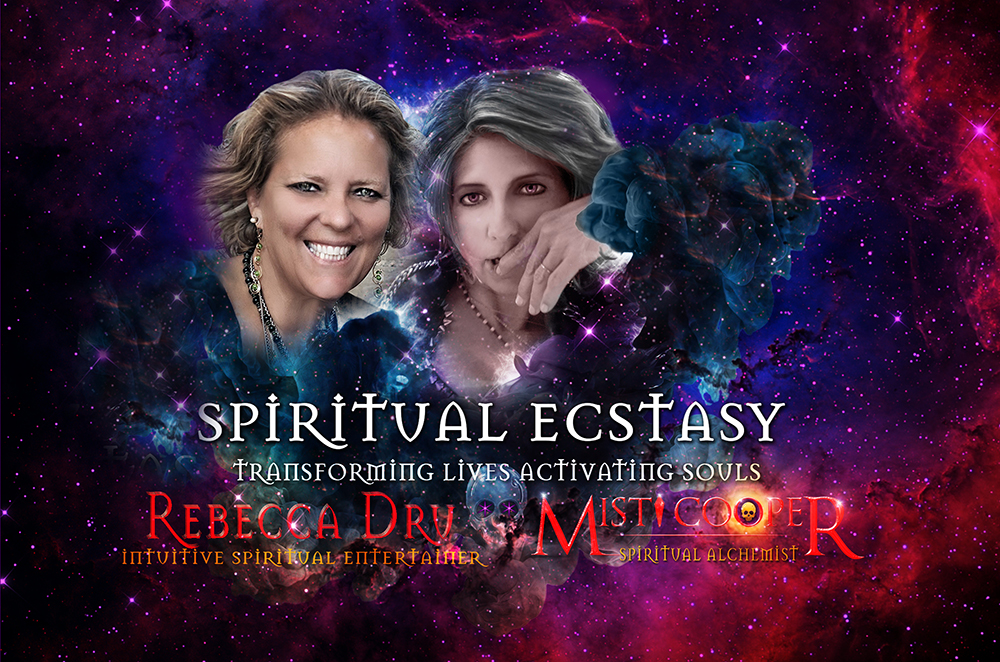 SPIRITUAL ECSTASY
gives you the courage to surrender your fears in order to ignite your passion. We teach the highest expression of your own beauty comes from opening the wellspring of your heart; the space of all miracles. Release obstacles standing in the way of reclaiming your life.
SPIRITUAL ECSTASY
 is taking you on our
Spiritual Adventures
 as we t
ravel the world with our Fluorite Crystal Skull affectionately called "Skully, healing people and the planet. We
 teach you how to Transform Your Life and how to participate in helping heal this planet. 
SPIRITUAL ECSTASY
is
Mistical Meditations, Sound Immersions, Laughter Baths,
Spiritual Life Coaching, Transformations and Activations, Spiritual Makeovers,  
FUNctional Art and Furniture, Fashion, Merchandise, Sacred Oils, Crystals and Crystal Skulls,  
Multimedia, Books, Music, Television and Film,  Transformational High Vibration Photography, Energy Vibration Dance, Lectures and Workshops, Concerts and Live Audience Participation Theatre, Traveling the World Transforming Lives with Love everywhere we go.  
Follow us on Facebook, Twitter and Instagram
: @spiritualxtc
Skully The Crystal Skull Spiritual Ecstasy Theatre in Sacramento, CA