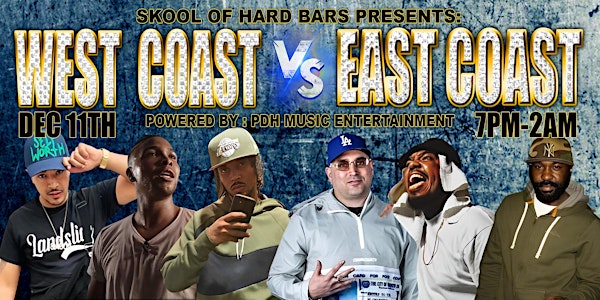 Skool Of Hard Bars: West Coast vs East Coast Rap Battle (Sag Birthday Bash)
SOHB: West Coast vs East Coast Battle Rap Event | Birthday Bash (Cali Smoov x Royalty x Lush One)
When and where
Location
402 W. Pico Blvd DTLA 402 W. Pico Blvd DTLA Los Angeles, CA 90017
About this event
Come out and enjoy good vibes and some of the best battle rappers from the East & West Coast as they battle to see which Coast is the Best Coast!! $5 Shots, Live Performances, Dj's & many special guest including Lush One of No Jumper, Brent Taylor of Roast Me & more!!
Skool Of Hard Bars: West Coast vs East Coast
Sag Birthday Bash for Cali Smoov x Royalty x Lush One
Emerson Kennedy vs Yung Griz
Cali Smoov vs B Goon
Cali Smoov vs A.D.D? (Title Match)
BF vs K Illa
Shi Dogg vs Readie Rock
Smoke N Boots vs Fresh P Da Don
Dre Del Rey vs LP Dame
EMac vs Ralphy Buckey
Bread vs B.O.B.
Hosted By: Royalty
Music By: Dj Syke
STUDIO 402 - 402 W Pico Blvd. Los Angeles, CA 90015