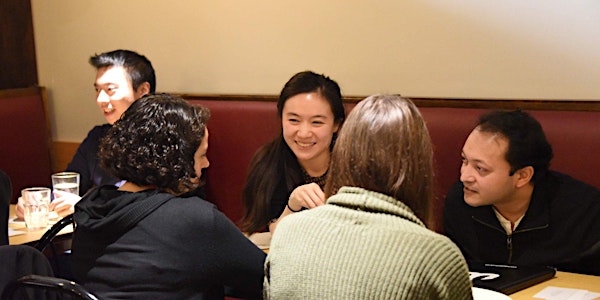 Skip the Small Talk at Trident Books
The magic of meaningful conversation, backed by the science of trauma-informed communication.
When and where
Location
Trident Booksellers & Cafe 338 Newbury Street Boston, MA 02115
Refund Policy
Refunds up to 1 day before event
Eventbrite's fee is nonrefundable.
About this event
***We are 100% sold out for this event, but don't worry! We have the exact same Skip the Small Talk at Trident coming up again on July 7 and on July 21-- grab tickets for those at https://www.skipthesmalltalk.com/calendar?view=calendar&month=07-2021
----------------------------------------------------------------------
WE'RE BACK, BABY!
This will be one of our first in-person Skip the Small Talks since the beginning of the pandemic! We'll only be able to accommodate 50 guests at this event, so please plan to grab a ticket as soon as you think you'd like to join us.
If you're not comfortable joining us in person yet, we've still got fun stuff going on that you'll probably be into! Feel free to check out our online events at www.tinyurl.com/skipthesmalltalk.
----------------------------------------------------------------------
Do you wish you could have more of the kinds of conversations you have late at night where for some reason, you feel safe talking about the things you actually care about?
Bring your friends (or come by yourself) and spend your Wednesday night at an event where you know everyone else is there for the same reason.
We'll be offering cards with "big talk" conversational questions on them to get you started, and we'll have lots of structure to make sure that you actually talk to people and that it's not awkward. Not feeling like answering a particular question? No worries, we'll have plenty to choose from, like, "When are you the happiest?" and, "If you were going to become close friends with me, what would I need to know about you?" We'll give you ground rules to make sure you feel comfortable and safe sharing as much of yourself as possible while still feeling in complete control of how much you divulge.
There will be food and drinks for sale!
Check-in for this event will begin around 6:45 pm. Please do your best to arrive before 7 pm so we can begin as close to on time as possible.
Skip the Small Talk is dedicated to providing an inclusive, welcoming environment for everyone. Check out our safety policy here: https://docs.google.com/document/d/1fmhxMcSsdgkQYOZQZoUKC3DK511fDl3pcPyShB22W9s
Need accessibility accommodations?
We are happy to offer live ASL upon request. Due the use of one-on-one conversations during the event, we request at least five days' notice to make sure we are able to provide an ASL interpreter for each person who needs them. Please reach out to Ashley at ashley@skipthesmalltalk.org so we can discuss what we can do for you.
We encourage guests to do what they need to in order to feel as comfortable as possible during the event, like taking breaks, eating, stretching, using fidget tools, leaving early, etc.
While we acknowledge that there is no such thing as a space that is perfectly accessible for everyone, we do what we can to welcome as many people as possible while prioritizing the needs of those who are systematically oppressed. If you have any accessibility needs that we might be able to help with, please reach out to Ashley at ashley@skipthesmalltalk.org.
Ready to Skip the Small Talk with us? Grab a ticket since entry is on a first come first serve basis and we tend to sell out in advance for these-- once we are out of tickets, we will NOT be able to accommodate folks at the door.
If you want to be the first to hear about our events so you don't miss out on tickets before we sell out, feel free to join our mailing list at www.tinyurl.com/ststlist.