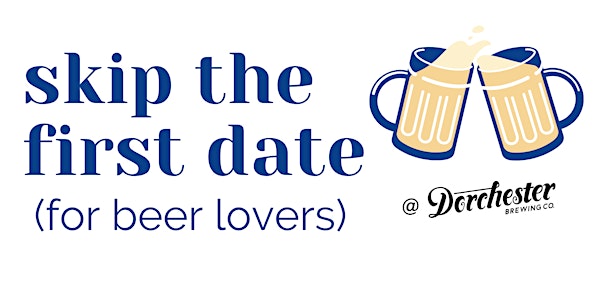 Skip the First Date (for Beer Lovers)
Sick of dating apps and conversations that go no where? Join us for an energizing event to connect with awesome people.
When and where
Location
Dorchester Brewing Company 1250 Massachusetts Avenue Boston, MA 02125
About this event
Let's face it, first dates can be awkward.
That's why we're making it easy for you to skip that first date and get right to the good stuff.
Over the course of the event, you'll get to connect with multiple people in a positive and energizing vibe. Each round, we provide a deep question to guide your conversation like "What's your dream?" or "What's something you're really proud of that not many people know?"
This allows you to connect quicker with other attendees and spice up the typical topics of conversation.
You'll also have the opportunity to chat with everyone at the event, so even if you don't connect with someone romantically -- you'll still be able to make new friends!
In addition, you'll be able to enjoy delicious beers from Dorchester Brewing all night long. We'll cover the first beer with your ticket and if you'd like additional beers, you'll be able to pay for those separately.
This event is curated to ensure everyone has good intentions and when you decide to sign up, Michelle will shoot you a text to schedule a brief phone call.
See you soon!
Follow Michelle on Instagram: @michellewaxdating
For more resources and to work with Michelle 1 on 1, visit www.michellewax.com.