Description
Do you feel overwhelmed and confused with all the options out there promising to make you look younger?
HEALTHY TIPS, SKIN CARE, SKIN TREATMENTS.....
You are not alone!
Many people feel the same frustration. Knowledge is key to understand what works best for you.
You have the power to reset your body to be healthy and look better than ever. Aging is inevitable, but how you age is a choice solely determined by YOU and the decisions you make in your daily life.
It's never too late to take control and implement an integral approach to aging.
It will have a substantial impact in your life. Nourishing the body with proper nutrition, selecting the appropriate skincare and treatments cannot only slow down but even reverse the aging process and give you a complete rejuvenation effect.
Discover a new way to aging and how incorporating key skincare ingredients, good nutrition and lifestyle habits will bring incredible changes to your SKIN and overall WELLBEING.
As a professional, I will guide you through the saturated noise of "anti-aging" and share with you curated information and essential tools that will help you feel wonderful and look years younger.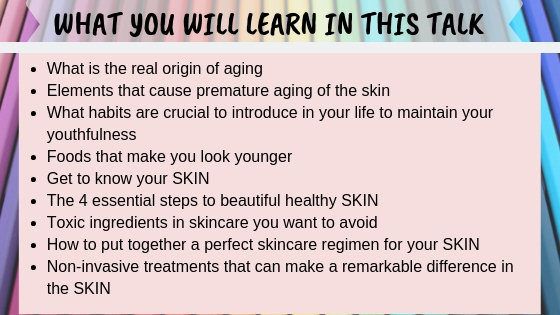 ---
Meet our Guest Speaker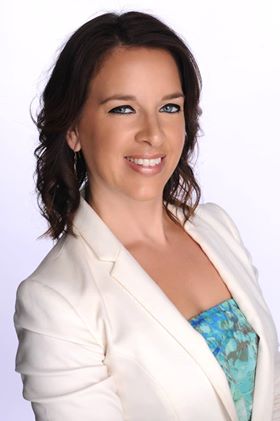 Andrea Elibero
Clinical Psychologist
Stress is a silent enemy already considered for most as part of the modern world. It is the culprit of many illnesses and one of the most important causes of aging. Andrea Elibero @dancingleafyogi will be our guest speaker at SKIN TALK WITH DORA. She is an expert in the topic and counts with a Mater's Degree in Clinical Psychology.
She will help you understand stress at its roots and will be sharing wonderful tips and techniques that you can apply daily to ease stress and mantain a healthy state of mind.
---
***HURRY LIMITED AVAILABILITY
FAQs
What are my parking options for getting to and from the event?
There is Free Parking in the Plaza.