Description
A collab show with Bepsoken Live and White Whale Tattoo. Three WW artists will share their "SKIN" stories at the cozy confines of Rebel Pilgrim HQ in downtown Cincinnati. Only 60 tickets available!
All proceeds go to support Bespoken Live On Campus and the White Whale Foundation.
Join us for a night of storytelling and drinks (free with your ticket) amongst old and new friends.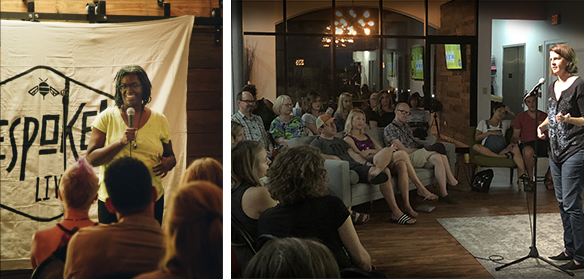 FAQs
Is there an age limit?
We leave it up to the parents' discretion. But there will be alcohol and typically there are adult themes in the stories. So we generally recommend 17+.
Is there parking nearby?
There is a paid parking lot right beside the building on 8th and Walnut. Olympic Garage on 7th St. in between Walnut and Main. Street parking is available all around the building.
What can I bring into the event?
Feel free to bring your own drinks. You might want to bring a wine opener if you bring your own wine because ours have a habit of disappearing.
Do I have to bring my printed ticket?
Nope. Your phone will work.