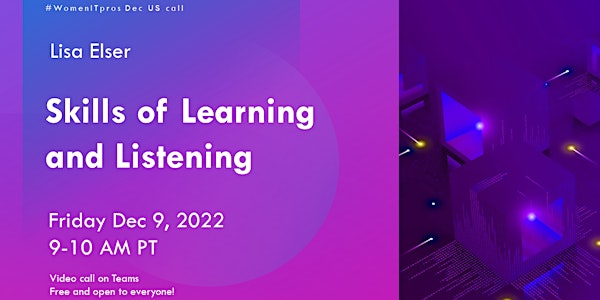 Skills of Learning and Listening - #WomenITpros Dec 2022
Hear how Lisa Elser turned degrees in Comparative Literature and Classics into a 20+ year career in tech then retired to cut gems
About this event
IT isn't just about writing code, and it's not just for people with STEM degrees. Join #WomenITpros on the 2nd Friday of the month to hear stories from women with backgrounds you might not expect who are rocking the IT world. We'll start with some time for intros and networking, then hear from our featured #WomenITpro, and allow some time for discussion after.
#WomenITpros meetings are free and open to everyone - you don't need to be a woman or an ITpro to attend. #AlliesWelcome! Speaker story meetings are held in Microsoft Teams and are recorded for archiving on the #WomenITpros YouTube channel. (But join us live in person to get the full power of the #WomenITpros community!)
Featured #WomenITpro for December 2022:
Lisa Elser turned degrees in Comparative Literature and Classics into a 20+ year career in tech. Starting as a technical writer, she discovered a fascination with how things worked and moved into Systems Test and Data Centre Management. She ran data centres for AT&T and Bell Labs, and then moved into Systems Engineering for NCR and Sun Microsystems. She's published on database tuning, Unix performance management, and has contributed to books on database design and data centre optimization. For Sun she designed large scale data warehouse infrastructures for Prudential, Aetna, Credit Suisse, and other financial institutions as well as governments across Europe and Africa.
At 45 Lisa retired from IT to start her own business cutting gemstones. She's won international cutting awards and her work is in the permanent collection at the Smithsonian.
https://www.lisaelser.com/index.html
https://www.linkedin.com/in/lisa-elser-4744b3
https://www.instagram.com/lisaelsergems/
************************************************************************
Follow #WomenITpros on Eventbrite to get notifications of all of our meetings around the world and in virtual reality!