Description
Want to learn how to grow your social media following (and creative business!) with hand lettering?
In 2013, I joined Instagram to share photos of my life with my friends. One day, I posted a shot of some lettering in my sketchbook and noticed that it received more than double the amount of likes than my other photos. Since then, I've been consistently posting snaps of my sketchbook lettering, and it's helped me grow my following from 0 to over 108,000. I truly believe that your sketchbook is one of *the* most powerful and accessible tools you can use to grow your social media following as a designer, and this workshop will show you how. In this full-day workshop, you'll learn how to:
craft and pair different lettering styles from scratch

lay out dynamic compositions in your sketchbook

come up with unique phrases to letter

style and photograph the final image

grow your social media following organically

market your work to your audience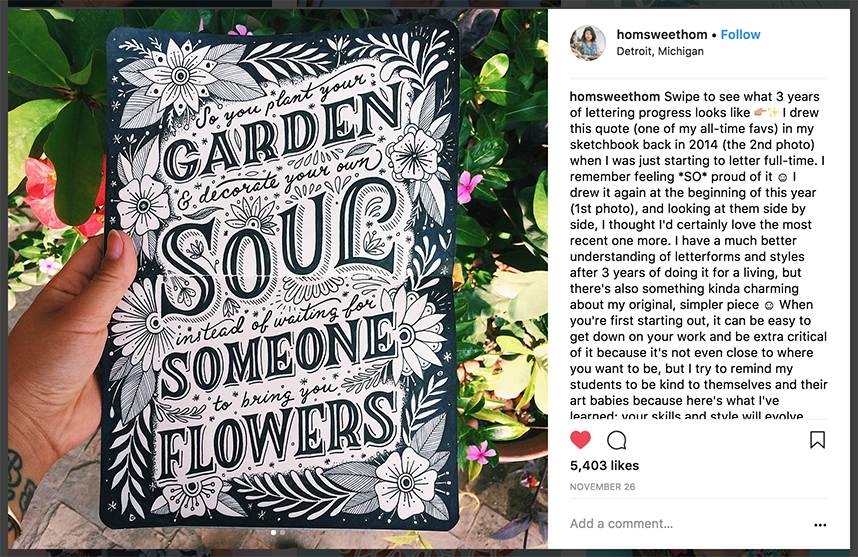 Hosted in a sunny studio space Union Square, Manhattan, the workshop will begin with a hands-on 3-hour session that will teach you the fundamentals of crafting letterforms. Alternating between demonstrations and hands-on exercises, you'll put your newfound skills to work by drawing and inking a finished lettering piece in your new sketchbook, generously provided by Baron Fig.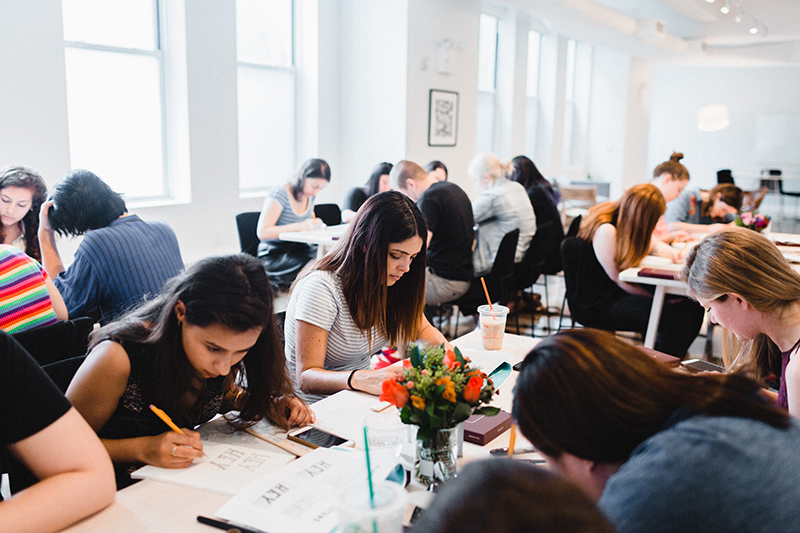 After a lunch break, you'll learn how to style and photograph your final sketchbook image, and I'll share all of the strategies I've used to organically grow my Instagram following to over 108,000. You'll leave with a beautiful, ready-to-share sketchbook image and the skills to maximize its marketing potential on social media.
The price of the workshop also includes:
two Baron Fig notebooks
all drawing materials (yours to keep at the end of the class)
food and refreshments for the day
unlimited compliments and positive affirmations from yours truly



Whether you're professional hand letterer who wants to grow your business or a hobbyist who wants to take their practice to the next level, this workshop is for you!
Building an audience on social media has played such a key part in me finding success for my creative business, and it would be my honor to show you how to do the same.
This is somewhere between a beginner and intermediate level class. By no means do you need to be a lettering whiz, but a basic knowledge of letteforms and some prior practice are required.
Limited to 20 students.
*This will be the only NYC workshop I teach for the next 4 months, so if you've ever wanted to learn from me in-person, this your chance to pick my brain about anything & everything about lettering, freelancing, marketing, and social media.*


Refund policy: Tickets are fully refundable if you give notice up to 48 hours before the event begins. If you're unable to attend and give notice after the 48 hour window has passed, a 50% refund will be issued. No refund will be given after the event date has passed. Tickets are transferable.