Can Businesses Stay Out Of It? Come learn more on corporate participation in social issues and when/where to take a stand.
About this event
Speakers:
Samantha Tweedy, President of the Black Economic Alliance Foundation
Samantha, a proven leader in driving racial equity across the nonprofit sector, private sector, and philanthropy, is the inaugural President of the Black Economic Alliance Foundation – the country's leading foundation harnessing the collective expertise and influence of Black business leaders and allies to address systems of inequity that prevent Black communities from thriving and hold back the broader economy.
A Yale-educated attorney with nearly two decades of experience at the intersection of nonprofit, philanthropy, and issue advocacy, Tweedy brings a unique mix of on-the-ground and executive leadership to her work of increasing economic mobility for Black Americans. Before joining the BEA Foundation, she was the first Chief Partnerships and Impact Officer at the Robin Hood Foundation in New York City, one of the nation's largest anti-poverty organizations.
Rae Robinson, Managing Director and Chief Equity & Inclusion Officer at SKDK
Rae Robinson leads SKDK's Multicultural Communications and Engagement Practice. She is responsible for developing corporate inclusion and diversity communications strategies and cultivating partnerships that promote and further diversity, equity and inclusion.
She has nearly two decades of leadership experience in multicultural, corporate and nonprofit communications. Rae has held positions at national PR firms, national nonprofit organizations and education institutions leading large-scale communications and public affairs efforts influencing key policies on corporate diversity and inclusion, child victimization, and homelessness and housing insecurity.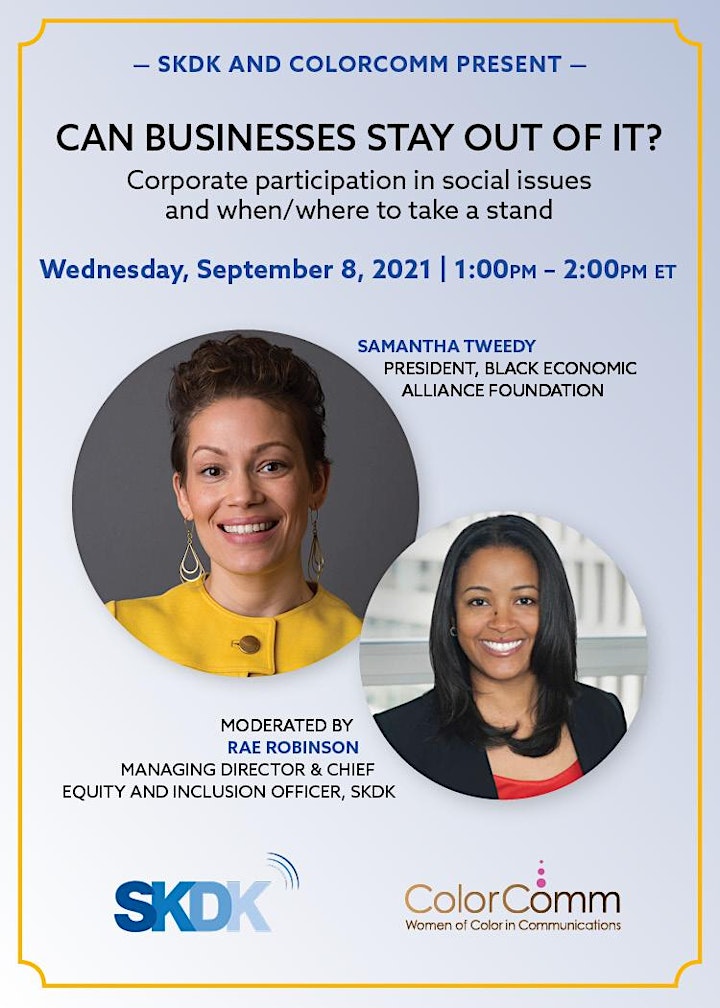 Organizer of SKDK Presents: Can Businesses Stay Out Of It?
The ColorComm mission is to personally connect women with other like-minded individuals to build a strong network of leaders by creating mentors/mentees, business relationships and friendships. ColorComm offers a unique opportunity for women to share experiences and learn from one another to enhance their personal and professional development.