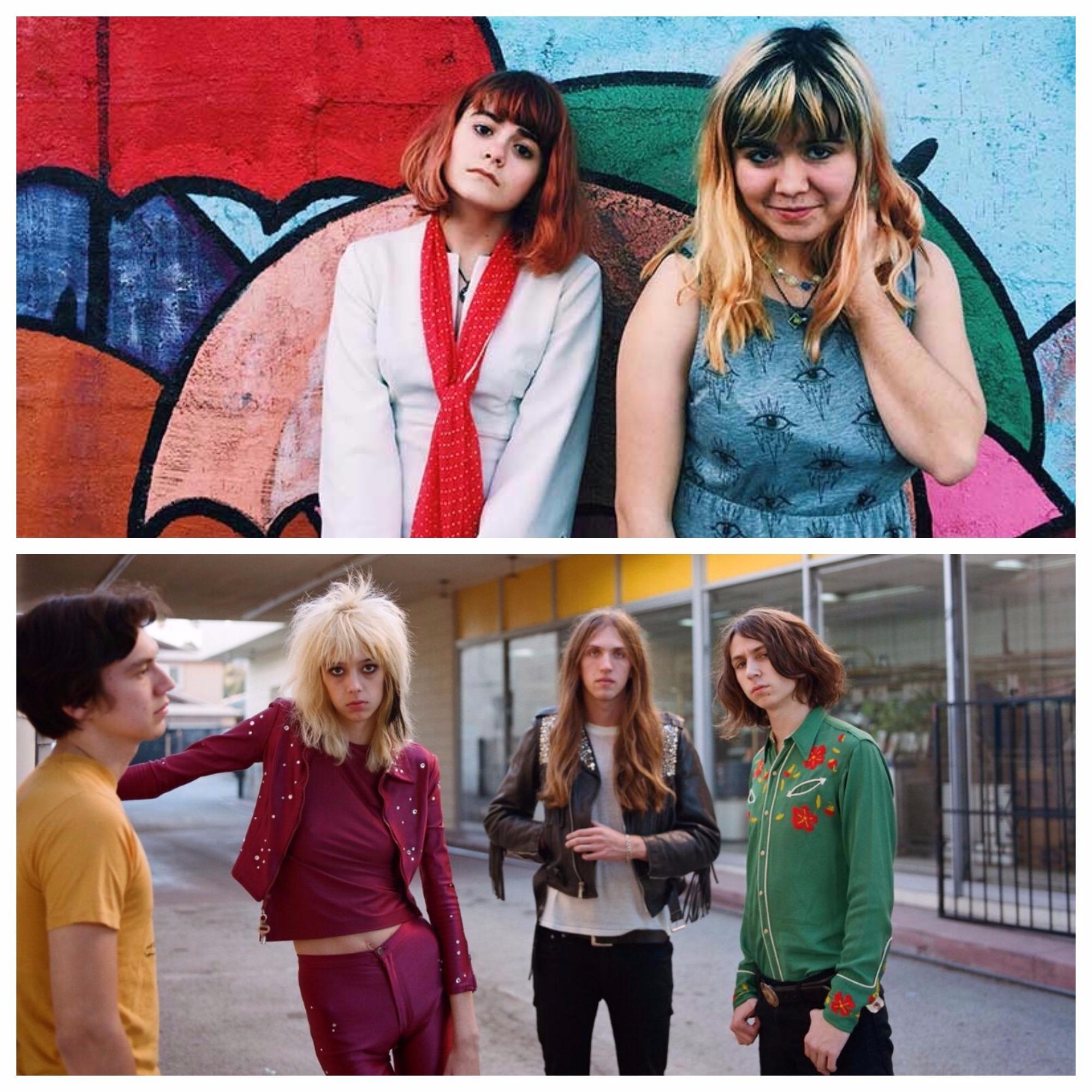 About this Event
Skating Polly, a sister duo from Oklahoma made up of Kelli Mayo and Peyton Bighorse, formed in 2009 after a jam session at the girls' Halloween party. Their sophomore album, Lost Wonderfuls, was produced by Exene Cervenka of X and mixed by Kliph Scurlock of The Flaming Lips. Lost Wonderfuls was released in April, 2013. They are now working on their third album, Fuzz Steilacoom, set to be released early 2014. Fuzz Steilacoom was tracked by Calvin Johnson of Beat Happening.
Raised on '70s punk and early-'90s alt-rock, Mayo (age 13) and Bighorse (18) mine inspiration from artists as disparate as Johnny Cash, The Ramones, NWA, Nirvana, and Bikini Kill and saturate their own songs with a raw energy reminiscent of their musical heroes. Skating Polly takes a minimalist approach to songwriting, with the two largely self-taught musicians (Bighorse plays guitar, Mayo plays a guitar/bass hybrid called a basitar, and both girls play drums and piano) crafting super-catchy melodies mainly by "messing around with our instruments and figuring out how to make cool noises," according to Bighorse. But despite their stripped-down aesthetic, each track on Lost Wonderfuls retains a rich emotionalism that's at turns brutally in-your-face, gut-wrenchingly tender, and irresistibly fun.
Along with earning the adoration of Cervenka (whom they befriended after attending one of the X singer's 2010 solo shows and playing their demos on a cell phone), Skating Polly has found fans in Rosanne Cash and Sean Lennon, taken the stage with punk legends like Mike Watt, and opened up for such indie heavy-hitters as Deerhoof and Band of Horses. Tapping Mayo's dad as their tour manager, the stepsisters typically hit the road with their entire family and optimize their travel time by making up songs on their ukulele.
Both Mayo and Bighorse are intent on ignoring what's fashionable and staying true to their passion for challenging music with long-lasting appeal. "The musicians we're most inspired by are the ones who keep on going and going, who devote their entire lives to coming up with new and different stuff," says Mayo. "A lot of times at our shows people will come up to us and tell us, 'Keep on doing what you're doing, don't ever stop' and we're just like, 'Yeah—we weren't planning on ever stopping."
Starcrawler are a Los Angeles rock & roll band formed one year ago when Arrow de Wilde first met Henri Cash on the high school yard in Echo Park. The rhythm section of Austin Smith and Tim Franco came soon after, found on the streets of Hollywood. They play rock & roll music heavy and loud and their incendiary performances resemble the children of the Cramps, the Yeah Yeahs Yeahs, and Alice Cooper.
"Ants," a song they recorded days after first playing together, was quickly discovered by London DJ Matt Wilkinson and debuted on Apple Beats One radio just as the band were playing their first few shows. The DJ loved it so much, he played it twice in a row. Soon after, it found its way to Sir Elton John, who spun it on his "Rocket Hour" radio program, as well as to Zane Lowe, who played it to further accolades. Much media interest both from the music and fashion worlds has quickly followed. "Ants" & the forthcoming "Used to Know" are from an early session recorded by Steven McDonald (Red Kross) and document the unhinged beginnings of the group taking their first steps into the public eye. They have only now found the time to take a breath and are recording their more fully realized debut LP at Pax Am studios in Hollywood with Ryan Adams producing, due out later this year.
As a group, Starcrawler embodies that strange archetypal mojo that one finds in certain gangs of young rockers, only once or twice a generation; all the while still kicking and screaming as they sprint toward finding something new and entirely of their own. The band consists of Arrow de Wilde on lead vocals, Henri Cash on guitar, Austin Smith on drums, and Tim Franco on bass.