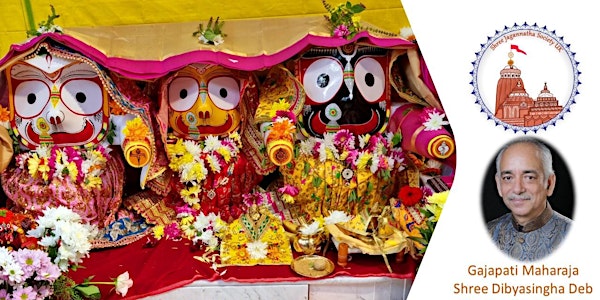 SJS UK London
An iteractive session with Gajapati Maharaja Shree Dibyasingha Deb about "The Trdition of Lord Jagannatha"
By Shree Jagannatha Society UK (Charity# 1191544)
Date and time
Sun, 23 Apr 2023 12:00 - 17:00 BST
Location
Navnat Centre Printing House Lane Hayes UB3 1AR United Kingdom
About this event
Gajapati Maharaja Dibyasingha Deb (King of Puri, Odisha, India) and the chief servitor of Lord Shree Jagannatha (Lord of Universe), whose divine abode is at Shree Jagannatha Temple, Puri, Odisha. He is serving the Lord since 1970 after his coronation as King at the age of 17. He is the Chairman of the Shree Jagannatha Temple Managing Committee, the statutory Trust Board of the Temple and discharging his statutory duties including the world-famous Car Festival (Ratha Yatra) at Puri.
He is the key spiritual advisor for the Shree Jagannatha Society UK, a registered charity in the UK (# 1191544). He has immense knowledge about the culture and traditions of Lord Shree Jagannatha. Therefore, he has been actively engaged over the last 50 years in promoting and participating in innumerable spiritual activities in India & abroad.
He will travel to the United Kingdom in April & May 2023 to deliver very special seminars with the devotees of Lord Shree Jagannatha living in the United Kingdom. This will promote the essence of Hinduism and will spread the Shree Jagannatha culture.
They are planned at the following venues & dates:
i. London – 23 April 2023
ii. Dublin – 30 April 2023
iii. Edinburgh – 6 May 2023
iv. Manchester – 7 May 2023
v. Bath – 12 May 2023
Agenda
12:00 PM - 12:30 PM
Opening Ceremony
---
Opening remarks by the organising team followed by invitation to guests, Then Bhajan and cultural welcome ceremony,
12:30 PM - 2:00 PM
Seminar on The Tradition of Lord Jagannatha
Gajapati Maharaja Shree Dibyasingha Deb
---
Interactive session with presentation followed by question and answer session
2:00 PM - 3:00 PM
Food & Drinks
---
Free Prasad (vegetarian food) and drinks will be provided by host
3:00 PM - 5:00 PM
Cultural Presentation
---
Various cultural presentation by members
Frequently asked questions
Will there be food and drinks
Can I participate in cultural event
About the organiser
SJS UK will organise various cultural and religious events.