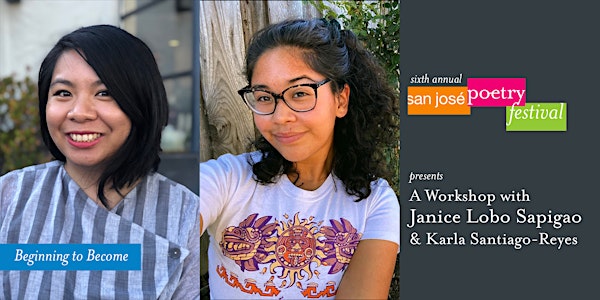 SJPF Workshop | Beginning to Become w/ J. Lobo Sapigao & K. Santiago-Reyes
Online workshop for BIWOC/NBPOC youth writers led by Janice Lobo Sapigao and Karla Santiago-Reyes. Part of San José Poetry Festival 2020.
About this event
As part of San José Poetry Festival 2020, current Santa Clara County Poet Laureate Janice Lobo Sapigao and Karla Santiago-Reyes lead a workshop specifically for BIWOC/NBPOC youth writers and readers. This workshop will be held on Zoom and will open up 15 minutes prior so that folks can get comfortable. Please have writing utensils and any snacks or beverages handy. This workshop is expected to run more than two hours. Ticket registration is required for all attendees.
This is Day Six of our six-day festival! Check out this list of all the events that are part of the sixth annual San José Poetry Festival! Help support Poetry Center San José by becoming a member.
Janice and Karla's workshop description: "San Jose is quickly shapeshifting before our eyes, and by the power of pad and pen, we can reclaim our space and identities and be remembered the way we would wish to be. Karla and Janice believe that writing and reading are forms of empowerment, reflection, self-care, developing voice, naming struggles and hella problems in their communities as a way towards social change. Identity is something that we constantly explore, and in this workshop, we will begin that conversation with self and imagining ourselves in writing spaces. The youth are the future of this city, and we'll acknowledge this by approaching our workshop with the works of poetry from San Jose and South Bay writers. We will create and communicate our stories allowing identity exploration. Your voice is hella valid–come into this space and begin to become."
Janice Lobo Sapigao (she/her) is a daughter of immigrants from the Philippines. She is the author of two books of poetry: microchips for millions (Philippine American Writers and Artists, Inc., 2016) and like a solid to a shadow (Timeless, Infinite Light, 2017 by way of Nightboat Books). She was named one of the San Francisco Bay Area's Women to Watch in 2017 by KQED Arts. She is a VONA/Voices and Kundiman Poetry Fellow. She earned a Master of Fine Arts degree in Writing from California Institute of the Arts (CalArts) and a Bachelor of Arts degree in Ethnic Studies with Honors and a minor in Urban Studies & Planning from the University of California, San Diego. She is currently an Assistant Professor of English at Skyline College in San Bruno, CA, the 2020-2021 Santa Clara County Poet Laureate, and a Poet Laureate Fellow with the Academy of American Poets.
Karla Santiago-Reyes is a first-gen, Brown Immigrant Woman from Ciudad Nezahualcoyotl, Mexico. She is the eldest daughter to a mixed-status family, where learning more about her gender identity and sexuality was scary and unwelcomed, challenging her elders was unheard of, and adulting was something she's done since she learned to speak English. She found herself and developed her voice through reading and writing, learning to love herself, and feels confident to critique the racist, capitalist society everyone survives. Transferring from San Jose City College, she is now studying Sociology and Critical Race and Ethnic Studies at UC Santa Cruz. She likes to consider herself an eager student of the world. Her interests include: gardening, scrolling through Twitter, thinking about abolition, and connecting more with her ancestors.
San José Poetry Festival 2020
Want more poetry? Check out the rest of the San José Poetry Festival 2020 lineup. The sixth annual San José Poetry Festival celebrates our community's diverse ethnic and cultural heritage with a wide range of topics and literary styles reflected in performances, workshops, and a small press fair. This year, the festival will move online to keep our community safe while keeping us all connected.
San José Poetry Festival 2020 is presented by Poetry Center San José and is sponsored in part by: Festival and Cultural Affairs grants from the City of San José; a grant from SVCreates, in partnership with the County of Santa Clara and the California Arts Council; funding from Poets & Writers; and with support from Anne & Mark's Art Party and The Center for Literary Arts. We would like to acknowledge and offer our deepest gratitude to our originally booked live venues for this festival: the Art Boutiki, Books Inc., Caravan Lounge, Dr. Martin Luther King Jr. Library, Forager, History/San José, Recycle Bookstore, and Works/San José.
Follow Poetry Center San José on Facebook and Twitter for announcements about performers and events as we get closer to the festival. Also, hear about other amazing South Bay poetry events!