SIYLI Presents: Search Inside Yourself 2-Day Program in Portland
Description
Please join the Search Inside Yourself Leadership Institute (SIYLI) for two days of personal and professional development focused on building healthy mental habits for sustained high performance and wellbeing. Developed at Google and based on the latest in neuroscience research, the Search Inside Yourself (SIY) program teaches attention and mindfulness training that build the core emotional intelligence skills needed for effective leadership.
We help professionals at all levels adapt, management teams evolve and leaders optimize their impact and influence.
Give us your attention for a few days, and we'll show you how to focus it for the rest of your life.
Curriculum
The SIY curriculum includes:
Neuroscience

Mindfulness

Emotional Intelligence

Leadership
We've implemented our programs in dozens of organizations across industries and around the world using highly practical and scientifically proven methods of mental conditioning and attention training that improve overall emotional intelligence and wellbeing, resilience, creativity, communication, productivity and personal and organizational leadership.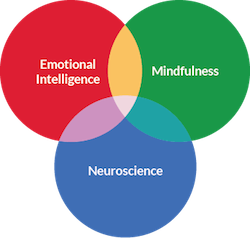 Program Design
Everyone has the capacity to develop and increase wellbeing because wellbeing is a skill, and all skills are trainable.
The highly interactive and experiential program includes the following core components:
Overview of the neuroscience of emotion, perception and behavior change

Definition of emotional intelligence and its personal and professional benefits

Attention training to enable greater emotional intelligence, including self-awareness, self-mastery, motivation and connection with self and others

Principles and practices for developing healthy mental habits that accelerate wellbeing, including effective listening, generosity, empathy, communication and social skills

Mindfulness and reflection practices that support happiness, thriving and overall wellbeing

Exercises include attention training practice, dyad conversations, writing, walking and group conversations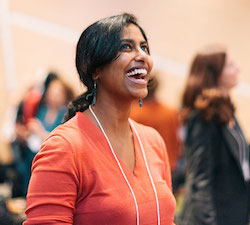 Outcomes
Whether you are coming for personal or professional development or to check out the SIY program for your organization, you will learn foundational skills to:
Enhance mental fitness and clarity

Develop agile and adaptive mindsets

Reduce stress responses

Increase resilience

Improve access to creativity

Develop greater self awareness

Enhance emotion regulation

Improve communication skills

Develop better decision-making skills

Develop greater emotional intelligence

Experience greater overall wellbeing, thrive!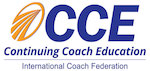 Search Inside Yourself is now accredited by the International Coaching Federation. Coaches now receive 12.33 Continuing Coaching Education credits when attending SIY! Find more information here.
Logistics
The program begins at 9am and ends at 5pm both days.

A healthy lunch will be provided.

SIYLI believes in radical generosity. When you purchase a ticket to attend, you are supporting scholarships for individuals who cannot afford the full price of a ticket. Scholarship applications will be open while spots are available. Please apply

here

.
Teachers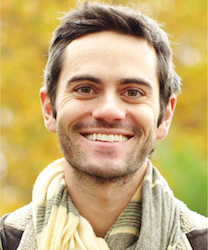 Brandon Rennels serves as the Teacher Development Manager at SIYLI, where he supports the organization in cultivating world-class mindfulness teachers. Brandon has taught the Search Inside Yourself course to a variety of audiences, ranging from global investment firms, to manufacturing companies, to university social workers.
Prior to SIYLI he was a Senior Consultant for Oliver Wyman, a management consulting firm. He worked across industries on a range of strategic initiatives, focusing primarily on capability building in large organizations. In this role he consulted for public and private enterprises throughout the Middle East, Africa, Europe, and North America.
Brandon has also spent years training in mindfulness at monasteries of Nobel Peace Prize Nominee and Zen Master Thich Nhat Hanh.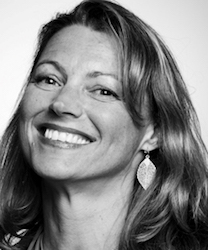 Lori Schwanbeck brings a lifelong dedication to growth and peak performance living. Her professional career began in Canada where she earned a degree in Commerce and worked in marketing for CP Rail, Kraft General Foods and various wellness centers. Partnering with clients to identify opportunities for business growth, Lori found that sales success came from engaging and inspiring people. Desiring to learn skills to more directly work with motivation, personal mastery and contemplative wisdom traditions, Lori completed a Masters in psychology at the Institute for Transpersonal Psychology.
Co-founder of Mindfulness Therapy Associates in San Francisco, Lori currently works as a mindfulness based psychotherapist and teacher coaching clients, students and health care professionals in emotional and social intelligence life skills. She has been intensively trained in Dialectical Behavior Therapy, an empirically supported treatment, that teaches clients skillful means to balance emotions and respond to life with wisdom. Lori has developed a body of work called Sense and Sensibility that is taught internationally. This skills based program utilizes mindfulness, the arts, and embodied awareness to create emotional intelligence and enhance creativity. Lori is a sought after speaker and trainer in Mindfulness based clinical practices. Her personal mindfulness practice is most inspired by time in nature and witnessing the capacity of the human spirit to thrive in all conditions.
Program Outline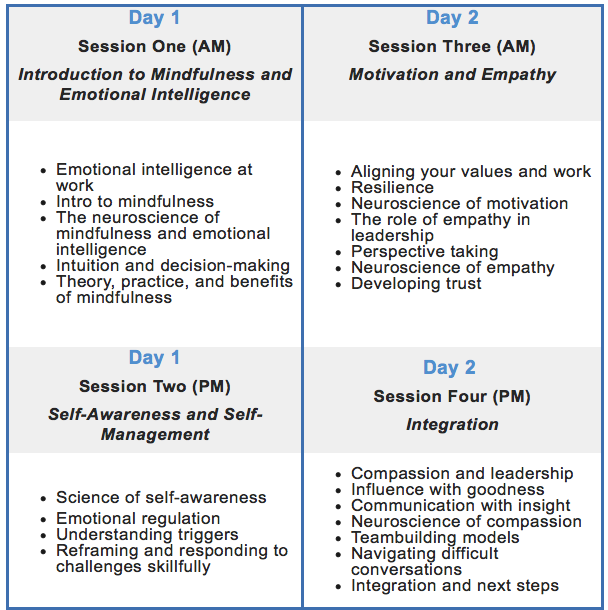 For more information about Search Inside Yourself, visit www.siyli.org
Refund Policy
If you're unable to attend a program that you've registered and paid for, you are eligible for a full refund until two weeks prior to the event. If you cancel within two weeks of the program, you have two options:
Send a substitute of your choice to attend the program in your place

Receive a refund for the program, less a 25% processing fee
Refunds will be issued through Eventbrite and processed within 15 days of notification of cancellation.