SIYLI Presents: Joy on Demand in Silicon Valley
Description
Joy On Demand (JOD) is the latest New York Times best-selling creation from Google's "Jolly Good Fellow" and author Chade-Meng Tan. It combines the latest neuroscience of how the mind works with ancient mindfulness-based training, showing how joy and wellbeing are habits that can be trained. What we think, do, and pay attention to changes the structure and function of our brains – Joy On Demand helps us put this mechanism to good work.
The Search Inside Yourself Leadership Institute (SIYLI) has partnered with Meng once again to create a 1-day program that brings the concepts in the book to life in a highly interactive, fun, and thought-provoking experience. You'll learn how an uplifted mind creates the conditions for better collaboration, creativity, flexibility, health, courage, and resilience. The approach is practical, based in science, and designed for an audience interested in the topic of happiness but skeptical of typical pop-psychology approaches. You'll leave with a set of tools for creating more happiness in your work and personal life, and skills to work with difficult emotions.
This course is relevant for professionals at all stages of their careers who would like a fun & no-nonsense intensive in how to be happier, sustain wellbeing at work, have greater ease in relationships both personal and professional, be more creative and resilient, and not just manage stress, but transform it.
For reviews of the book Joy On Demand from CEOs, neuroscientists, and even former US presidents, see www.joyondemand.com/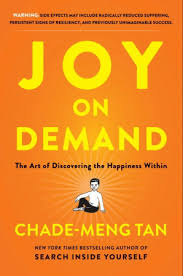 Outcomes:
Joy is worthwhile, healthy, and a trainable skill. You'll learn:
The science and art of calming the mind for greater focus and flow, and less stress

How to hardwire habits that incline the mind towards happiness

Tools & mindsets for stronger relationships, including resilience, collaboration, compassion, and courage

Counterintuitive findings on sustaining happiness and working with stress

Four practices for alleviating emotional pain

A process to transform a challenging relationship in your life, supported by Joy


Program Design:
Highly-interactive and experiential session with 15 different exercises

Emphasis on an environment of authenticity and trust, providing an opportunity for you to work with your greatest challenges

Optimized for long-term benefit and habit-building: not just a good one day experience, but a set of practices that will continue to generate benefits over time.


Logistics
The program begins at 9am and ends at 5:00pm.

A limited number of early-bird tickets are available.

A light lunch will be served.
Teachers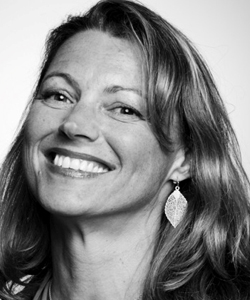 Lori Schwanbeck brings a lifelong dedication to growth and peak performance living. Her professional career began in Canada where she earned a degree in Commerce and worked in marketing for CP Rail, Kraft General Foods and various wellness centers. Partnering with clients to identify opportunities for business growth, Lori found that sales success came from engaging and inspiring people. Desiring to learn skills to more directly work with motivation, personal mastery and contemplative wisdom traditions, Lori completed a Masters in psychology at the Institute for Transpersonal Psychology.
Co-founder of Mindfulness Therapy Associates in San Francisco, Lori currently works as a mindfulness based psychotherapist and teacher coaching clients, students and health care professionals in emotional and social intelligence life skills. She has been intensively trained in Dialectical Behavior Therapy, an empirically supported treatment, that teaches clients skillful means to balance emotions and respond to life with wisdom. Lori has developed a body of work called Sense and Sensibility that is taught internationally. This skills based program utilizes mindfulness, the arts, and embodied awareness to create emotional intelligence and enhance creativity. Lori is a sought after speaker and trainer in Mindfulness based clinical practices. Her personal mindfulness practice is most inspired by time in nature and witnessing the capacity of the human spirit to thrive in all conditions.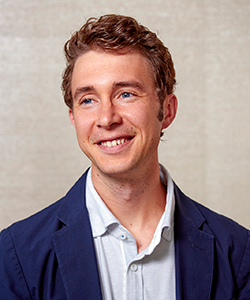 Peter Bonanno is a social entrepreneur, learning designer and longtime practitioner of mindfulness and tai chi. Motivated by passions for learning, mindfulness and innovation, he has founded and worked at multiple socially minded startups. He has also taught and spoken about mindfulness at businesses, schools, nonprofits and for TEDx.
Peter started practicing mindfulness as a teenager, curious about how the mind works and how to make the most of life. He found it helped him shift from being a pessimist and uber-introvert, to being more open, appreciative, and empathetic. He enjoys weaving together the many different paths of scientific explorations from psychology to physics to meditation, and helping others rediscover awe, creativity, and joy.
Refund Policy
If you're unable to attend, a substitute delegate is welcome at no extra charge - just send an email to ilana@siyli.org to verify the substitution anytime before the program date.
Should you wish to cancel your ticket, refunds will be offered based on the following schedule:
100% refund - 60 days prior to the event or more

50% refund - 30-60 days before the event

No refunds will be accepted

within 30 days

of the event start date.
Unfortunately, we are unable to provide credit for future programs.
Early bird prices will only be applied if payment is received in full by the date specified.