Description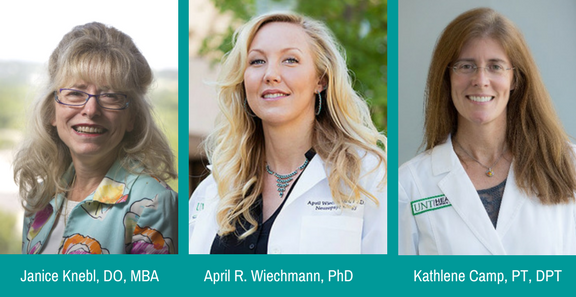 Our March lecture will explore the pathways to optimal aging, as presented by UNTHSC's Janice Knebl, DO, MBA, April R. Wiechmann, PhD, and Kathlene Camp, PT, DPT.
Park anywhere on campus and walk to the building titled Gibson Lewis Health Science Library. There are flag poles and a water fountain in front of it. As you enter the front door which faces Montgomery St., take a right and walk through the glass doors and down the stairs. Turn left on the ground floor and walk straight down the short hallway. Take another left and the room will be on your left.
Janice Knebl, DO is a Professor of Medicine and the Dallas Southwest Osteopathic Physicians Endowed Chair in Geriatrics at the UNT Health Science Center. She has been named annually as a Fort Worth Top Doc, received the distinguished "Internist of the Year" Award from the American College of Osteopathic Internists and has been awarded the 2013 TCOM Deans Research Award.
April R. Wiechmann, PhD is a Neuropsychologist and Assistant Professor for the Institute for Healthy Aging. She primarily conducts her clinical work through the Center for Geriatrics, with primary research interests in the area of neuropsychology and geriatrics. Current publications focus on test development for assessing knowledge and behavior in emergency situations for patients with cognitive impairment.
Kathlene Camp, PT, DPT, CEEA is an Adjunct Professor and Instructor for the Center of Geriatrics in the Institute for Healthy Aging at UNTHSC. She works on an interdisciplinary team providing transitional care services for underprivileged older adults returning home from a hospital stay. A Certified Exercise Expert for Aging Adults, her focus of care is on fall prevention and safe mobility and exercise to enhance a healthy lifestyle.
Through July, subject-matter experts will focus on topics especially relevant to older adults and their families, caregivers, and professionals. Presented at no charge on the fourth Thursday of each month, each lecture on aging-related topics is 90 minutes and open to all. NOTE: Locations will be confirmed at a later date.
REGISTER FOR EACH TOPIC SEPARATELY--THIS IS FOR MARCH 23 ONLY.
March 23: "Optimal Aging" presented by a distinguished panel from UNT Health Science Center.
April 27: "Nutrition & Aging" presented by a distinguished panel from Texas Christian University.
May 25: "Estate Planning" presented by Steve Katten, J.D. of Katten & Benson, Attorneys at Law.
June 22: "Prepping for Doctor Visits" presented by the staff of Texas Health Resources.
July 27: "Introduction to Aging Mastery" presented by Christina Bartha, M.S., of Sixty & Better.
For more information, call 817-413-4949, ext. 226.
Date and Time
Location
UNT Health Science Center
Gibson Lewis Health Science Library Room 110
927 Montgomery Street
FortWorth, TX 76107