Event Information
Location
The Grand Hotel Krasnapolsky
9 Dam Square
1012 JS Amsterdam
Netherlands
Description
Where? -

The Grand Hotel Krasnapolsky
Winter Garden and Grand Ballroom
Dam 9. 1012 JS Amsterdam (The Netherlands)
Click HERE for map.



When?

-

Sunday 15.09.2013 -

(Doors open 16:30 and Stage show begins at 19:00)


How Much?

- €15.00 General Admission and €10.00 for Students (€20.00 at door)
Includes 2 raffle tickets per person.

Any raffle prizes?

- Of course. €2.00 per raffle ticket or 3 for €5.00


Who should attend?

- Digital Content Creators who work on a Mac and anyone and everyone who wants to learn something and meet people that are smarter than them.


Food and Drink?

- Food (free) and Cash Bars will be available to enjoy a few cocktails!

Complete SuperMeet Details at: http://supermeet.com
---
Agenda (not in order and subject to change)
- Is Final Cut Pro X Ready For Professional Use? - Larry Jordan
It's been 2 years and nine dot releases since Final Cut Pro X was launched. It is time to take a close look and discover the answer for yourself. Internationally-renowned consultant and Apple-Certified trainer Larry Jordan will take us on an in-depth tour of FCP X 10.0.9. Learn what you can, and cannot do with FCP X. Discover for yourself the speed, power, and flexibility that Final Cut provides for even the most demanding workflows. See new tools in action that help you work faster. And, if you've never seen Larry on stage, you are in for a treat - his demos are amazing! Plus, there will be time for questions and comments at the end.
About Larry Jordan
Larry Jordan is a producer, director, editor, author, and Apple Certified Trainer in Digital Media with more than 35 year's experience with national broadcast and corporate credits. Based in Los Angeles, he's a member of the Directors Guild of America and the Producers Guild of America, as well as recognition as one of the Top Corporate Producers in America, He has written eight books on Apple and Adobe audio and video software. He has written thousands of technical articles, created hundreds of hours of on-line training, and is a noted speaker at events across the world. He is also the executive producer and host of Digital Production BuZZ, a weekly audio podcast devoted to digital video production and post, and 2 Reel Guys, a video podcast devoted to the aesthetics of visual story-telling. Visit his website at www.larryjordan.biz
---
- Autodesk Smoke goes to the movies - Alexis Van Hurkman and Marc-André Ferguson
Filmmaker and post-production specialist Alexis Van Hurkman and Autodesk's Marc-André Ferguson will take you behind the scenes of "The Place Where You Live," an effects-driven short film. Learn how Alexis used Smoke's editorial and visual effects capabilities together to hone the narrative and work with a group of international compositing artists. Alexis will share details of the production and post-production workflows he used for the film, and how he brought the project to life using Autodesk Smoke.
About Alexis Van Hurkman
In Alex's words: "I divide my time working as a writer, director, and colorist. Based in Manhattan, I do color correction for a wide variety of broadcast programming, narrative and documentary features and shorts, spots, and experimental subjects. I've color-corrected programs that have aired on The History Channel, The Learning Channel, BBC Four, and WNET; features and shorts I've graded have played at the Telluride, Sundance, Tribeca, Hamptons, and Amsterdam film festivals, among many others; video art pieces I've worked on have been exhibited at the NYC Museum of Modern Art (MOMA), the Whitney Museum of American Art, and San Francisco's Yerba Buena Center for the Arts. You can check my IMDB listing to see my latest specific credits."
About Marc-André Ferguson
Editing & Effects Evangelist for Autodesk Smoke, Marc-André Ferguson have been involved in the film and video industry since 1995. As a director, editor, Apple Certified Trainer and consultant, he worked on a wide variety of projects, from Just for Laughs to Cirque du Soleil, RED Digital Cinema and the Tour de France, the Canadian Space Agency and Roland Emerich's "The Day After Tomorrow"
---
- Adobe Video – Brilliant visuals, fluid workflows - Al Mooney
Al Mooney returns to show us how to create brilliant visuals more efficiently with a smoother, more integrated workflow from Adobe. Continuous innovation is at the heart of Adobe Creative Cloud - Premiere Pro is testament to this with new features added more frequently to help keep you ahead of the curve.
About Al Mooney
Al Mooney has extensive technical, sales and marketing experience in the media industry. As product manager for Adobe Premiere Pro software, Mooney is responsible for defining, delivering, and supporting the overall feature set and functionality. Earlier, Mooney was the UK senior business development manager for video and broadcast at Adobe, providing technical workflow consultation for top broadcast accounts in the U.K. In that role, he oversaw the redevelopment of Adobe's video VAR channel, a network of expert resellers and service providers for the Media and Entertainment industry.
Mooney joined Adobe in 2009, after spending two years at Apple as the U.K. Pro Video business development manager. There he was responsible for the communication and go-to-market strategy of video solutions for the U.K. market, working with resellers and customers.
Before Apple, Mooney was European sales specialist at Digidesign, a division of Avid Technology. In this role, Mooney was responsible for the communication of high-end solutions into multiple territories, and managed technical communication between European specialists and engineers in the U.S. He also held earlier positions at Digidesign, including post-production product specialist, EMEA product specialist and marketing representative.
---
- iZotope: Rescue Bad Audio from the Cutting Room Floor - Mike Thornton
The world is getting noisier and budgets are getting smaller. As a result, sub-standard audio is finding its way into too many final film edits. Fortunately for us all, it doesn't have to be this way! You can work miracles quickly with the latest audio repair tools and Audio and Pro Tools expert Mike Thornton will show us how ANYONE can solve common audio problems, using real-world examples to highlight his techniques. Learn how to fix issues related to poor microphone placement, noisy conditions during on-location shoots, and much more.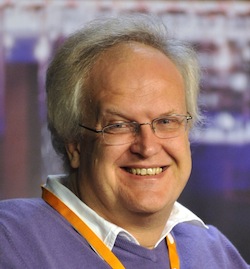 About Mike Thornton
Mike has worked in the broadcast audio industry for all his working life, some 35 years. He has been recording, editing and mixing documentaries, comedy and drama for both radio and TV, as well as doing the occasional music project. As if that weren't enough to keep him busy, Mike also works as a broadcast audio consultant and trainer, serves as the Deputy Editor of the Pro Tools Expert website, and has spent the last 15 years providing 24/7 Pro Tools support. Regular readers of Sound on Sound will also be familiar with Mike's Pro Tools column. For Mike, the line between work and hobbies is a very fuzzy one, but to get away from technology he is building a live steam garden railway and loves Codeword puzzles.
---
- Blackmagic Design: Working with the Pocket & Blackmagic Cinema Camera and DaVinci Resolve 10 -James Tonkin
James Tonkin will show the forthcoming DaVinci Resolve 10, along with footage shot with the new Pocket Cinema Camera and the Blackmagic Cinema Camera. He will provide a closer look at DaVinci Resolve 10's new functionality and features and the workflow with the Blackmagic Design cameras.
DaVinci Resolve 10 is a major upgrade that includes new features for integrating the workflows of multiple different software products used in the film and television industry. DaVinci Resolve 10 has upgraded on set tools, upgraded editing features, support for OpenFX plug-ins as well as new tools for delivering final project masters to cinemas.
About James Tonkin
James Tonkin is a Filmmaker and Director of Hangman Studios, a London-based creative studio. James originally started out in music production graduating with a degree in music technology, but +he soon found himself drawn into editing and directing and in 2001, backed by music management company IE Music, he setup Hangman Studios.
Since Hangman opened it's doors, James has created documentaries, commercials and DVDs for a number of artists from Björk and Craig Armstrong, to brands such as Jaeger and Coco De Mer. Through out this time James has also directed music videos, commercials and documentaries for Robbie Williams whilst continuing to work with artists and brands including Coldplay, Duran Duran, Archive, Placebo, T-Mobile, Sony, Apple and more.
In 2012, James & Brett Turnbull DP'd the Coldplay LIVE 2012 Concert Film, Coldplay's first concert film / live album for nine years. The film documents their acclaimed Mylo Xyloto World Tour, which has been seen by more than three million people since it began in June 2011. The film was directed by Paul Dugdale, previously responsible for Adele's 'Live at the Royal Albert Hall' and The Prodigy's 'Worlds On Fire' concert films. It was produced by Jim Parsons and edited by Simon Bryant, Tim Thompsett & Tom Watson. Mixed by Rik Simpson.
---
and MORE
Date and time
Location
The Grand Hotel Krasnapolsky
9 Dam Square
1012 JS Amsterdam
Netherlands
Organizer of Sixth Annual Amsterdam SuperMeet
SuperMeets are gatherings of Adobe, Avid, FInal Cut and Resolve editors, gurus and digital filmmakers from within the US, Europe and the world over. SuperMeets are held annually in Las Vegas, and Amsterdam, and feature user-driven demos of new products, collaborative production and post production workflows and filmmaker show and tells, including a SuperMeet Vendor Showcase featuring hardware and software developers providing workflow solutions for digital filmmakers and content creators.