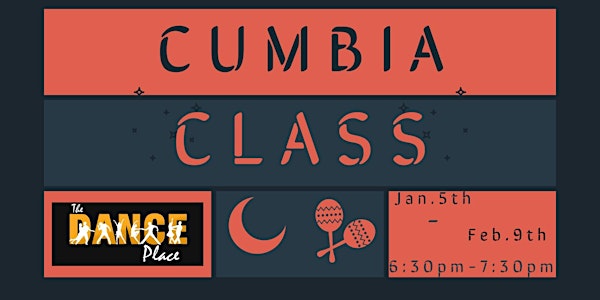 SIX WEEK SERIES: CUMBIA 2023 SERIES#1
We will cover the fundamentals and patterns so you can be well-prepared for any Latin Social.
When and where
Location
The Dance Place 3310 West 42nd Place Tulsa, OK 74107
About this event
Popular from Mexico to Argentina and now the US, come and learn the basics and beyond of this ever-growing companion to Salsa.  No partner needed but couples are welcome.
TERMINOLOGY:
LEADER : The Lead is responsible for guiding the follower into each dance step through various signals.
FOLLOWER : Moves and processes the Lead's guidance.
We have some temporary rules that are expected to be followed and precautions that will be enforced:
1) Due to limited class size: NO WALKS-IN! MUST REGISTER ONLINE OR BY PHONE!
2)Masks are recommended.
3) Hand Sanitizers and gloves will be made available.
4) If you do not feel well, please stay home.
No partner needed
1 hr of instruction and practice
Must enroll to reserve your spot!!
Please contact us at (918) 813-6514 or tdptulsa@gmail.com for questions or inquiries.
REGISTRATION MUST BE ONLINE OR BY PHONE!
MAIL IN CHECKS, CASHIER CHECK, MONEY ORDER, CASH, AND CREDIT/DEBIT CARDS ARE ACCEPTED.
WWW.TDPTULSA.COM