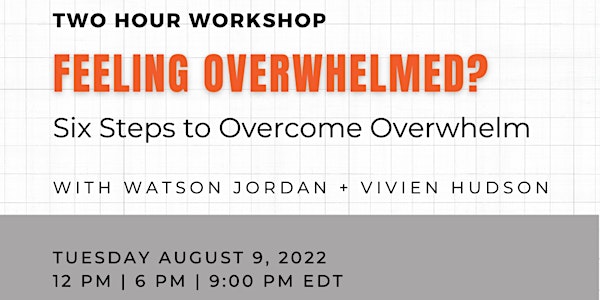 Six Steps to Overcome Overwhelm
An interactive and informative workshop to help you overcome overwhelm.
About this event
Are you dealing with significant change in your life?
Do you struggle with multiple priorities and wearing too many hats?
Have you experienced a major life event recently that left you reeling?
If so, this workshop is for you.
Overwhelm often comes from having a sense of too many things to do and a lack of support system or time, to achieve them. This often happens when we have multiple hats or projects to work on, or are experiencing major life changes. This could be you as a working parent, entrepreneur, business manager, or someone starting a new career.
Learn 6 steps to help you overcome overwhelm and regain the life you know you truly want.
Fortify Your Resilience - Watson Jordan helps you discover your path from isolation to fulfillment. Utilizing his 5-3-1 Resilience Plan, Watson will help you identify specific action steps for your triumphant return.
Prioritize with Purpose - Prioritizing is one of the most energy-hungry tasks your brain can do, but also the most helpful! In this workshop, Vivien will help you strategize, harness your strengths, and supercharge yourself so you can overcome overwhelm.
BIOS
Dr. Jordan is the bestselling author of "Mine, Ours, and Yours: A Father's Journey through the Life and Death of a Child", which explores tragic despair and unearths hopeful resilience. He leads The Resilience Initiative, which promotes resilience around the world and is known for his handstand.
A lifelong educator, Dr. Jordan has developed and led programs in technology, safety, integrity, and wellness.
His second book, "Resilience: How the COVID-19 Pandemic Made Us Wiser and Stronger" plumbed the depths of the globe for stories of resilience that inspire.
His speaking, writing, coaching, and podcasting revolve around his breakthrough 5 - 3 - 1 Resilience plan and WHY Institute discoveries. As a certified WHY coach he leads individuals and groups through the WHY.os algorithm and its discovery process to a fresh insightful realization of WHY we do what we do.
Dr. Jordan is happily married with two children and three dogs in Asheville, North Carolina. Learn more about his work at www.HashtagResilience.com. Subscribe to his podcast #Resilience.
Vivien Hudson has spent almost all of her adult life juggling various roles and responsibilities. She is a workaholic by nature and always finds more things to put onto a very full plate. When her children were young, she ran her own businesses as a pharmacist, while also training to be a life coach. She has faced business success and failure. Moving to the US in 2013 with her family, she has also mastered the art of reinventing herself from the ground up.
She now works as a speaker, coach, and trainer in leadership, personal and team coaching. She loves supporting people to regain control over their focus, time, energy, and the relationships around them. Life is too short to live it any other way.
On the weekend, she hikes, and spends time with her family and 2 dogs. Learn more about Viv at www.brainbodyandbusiness.com