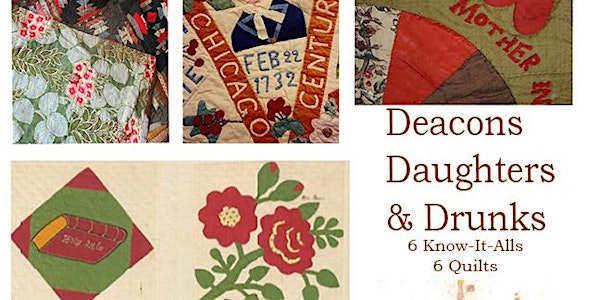 Six Know-It-Alls - Episode 7: Deacons, Daughters, and Drunks
What do Deacons, Daughters, and Drunks have to do with antique quilts? Join us for Episode 7 to find out!
Refund Policy
Contact the organizer to request a refund.
Eventbrite's fee is nonrefundable.
About this event
Julie talks about the Women's Christian Temperance Union and how textiles, particularly quilts, were used to further their mission. She debuts a rare and fascinating example, never before seen!
At the suggestion of a viewer, Lynne answers the question of how she researches and thinks about quilts, using the famous Anna Tuels quilt as her example. This 1785 wool quilt, made by Anna's mother for her daughter, is one of the oldest American quilts known to exist.
Ronda McAllen, a returning special guest sitting in for Debby Cooney, reviews several of the 36 quilts known to have been made for ministers in Baltimore, Maryland between 1840 and 1862. Many of these are high-style Baltimore Albums that show the esteem in which churchwomen held their pastors.
Susan Miller, a new special guest for the Know-It-Alls sitting in for Alden O'Brien, presents an update on the Circuit Rider's Quilt, an album quilt in Chicago Art Institute collection that she first discussed in a paper published in the American Quilt Study Group's Uncoverings in 2008. The Circuit Rider's Quilt is perhaps the most published and most misrepresented quilt of the 20th century.
Merikay shares a Century of Progress quilt from the 1933 Chicago World's Fair that has surprising similarities to the 1893 Chicago World's Fair quilt she shared in Episode 6. By taking a close look at one woman's quilt interpretation of "Chicago's Century of Progress 1833 to 1933," we once again take a deep dive into Chicago's storied past.
Barbara looks at a wool pineapple log cabin utility quilt from the early 20th century—the perfect contrast between high and low art: scrappy patchwork on one side and period fashionable Arts & Crafts cretonne on the other. How did quiltmakers incorporate the new interior design ideas advocated by Candace Wheeler and William Morris?