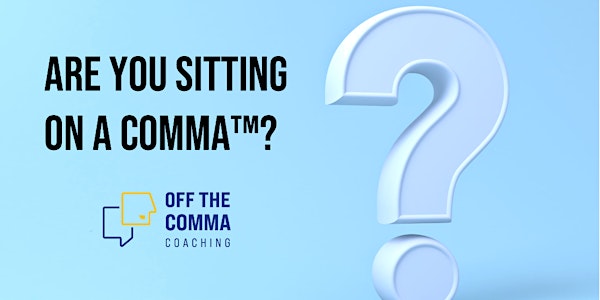 Sitting on a Comma: Breaking Down What's Keeping You Stuck
You're stuck! I get it. I've been there too. I call it sitting on a comma. It is not the curse you think it is. Possibility awaits!
Refund Policy
Refunds up to 7 days before event
Eventbrite's fee is nonrefundable.
About this event
Sitting on a Comma: Breaking Down What's Keeping You Stuck helps individuals who are feeling stuck. In our jobs, relationships, families, careers, endeavors, goals and identities, we often find ourselves sitting on a comma and not knowing how to move forward. We feel stuck.
Sitting on a Comma is a workshop designed specifically for you. Through the process of tuning in and decluttering, youwill learn how to look objectively at what's keeping you stuck. Through this learning and other observations, you will begin to create a path to getting unstuck and lifting yourself off the comma.
It's time to take advantage of what sitting on your comma is presenting and look for the messages that life is sending you. Your journey ahead will be shaped by the inquiries you make and the answers you seek. I'm here to help you start asking the right questions.
Learning Objectives:
Identify where you find yourself sitting on a comma and what it keeps you from achieving
Tune in to what being stuck means and what it is showing you
Declutter confusion by using techniques to challenge your thinking, beliefs and expectations
Practice observation and inquiry to gather insight, information and data
Experience the power of community as a resource for helping navigate your comma and possible solutions
Read the article that inspired this workshop here.
About Paul Briley:
Throughout my career, I have coached peers and customers in a variety of styles and models. When the pandemic and racial reckonings happened in 2020, I found myself sitting on a comma (along with the rest of the world). My horizons expanded and my values shifted. By 2021, I realized that getting myself off the comma meant helping others do the same. Off the Comma Coaching was born.
I build relationships based on a sense of purpose, action-orientation and having fun in the process. When coaching, it's all about helping you through your journey, while challenging you to tap into the wisdom you carry inside.
Learn more about me. My website. My Linkedin.
​