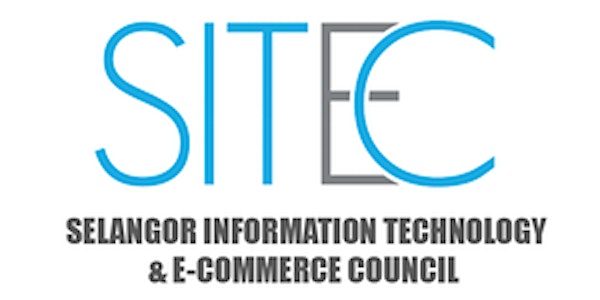 SITEC StartupQuest Selangor 2016-MAY
When and where
Location
SDCC, i-City E-28-1, Jalan Multimedia 7/AG City Park, i-City, Shah Alam, Selangor. Shah Alam, Selangor 40000 Malaysia
Refund Policy
Contact the organizer to request a refund.
Description

Date / Time:
Pre-SQSel Workshop : 21st & 22nd May 2016, 9am-5pm
StartupQuest Selangor : 28th & 29th May 2016, 9am-9pm
Venue:
SDCC (Selangor Digital Creative Centre), i-City, Shah Alam, Selangor
About SQSel
Inspired by wildly popular international startup events such as Startup Weekend and Global Startup Battle, StartupQuest Selangor (#SQSel) is a biannual themed event in Shah Alam, Selangor that seeks to facilitate the growth and success of startups here.
Organised by the Selangor Information Technology & E-Commerce Council (SITEC), SQSel aims to reach out to Malaysians, with a particular focus on Selangor, in order to encourage the public, especially students, to be involved in the startup scene, and at the same time be involved in directly having a stake in the growth of Selangor.


SQSel Structure
SQSel is a two-day weekend event, where participants will pitch ideas, and the top ideas will be taken on by teams comprising individuals who bring different strengths and specialties to the table.
Ideas will be discussed and solutions brainstormed. Teams will be given generic problem statements related to Selangor that require Smart City solutions, and will work towards developing a novel working prototype, demo, and presentations by Sunday evening.
The top three teams will be given the opportunity to have their ideas validated and developed, prototyped and promoted for exposure and growth.


Who Can Join?
StartupQuest Selangor is open to everyone from all walks of life! Whether you have experience in startups/startup-like environments or not, you can come by to meet and team up with like-minded people in a conducive environment to see an idea to fruition.
No IT knowledge? No problem! No business knowledge? Not an issue! Don't know startup terminology? Don't even bother! We will teach you everything you need to know to be competent about business in the startup world in the 2-day pre-event bootcamp.
Come alone - or with friends! Meet new people, moot ideas, and work on them!
Mandatory but FREE 2-day pre-event workshop (worth RM 600)
* Important: Attendance for both days of SQSel Pre-Event Workshop is mandatory in order to proceed to StartupQuest Selangor.
All participants are required to attend a free, mandatory two-day pre-StartupQuest Selangor workshop (SQSelWS) the week before each session.
The SQSelWS will cover the basics of lean businesses, guiding you on how to develop your own MVP, or, Minimum Viable Product (with a strong focus on the keyword 'viable'). You will also learn how to utilise free tools to turn ideas into working products.
Top 3 teams will get additional
Cash prizes (RM 650, RM 350, RM 250)

Free 6 months access to co-working space at SDCC

Exclusive 5-Day MVP Development Bootcamp (worth RM 1800 each) *
*Only for the 1st prize winners of each season.



Visit official website http://www.sitec.com.my/sqsel2016 for more information.
Contact us at startup@sitec.com.my
Note:
You can choose to Pay Offline. *Payment by ATM or eBanking.
Account Name: Mystartr Sdn Bhd.
Account Number: 3-1754395-10.
Bank Name: Public Bank.
Please email (startup@sitec.com.my) the bank in receipt with Your Name and Contact. Thank you