Description
SITEC E-Commerce Class: Product & Content Management
Module: E-Commerce Process 201
Designed especially for e-commerce beginners and practitioners, each class will be led by a 'Coach', who will teach and mentor each session, together with speakers from various parts of the e-commerce chain, who will share their insights and experience with you.
About the Class:
Product and Content Management facilitates the way a business's product or service is delivered to the consumer. It is the overall experience the consumer faces, from browsing for a product, to its eventual delivery to their doorstep, and encompasses the whole process from product sourcing to last mile delivery. Having the right product is one thing, but ensuring that it is supplemented with the right content so your consumer can make an informed and educated decision is also important.
As such, it is crucial for e-businesses to learn the best techniques, strategies and tactics to ensure that these integral parts of the e-Commerce chain are best fulfilled.
Don't fumble your way through - let us shed some light on managing this aspect of your business. This session is coached by Sunny Ooi, Co-Founder & Managing Director of ClickAsia Malaysia & Singapore, with experienced industry specialists as guest speakers.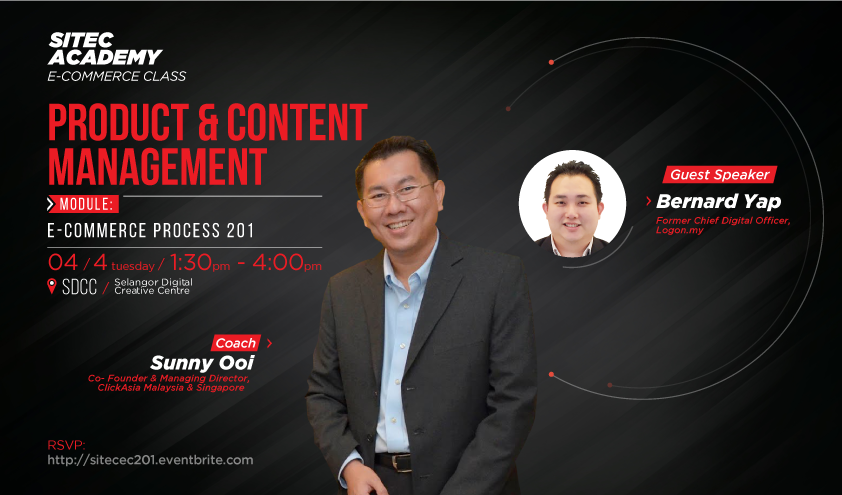 SITEC (Selangor Information Technology and E-Commerce Council) was initiated by Selangor State Government in 2015. We conduct a series of seminars aiming at increasing the e-Commerce know-how for Small and Medium Enterprises. We also host forums and discussion panels inviting emerging and successful e-commerce entrepreneurs to share their stories and real-world experiences. We hope this can serve as the catalyst for the traditional industry to transform their business successfully online and help Selangor to stay at the forefront of social-economy growth driven by this new and fast growing world of e-commerce.
Organiser: SITEC
Support: Invest Selangor
Date: 4th April 2017 (Tuesday)
Time: 1:30PM - 4:00PM
Admission Fee: FREE
Venue: SDCC (Selangor Digital Creative Centre)
Address: E-28-1, Jalan Multimedia 7/AG, City Park, i-City, 40000 Shah Alam, Selangor. (Map)

Agenda
13:30 Registration
14:00 SITEC Introduction
14:10 Coach: Sunny Ooi (Co-Founder & Managing Director, ClickAsia Malaysia & Singapore)
15:10 Guest: Success Secrets of Product Sourcing / Bernard Yap (Former Chief Digital Officer, Logon.my)
15:50 Market Info Sharing / 1.Biztory
15:55 Photography Session
16:00 Tea Break and Networking
-The End-
* This event will be conducted in English.
* More information on the coach, speakers and market info sharing will be updated gradually on our FB event page.
Who should attend:
eCommerce Players, Internet or Solution Provider, SME/SMI, Retailers, Chain Stores, etc.
Enquiry and Registration:
RSVP: https://sitecec201.eventbrite.com
Email: ecclass@sitec.com.my
Tel: 012-6705026 (Mr. Loke)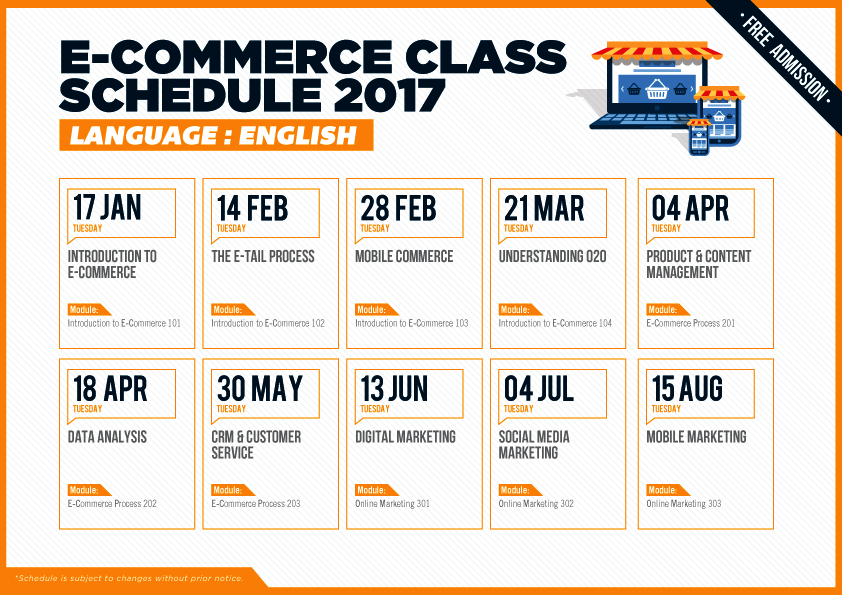 Date and Time
Location
Selangor Digital Creative Centre
E-28-1, Jalan Multimedia 7/AG
City Park, i-City
Shah Alam, Selangor 40000
Malaysia