Actions and Detail Panel
SITEC E-Commerce Class 104: Understanding O2O
Tue, March 21, 2017, 1:30 PM – 4:00 PM MYT
Description
SITEC E-Commerce Class: Understanding O2O
Module: Introduction to E-Commerce 104
SITEC is Back in 2017 with a whole new lineup of exciting E-Commerce Classes - and YES, they are still FREE!
We've got a great new lineup of speakers and have made a change to the way we conduct these classes for you. It will be taught through lecture, sharing from various industry players and discussion.
This course is designed for those who want to venture into e-Commerce as we foresee Malaysia's digital economy is on track for growth in 2017 due to the rise in consumer confidence with online shopping despite the current challenging economic conditions.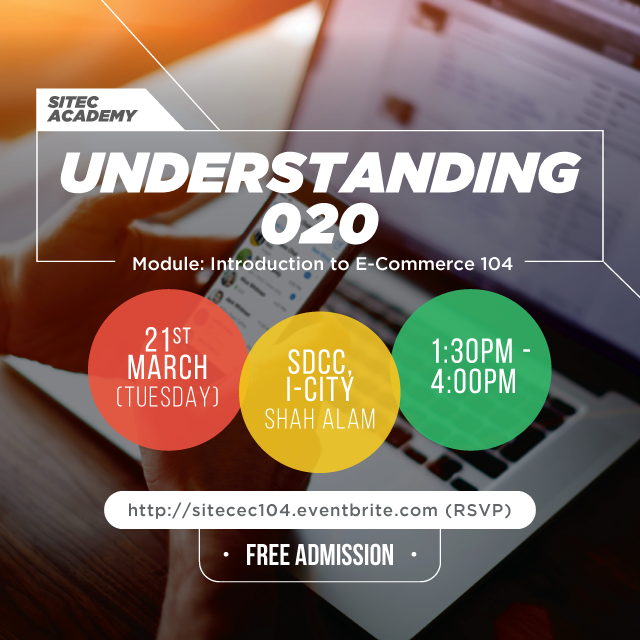 SITEC (Selangor Information Technology and E-Commerce Council) was initiated by Selangor State Government in 2015. We conduct a series of seminars aiming at increasing the e-Commerce know-how for Small and Medium Enterprises. We also host forums and discussion panels inviting emerging and successful e-commerce entrepreneurs to share their stories and real-world experiences. We hope this can serve as the catalyst for the traditional industry to transform their business successfully online and help Selangor to stay at the forefront of social-economy growth driven by this new and fast growing world of e-commerce.
Organiser: SITEC
Support: Invest Selangor
Date: 21st March 2017 (Tuesday)
Time: 1:30PM - 4:00PM
Admission Fee: FREE
Venue: SDCC (Selangor Digital Creative Centre)
Address: E-28-1, Jalan Multimedia 7/AG, City Park, i-City, 40000 Shah Alam, Selangor. (Map)

Agenda
13:30 Registration
14:00 SITEC Introduction
14:05 Coach: Adrian Oh (Co-Founder, eCommerceMILO)
14:45 Guest 1:
15:15 Guest 2:
15:45 Market Info Sharing
15:55 Photography Session
16:00 Tea Break and Networking
-The End-
* This event will be conducted in English.

Who should attend:
eCommerce Players, Internet or Solution Provider, SME/SMI, Retailers, Chain Stores, etc.
Enquiry and Registration:
RSVP: https://sitecec104.eventbrite.com
Email: ecclass@sitec.com.my
Tel: 012-6705026 (Mr. Loke), 012-8476768 (Ms. Amira)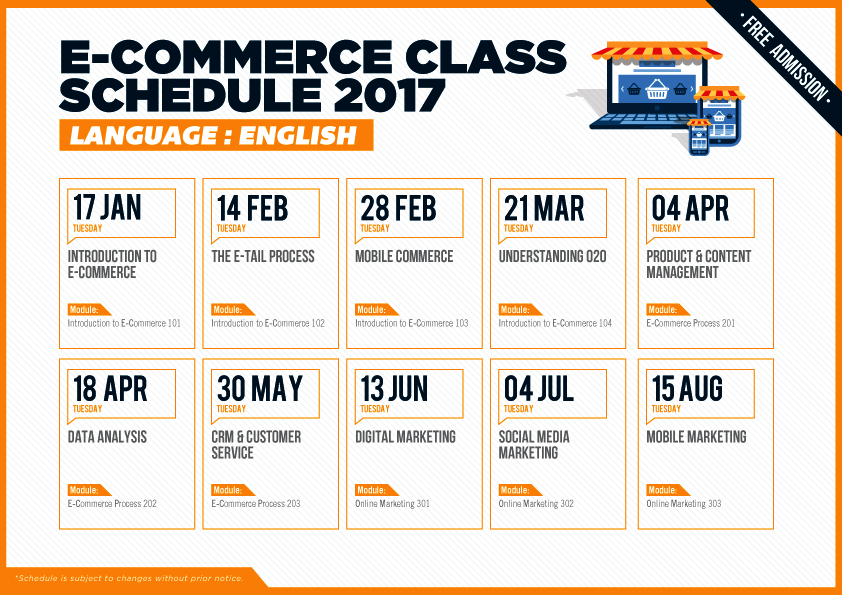 Date and Time
Location
Selangor Digital Creative Centre
E-28-1, Jalan Multimedia 7/AG
City Park, i-City
Shah Alam, Selangor 40000
Malaysia