Description
SITEC E-Commerce Class: Understanding O2O
Module: Introduction to E-Commerce 104
SITEC is back in 2017 with another series of regularly held free e-commerce classes!
Designed especially for e-commerce beginners and practitioners, each class will be led by a 'Coach', who will teach and mentor each session, together with speakers from various parts of the e-commerce chain, who will share their insights and experience with you.
About the Class:
Many retailers think e-Commerce will kill offline businesses, but did you know that moving online won't mean that you have to abandon your physical store? In fact, O2O (Online to Offline) is an e-Commerce strategy and practice specifically designed to direct online consumers to visit your brick and mortar establishment!

Having trouble converting online traffic to offline sales? Well, let us help de-mystify that for you!

The EC104 class on Understanding O2O, will be led by coach Adrian Oh, Co-Founder of eCommerceMILO, along with experienced industry specialists as guest speakers.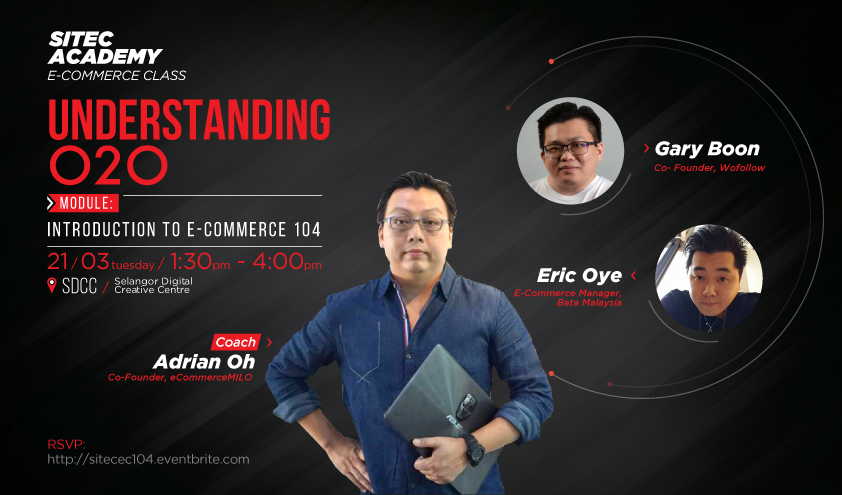 SITEC (Selangor Information Technology and E-Commerce Council) was initiated by Selangor State Government in 2015. We conduct a series of seminars aiming at increasing the e-Commerce know-how for Small and Medium Enterprises. We also host forums and discussion panels inviting emerging and successful e-commerce entrepreneurs to share their stories and real-world experiences. We hope this can serve as the catalyst for the traditional industry to transform their business successfully online and help Selangor to stay at the forefront of social-economy growth driven by this new and fast growing world of e-commerce.
Organiser: SITEC
Support: Invest Selangor
Date: 21st March 2017 (Tuesday)
Time: 1:30PM - 4:00PM
Admission Fee: FREE
Venue: SDCC (Selangor Digital Creative Centre)
Address: E-28-1, Jalan Multimedia 7/AG, City Park, i-City, 40000 Shah Alam, Selangor. (Map)

Agenda
13:30 Registration
14:00 SITEC Introduction
14:05 Coach: Adrian Oh (Co-Founder, eCommerceMILO)
14:45 Guest 1: 8 Types of O2O Models to Grow Retail Businesses / Gary Boon (Co-Founder, Wofollow)
15:15 Guest 2: Bata Malaysia O2O Retailing Roadmap / Eric Oye (E-Commerce Manager, Bata Malaysia)
15:45 Market Info Sharing / 1.GigaGigs
15:55 Photography Session
16:00 Tea Break and Networking
-The End-
* This event will be conducted in English.
* More information on the coach, speakers and market info sharing can be found on our FB event page.

Who should attend:
eCommerce Players, Internet or Solution Provider, SME/SMI, Retailers, Chain Stores, etc.
Enquiry and Registration:
RSVP: https://sitecec104.eventbrite.com
Email: ecclass@sitec.com.my
Tel: 012-6705026 (Mr. Loke)