SITEC BRINGS YOU THE ULTIMATE DIGITAL MARKETING ADVANCED COURSE THIS 2020!
About this event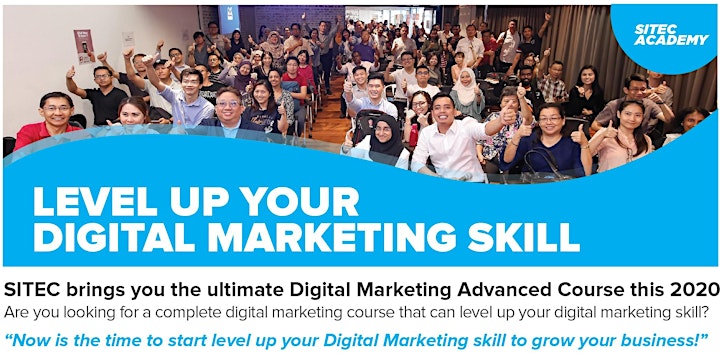 2020 SITEC Digital Marketing Advanced Course 3: Content Marketing
------------------------------------------------------------
Topic: Content Marketing For Success
Day 1
- Defining content & content marketing
Win customers with content marketing
Content is more than copy-writing, blog & a post!
Defining content marketing
History of content marketing
Goals for content marketing
- What makes successful content marketing?
Growing a niche content audience
Defining a unique brand viewpoint
Delivering content experiences
- Developing a winning content marketing strategy
Gaining clarity on your values and positioning
Your brand and value positioning
Understanding your values proposition
Selecting your audience
Conducting competitive analysis
Defining your unique right to win
Set strategic goals
- Choosing the right topics
Creating unique content
Finding relevant topic ideas
Organizing topics into categories
Tips for successful storytelling
Crafting engaging messaging
Selecting the right type of content
Innovating with content
Conveying purpose & thought leadership with content
- Publishing content
Invest in a smart mix of channels
Content marketing best practices
Publishing best practices
Measuring content
Day 2
- Create & source effective content
Mapping content to your customer journey
Choosing content marketing format and channels
Making content effective
- Grow your content operations
Setting up a content calendar
Defining a content process
Clarifying roles & responsibilities
Best practices
Understanding content performance
- Interacting with customers
Building and maintaining a community
Providing social first customer service
The secret formula to building your online community
- Content marketing opportunities
Winning in content marketing & conclusion
Experimenting beyond best practices
------------------------------------------------------------
Advanced Course 3 Details:
Organiser: SITEC
Support: Invest Selangor & PopCon
Date: 29, 30th September 2020 (2 days)
Time: 9:00AM - 4:00PM
Admission Fee: Normal Price - RM199
Language: English
Venue: SDCC (Selangor Digital Creative Centre)
Address: E-28-1, Jalan Multimedia 7/AG, City Park, i-City, 40000 Shah Alam, Selangor. (Map)
------------------------------------------------------------
Coach Profile:
Nina Sharil Khan, Founder & CEO, PopCon
Nina Sharil Khan is the Founder & CEO of PopCon, International Speaker & Host of the #JustLanggar PopCast live show.  Nina is also Marketing in Asia's Top 100 Inspirational LinkedIn Icons for both 2019 & 2020.
Her journey in entertainment began as an Actor, TV Host and Film & TV producer.  Realising that disruption was happening in social media, the rebel in her founded PopCon in 2018, as a creator community and platform to connect creative talents & businesses.   
Within just a year of its operations, PopCon launched the world's first ever Business Influencer conference, the CxOCON.  Today, PopCon has evolved into a full-fledged Marketing Agency and Academy, working directly with TikTok, Twitter and LinkedIn and dedicated to developing and nurturing Southeast Asia's Business Influencers.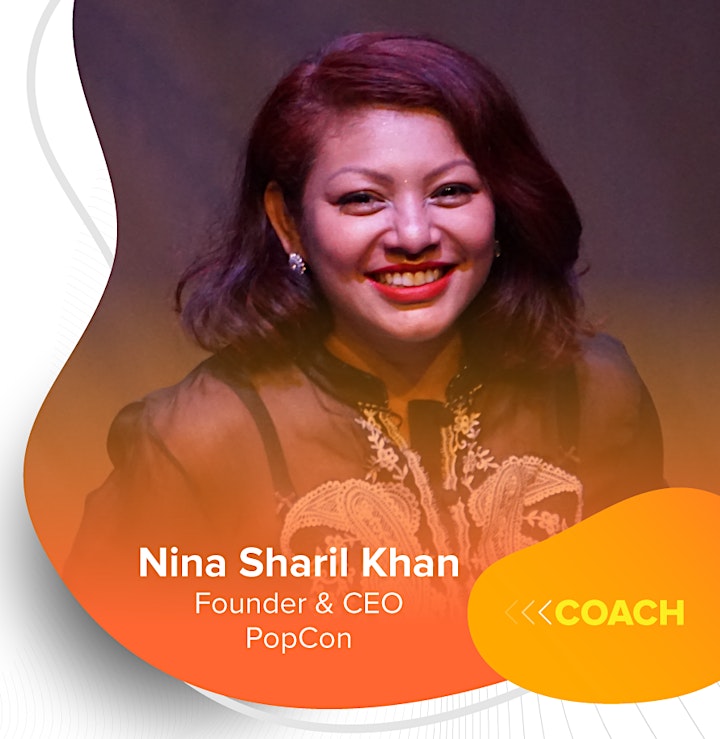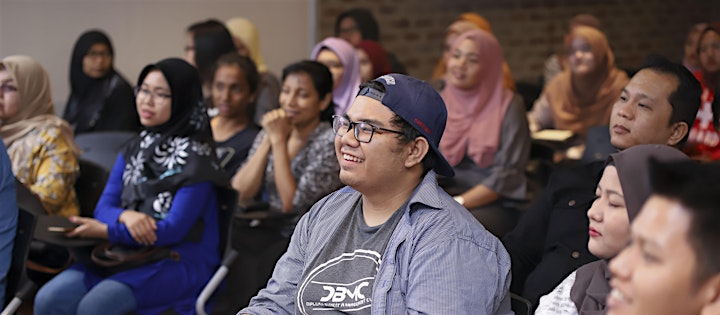 ------------------------------------------------------------
Course Objectives:
By the end of the program, participants should be able to:
Delivering engaging content
Have an in-depth understanding of content generation strategies
Identify value pillars that they can relate with to create authentic content and comments
Understanding different types of content
Produce (create) or reuse (other people's content)
Build organic growth through content
------------------------------------------------------------
Expected Learning Outcomes:
By the end of the day 1, participants should be able to:
Define and understand content marketing
Understand the goals of content marketing
Set up a winning content calendar & deliver unique content experiences
Develop a winning content marketing strategy
Find the right audience
Create effective content sales & lead generation
Deliver engaging content
Selecting the right platforms
Promoting content with social media
Measure content
By the end of the day 2, participants should be able to:
Understand content generation strategies
Identify value pillars that they can relate with – to create authentic content and comments
Understand the different types of content
Produce (create) or reuse (other people's content)
Build organic growth thru content
Tools & resources for content marketing
------------------------------------------------------------
Training Methodology/ Approach:
Program is interactive and includes the following activities that will be incorporated into the program:
Facilitation and real time coaching and feedback
Practical exercise
Video presentation
Discussion and brainstorming
Case studies
Self-evaluation
------------------------------------------------------------
Targeted Participants:
Business owners
Solopreneurs
Marketeers
Sales & marketeers
Anyone who wants to learn
------------------------------------------------------------
Enquiry and Registration:
------------------------------------------------------------
Agenda:
08:30 am - Registration & Breakfast
09:00 am - SITEC Introduction
09:10 am - Session 1 with Coach
12:00 pm - Lunch
01:00 pm - Session 2 with Coach
04:00 pm - Tea Break & End
* This course will be conducted in English.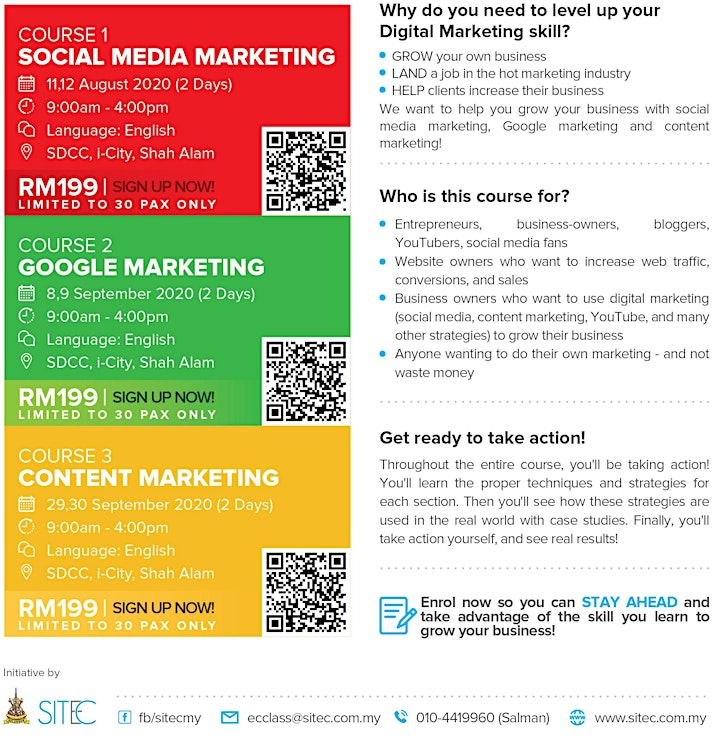 About SITEC:
SITEC (Selangor Information Technology and E-Commerce Council) was initiated by Selangor State Government in 2015. We conduct a series of seminars aiming at increasing the e-Commerce know-how for Small and Medium Enterprises. We also host forums and discussion panels inviting emerging and successful e-commerce entrepreneurs to share their stories and real-world experiences. We hope this can serve as the catalyst for the traditional industry to transform their business successfully online and help Selangor to stay at the forefront of social-economy growth driven by this new and fast growing world of e-commerce.
Organizer of SITEC Digital Marketing Advanced Course 3: Content Marketing
Established under the secretariat of Invest Selangor by the Selangor State Government, the Selangor Information Technology and E-Commerce Council (SITEC) is chaired by Chairman of the Standing Committees of Investment, Industry & Trade, Small and Medium Industries (SME) and Transport; Selangor State Government EXCO. SITEC aims to develop Selangor as the regional trading hub for e-Commerce and to uplift the startup ecosystem within the state.
As such, it has undertaken a variety of initiatives, from the four core thrusts incorporating education and active participation, in order to boost and support the nascent e-Commerce and startup scenes in Selangor.
Under the guidance of the SITEC council members, SITEC has identified four main thrusts to drive economic activity in the two main industries, startups and e-Commerce:
- SITEC Apps 100
- SITEC Online 100
- Selangor Digital Creative Centre (SDCC)
- E-Commerce Education
SITEC has established a set of clear objectives to guide our aspirations in achieving our aims. Through two of our thrusts, Online 100 and Apps 100, we intend to steadily reach out to brick and mortar merchants in Selangor to get them onboard e-commerce as a supplement to their retail efforts. Additionally, we are gradually establishing ourselves as a key Digital Economy player through our strategic partnerships, reaching out to tens of thousands of individuals within the local e-commerce, startup and tech spheres.
As of December 2017, SITEC has:
- On-boarded 300 Selangor brick and mortar merchants to sell online via Online 100
- Produced 300 mobile apps for these Online 100 merchants
- Reached out to over 80,000 people in related areas locally and overseas
- Ran 58 e-commerce and startup educational classes
- Facilitated our Online 100 merchants in generating RM 7,300,000 in Gross Merchandise Value