Discover the breadth & depth of creating site work and immerse yourself in GALLIM repertoire and site research with GALLIM and guests.
About this event
SITE: Site-Specific Processes and GALLIM Repertoire
JULY 7-11, 2021 | 11am-6pm ET virtual
JULY 14-18, 2021 | 9am-4pm ET live NYC (optional)
What is site-specific work? What does it mean to create in a park, a landmark, a home, a gallery, a street? What happens, what questions arise when an artist embodies a site?
Discover the breadth and depth of making site-specific work in practice with site-specific artists in the field during the first week of this intensive, Wednesday-Sunday, July 7-11. Then immerse yourself in GALLIM Repertoire and site exploration with GALLIM artists during the second extension week live in NYC, Wednesday-Sunday, July 14-18.
The first intensive week, SITE I, will be held virtually and is open to participants around the world! The second week, SITE II will be held live in NYC.
Enrollment is first come, first served.
PROGRAM
SITE I: Site-Specific Processes
During this comprehensive, 5-day intensive, dive into the present and past of site-work, research your own site-specific practice, engage with fellow creatives through workshops, lectures and individual site exploration with artists across the country.
Participants will gain new perspectives on the history of site-work in America, creating movement in conversation with the ideas, history and the people that make a site, researching and contextualizing place, shaping space, and documenting site-work. Through movement workshops, guided work sessions, guest talks and collaborative review, students will create their own site-specific studies each day and build the skills to confidently incorporate site-work into their new or existing artistic practice.
This week will be held remotely via zoom and welcomes participants from around the world. All site-work will be explored on zoom in individual locations!
SITE II: GALLIM Repertoire and Site Research
This 5-day repertoire extension, is an opportunity to immerse yourself in GALLIM repertoire and work with GALLIM artists to do site research together in a small group, live in NYC. This week will culminate in a free public showing of GALLIM repertoire and participants' site exploration on Sunday July 18.
Participants will work closely with GALLIM artist Emily Terndrup and GALLIM artists on repertoire from Miller's concurrent July 2021 site-specific, sound, sculpture, and performance installation at Lincoln Center, You Are Here.
This week will be held in person in NYC, location to be announced soon and will be limited to a certain number of participants in accordance with Covid safety guidelines.
Participation in SITE I is recommended for participation in SITE II, though not required.
SCHEDULE*
SITE I: Site-Specific Processes
Wednesday-Sunday, July 7-11
11am-12:15pm Morning Class with GALLIM Artists
12:20-2:30pm Lab- Site-Specific Processes
2:30-3:30pm Lunch
3:30-4:30pm Guest Workshop
4:30-5:30pm Individual Research
5:30-6pm Collaborative Review
SITE II: GALLIM Repertoire and Site Research
Wednesday-Sunday, July 14-18
10:00am-11:15am Morning Class with GALLIM Artists
11:30am-1:30pm GALLIM Repertoire
1:30-2:30pm Lunch
2:30-4:30pm Site Research with GALLIM Artist Emily Terndrup
4:30-5:00pm Collaborative Review
INSTRUCTORS AND GUEST ARTISTS
Designed by choreographer Andrea Miller in collaboration with guest artists and GALLIM artists, this intensive brings together a group of accomplished guest artists with a multiplicity of site-specific movement practices, processes and perspectives.
Andrea Miller is the founder and artistic director of GALLIM a movement-based production company out of New York, creating work for stage, film, sites and the visual arts.
A sought-after creator and collaborator, Miller's works have been described as both ancient and ultra-modern with few creative boundaries in site. Her works which explore essential elements of human behavior and motivation have been widely presented and performed at The Metropolitan Museum of Art, The Guggenheim Museum, Art Basel, Lincoln Center for the Performing Arts, The Kennedy Center, BAM, The Joyce, Jacob's Pillow, Sadler's Wells, London Royal Opera House, Théâtre National de Chaillot, Grec of Barcelona, Theaterhaus Stuttgart, Canal Madrid, Suzanne Dellal Tel Aviv, Teatro Nacional de Panamá, DanceHouse Vancouver among others.
Guggenheim Fellow and the first woman to be named Artist in Residence at The Metropolitan Museum of Art, Miller's works have increasingly challenged and invited dialogue of where dance can exist and for whom it is created. She has received fellowships from Sadler's Wells, New York City Center, and the Princess Grace Foundation and has been featured in Forbes as an entrepreneur and leader in the dance world. Over a decade Miller has codified a creative methodology that is at the center of her creative praxis and exchange with students, dancers, collaborators, and presenters. She has been a guest teacher and lecturer at Harvard, The Juilliard School, NYU, Barnard, Sara Lawrence, Wesleyan, Marymount Manhattan, UofArts, among others. Throughout the pandemic Miller has zeroed in on the creative and professional development needs within the dance community through GALLIM programs such as Build Your Creative Practice Workshop: Meeting Creatives Around the World, Dancing with The Camera: Fundamentals of Dance Filmmaking, Dancing with the Camera: From Concept to Delivery, SITE, Moving Women Residencies at the GALLIM Studio, Jam and Toast: Free Morning Class on InstagramLIVE, HAPPY HOUR: Conversations with Thought Leaders over Drinks ,as well as free streaming of repertory works and films.
Miller is a graduate of The Juilliard School, currently teaches at Marymount Manhattan College, and is the mother of two. See full bio at: www.gallim.org/andreamiller
SITE I
Brett Easterling has been surrounded by dance ever since he was born in Palo Alto, CA. After high school, Bret moved to New York City to study at The Juilliard School, where he received his BFA and the Hector Zaraspe Prize for Choreography in 2010. While in school, he was a formative member of Andrea Miller's Gallim Dance, and a guest performer with Buglisi Dance Theatre.Upon graduation, Bret was invited by Ohad Naharin to join the Ensemble Batsheva in Tel Aviv, Israel. He was ultimately promoted to the acclaimed Batsheva Dance Company, which gave him the opportunity to tour internationally, and participate in creative processes with Naharin, Sharon Eyal, and Roy Assaf.
In 2011, Bret began teaching Gaga, and has since had the privilege of sharing this movement language to dancers and people in France, Italy, Germany, Spain, Sweden, Norway, Japan, Singapore, Russia, Australia, Canada, and the US.Bret has always had a strong passion for choreography, and has received numerous honors for his works. He is also a certified Ilan Lev Method practitioner, a rehearsal director for Gallim Dance, and the Artistic Director of BEMOVING.
Madeline Hollander (b. 1986, Los Angeles) is an artist who works with performance, video, and installation to explore how human movement and body language negotiate their limits within everyday systems of technology, intellectual property law, and daily ritual. Her work presents continuously looping events that intervene within spatial, psychological, and temporal landscapes and engage with alternate modes of viewership, replication, and archive. Hollander earned a BA from Barnard College of Columbia University and an MFA from Bard College's Milton Avery Graduate School of the Arts. She has had solo exhibitions at The Whitney Museum of American Art (2021);The Visual Arts Center, University of Austin, Texas (2021); Bortolami, NY (2020); The Artist's Institute, NY (2018); Bosse & Baum, UK (2017); and SIGNAL, Brooklyn, NY (2016). Her work has been featured in the Whitney Biennial (2019); the Aldrich Museum, CT (2020); Helsinki Contemporary, Finland (2019); Serpentine Galleries, UK (2018); the Centre Pompidou Metz, France (2019); and the Kestner Gesellschaft, Hannover (2017). Upcoming projects include the upcoming Performa Biennial 2021 in New York, Frieze/BMW Open Work Commission, London 2021, and ARCH Athens, Greece 2022.
Wendy Perron is a teacher, writer, and author of Through the Eyes of a Dancer (Wesleyan University Press, 2013). She started her career as a dancer/choreographer in New York in the early 1970s. She was member of the Trisha Brown Company from 1975 to 1978 and also danced for such choreographers as Rudy Perez, Sara Rudner, Kathryn Posin. From the '70s through 2000 she choreographed more than 40 pieces for her own group. Perron has written about dance for The New York Times, The Village Voice, Dance Europe, and Dance Magazine, where she was editor in chief from 2004 to 2013. The pieces she wrote or edited for the SoHo Weekly News in the mid-70s are now collected as the Wendy Perron Papers at Fales Collection, Bobst Library. She has taught various aspects of dance at Bennington, Princeton, NYU, City College of New York, and Rutgers and has often adjudicated for ballet competitions as well as choreography competitions. Known as an authority on Judson Dance Theater of the early sixties, she has given lectures and readings across the country. In the early '90s she served as associate director of Jacob's Pillow. The New York Foundation for the Arts inducted Perron into its Hall of Fame in 2011. She often speaks publicly about dance and still occasionally dances with Vicky Shick. Perron is now editor at large for Dance Magazine and writes (sometimes controversial) commentary for her website at wendyperron.com.
SITE II
Emily Terndrup Born in Des Moines, Iowa, Emily Terndrup is a performer, choreographer, and director based in New York City. Emily has spent much of the past decade working in immersive dance theater as a performer and rehearsal director for Punchdrunk's acclaimed Sleep No More (2012-2019) in both New York and Shanghai. As a company member with GALLIM Dance (2012-2014), she performed choreographer Andrea Miller's I Can See Myself in Your Pupil, Blush, Wonderland, Fold Here, and Mama Call throughout the US, Europe, and South America. Emily has also collaborated and performed with choreographers Bobbi Jene Smith, Luke Murphy-Attic Projects, Shannon Gillen + Guests, and Gregory Dolbashian. Most recently Emily served as a rehearsal director at GALLIM Dance, and the Creative Director for The McKittrick Hotel, crafting content and choreography for their celebrated immersive parties.
With collaborator Derrick Belcham, she has choreographed, directed, and produced three evening-length dance theater works: FABLE (2015), DEBUT (2014), and The Wilder Papers (2014) at the Knockdown Center in New York. Together, Belcham and Terndrup have created music videos for The Antlers, My Brightest Diamond, Marissa Nadler, White Prism, BLKKathy, and Mary Lattimore. Derrick and Emily's films have been presented at the San Francisco Dance Film Festival, CASCADIA Dance & Cinema Festival, KRAFTA DOC, Greensboro Dance Film Festival, SV Showcase/40 North Film Festival, Triskelion Arts Dance Film Festival, and San Souci Dance Festival. Emily's other choreographic projects have been presented at The Kennedy Center for the Performing Arts (D.C), Lincoln Center's Clark Studio Theater (NY), The Knockdown Center (NY), The Packing House (CO) and Supercinema (NY).
Guest artists and additional GALLIM artists to be announced very soon!
QUALIFICATIONS & REGISTRATION
SITE: Site-Specific Processes and GALLIM Repertoire is open to all movement-artists with an interest in creating site-work and training in GALLIM technique and repertoire. You must be at least 18 years of age to participate. Participants may register for only SITE I (virtual), or SITE II (in NYC) or SITE I & II. It is recommended that you participate in SITE I if you are planning to take SITE II.
There are two full work-study scholarships and two full BIPOC scholarships available for this intensive. Please specify in application if you are interested in SITE I only (virtual) or SITE II (live NYC) or SITE I & II. Visit gallim.org/site to apply for scholarships.
Registration closes June 30th.
TUITION
$500 for SITE I
$550 for SITE II
$950 for SITE I & II
*Tuition is refundable on a case-by-case basis.
Please contact us with any specific accessibility requirements so we can accommodate your needs.
For more information, please contact our Programming Associate Navarra Novy-Williams: navarra@gallimdance.com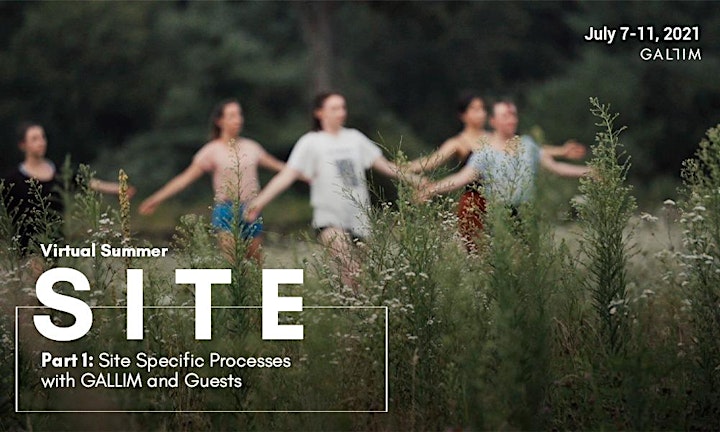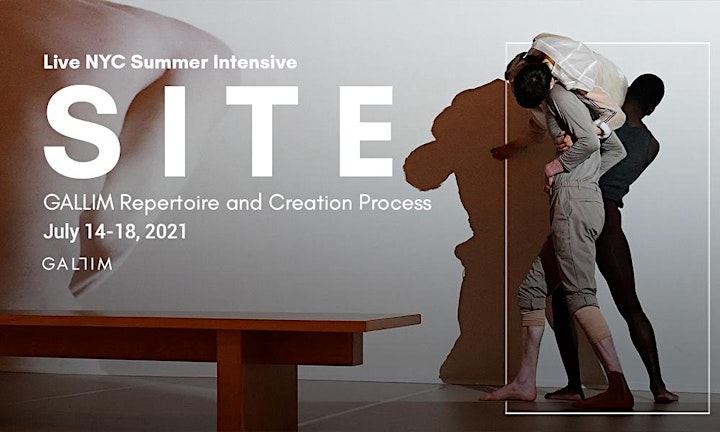 Date and time
Refund policy
Organizer of SITE: Site-Specific Processes and GALLIM Repertoire
ABOUT THE COMPANY
Brooklyn-based company GALLIM kneads movement into raw emotions, distills it from existential uncertainty and unleashes it onto unexpected paths of connection between artists and audiences. Underpinned by physicality, virtuosity and artistic director, Andrea Miller's distinct approach to performance, the Company has an expansive language bridging theater, visual arts, music and fashion. Under the direction of founder, and choreographer Miller, GALLIM is recognized for its powerful and transcendent works, movement language and commitment to the creative praxis.
Over the past decade, GALLIM has been invited to create and perform throughout the world in dance venues, museums, sites, fashion, film and festivals including The Metropolitan Museum of Art's Temple of Dendur, 3 gallery performative installation for Met Breuer, Frieze Festival collaboration with Marta Minujin , dance film Art Basel, Xavier Dolan film for Jessica Chastain and Kit Herrington, Lincoln Center, The Kennedy Center, Theatre National de Chaillot in Paris , German Festival Tanz Bremen, Teatre Grec in Barcelona, Teatros Del Canal in Madrid and the Grand Theatre de la Ville de Luxembourg,The Joyce, Jacob's Pillow, Spoleto USA, Hermès Womens Universe and Philip Johnson Glass House, Calvin Klein, Lacoste and Vogue. 
Miller's recent commission include Martha Graham, A.I.M (Abraham in Motion), Pennsylvania Ballet, Ballet Bern, Ballet Hispanico, Alvin Ailey II, Rambert2, NDT2, and The Juilliard School.
ABOUT ANDREA MILLER
Founder, Artistic Director and Choreographer Andrea Miller has established herself as a groundbreaking artist who brings human depth, physical virtuosity and untraceable imagination to her work. Miller's works penetrate the elusive meanings of existence with unbridled nerve and a rare poetic instinct. Miller has been recognized with fellowships from the Guggenheim Foundation, Sadler's Wells, and the Princess Grace Foundation. Named the 2017–2018 Artist-in-Residence at New York's Metropolitan Museum of Art, Miller became the first choreographer to hold that distinction, and in October 2018 she was featured in Forbes as a female entrepreneur and leader in the dance world.
Miller creates movement-based works for dance, theater, museums, gallery spaces, film, fashion and brands. Her highly acclaimed works and commissions are performed by Gallim as well as other leading dance companies around the world. Recent commissions include Abraham.in.Motion, Pennsylvania Ballet, Grace Farms, Rambert 2, Netherlands Dance Theater 2, Bern Ballet, Atlanta Ballet, and Noord Nederlands Dans. Her work in fashion includes Hermès, Vogue, Lacoste, Calvin Klein, and KSwiss. Film credits include The Death and Life of John F. Donovan (2018), directed by Xavier Dolan, and In This Life (2018) starring Robbie Fairchild. Miller has served as an adjunct professor at Barnard and has been invited to teach across the U.S., recently at Harvard University, the Juilliard School, New York University, Marymount College, Wesleyan University, and the University of California, Santa Barbara among others.