Sales Have Ended
Registrations are closed
Thank you for your interest in this event. The registration for this Online Hiring Event has ended. Please make sure to check the Crossover Company Profile for upcoming Hiring Events!
Sales Have Ended
Registrations are closed
Thank you for your interest in this event. The registration for this Online Hiring Event has ended. Please make sure to check the Crossover Company Profile for upcoming Hiring Events!
Description
We're running an Online Hiring Event on December 15th, 2018, to hire Site Reliability Engineers ($100K/yr).

Online Hiring Events are live forums designed to enable you to understand the role and requirements through an interactive Q&A session followed by a self-directed testing process. The testing takes between 3-5 hours to complete. It's worth taking the time to finish all the tests because we evaluate every single complete application to find the top talent.
This event will include all testing required to apply for the role. Upon grading the tests, and if you advance, we will set up an interview with the hiring manager.
You can see more details about this role here:
https://www.crossover.com/site-reliability-engineer?utm_campaign=Dec15event
---
SREs are responsible for the big picture of how our systems relate to each other, we use a breadth of tools and approaches to solving a broad spectrum of problems.
Practices such as limiting time spent on operational work, cost optimization, blameless postmortems and proactive identification of potential outages factor into the iterative improvement that is key to both product quality and interesting and dynamic day-to-day work.
You will also be the driver for technical simplification initiatives throughout the organization.
Candidate Requirements:
Bachelor's degree in Computer Science or related technical field involving coding (e.g., physics or mathematics), or equivalent practical experience
3+ years of demonstrated experience managing and maintaining large-scale SaaS applications in one of the major platforms (Azure, GPC, AWS, IBM Cloud) and cloud orchestration tools (Kubernetes, Marathon, VMware, etc.)
2+ years of experience with Linux operating system (strong understanding)
3+ years of experience in at least one programming language: Java, C, C++, Python, Go, Perl or Ruby
A systematic problem-solving approach, coupled with strong communication skills and a sense of ownership and drive
Ability to debug and optimize code and automate routine tasks
(Desired) Experienced with declarative configuration management and provisioning tools like Ansible, Puppet or Chef
Bootcamp Program:

To apply for a role at Crossover, you will go through a series of online tests, usually during the online hiring event. If you pass these tests, you will be offered the opportunity to participate in our four-full-time week Bootcamp training program. This is elite training taught by our top instructors.
Here's what our graduates have to say about Bootcamp:
"I am very pleased to say that because of Crossover's unorthodox and unique way of transferring the knowledge through (Paired sessions, coaching sessions with CSMs), I have never been more confident in my technical skills and abilities for my role."
-Mikael F
"The CTO Bootcamp was another thing that motivated me. I wanted to see how CTOs across the globe work and learn from them."
-Javed Z
"I've been with the company since Aug (been part of the second Bootcamp) and since then I've learned SQL, databases, servers, tapes, other content management systems etc- and that's only been in 3 months. Usually when I'm in a new company, I learned a lot about their platform, their tools etc during the length of my time with them but never at this speed!"
-Monnaliza T
It is offered as soon as you want to get started. You will be compensated for 40 hrs/ week at the hourly rate for the role you are applying to. Bootcamp training is an excellent opportunity to learn about our culture, expectations, tools, processes, and procedures. It's an intensive and demanding program, but every graduate is guaranteed a job at the end of it.
Register by clicking the green button. The Webinar address and test platform link will be sent to confirmed candidates by email.
Join our community of remote professionals!
We have over 4,000 Crossover team members and are growing our network around the world. Watch this video to hear from team members in Brazil, Russia, Poland, Argentina, Turkey, Romania, Ukraine, and Hungary. https://youtu.be/L_hhRUutsko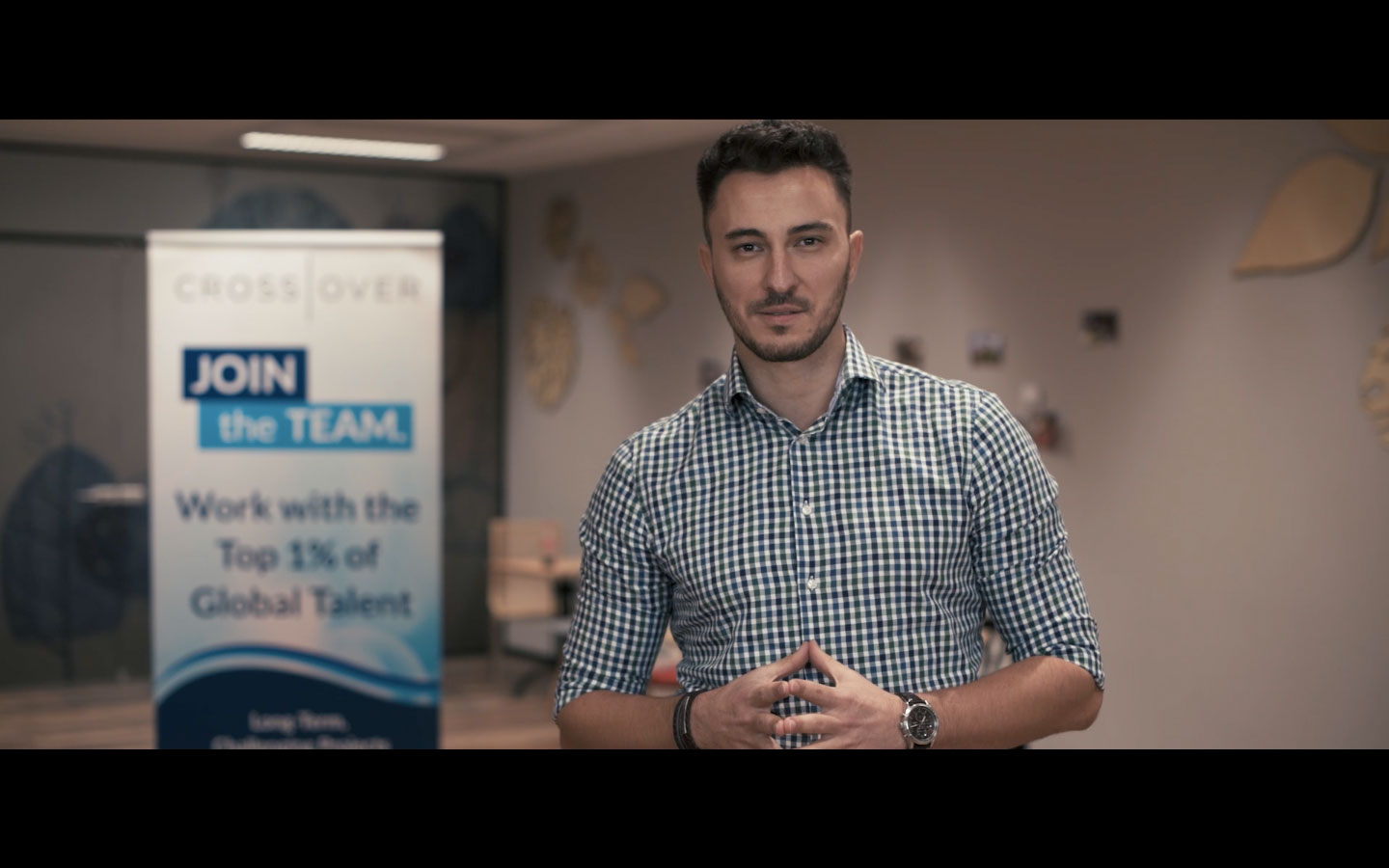 Watch our Pre-Event Checklist Video!