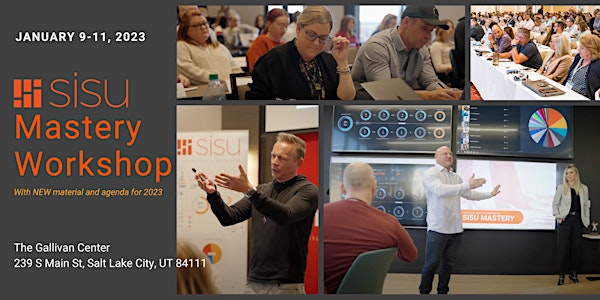 Sisu Mastery Workshop - January 9-11, 2023
Learn directly from Sisu's flagship team-Take their proven business strategies and implement them into your Sisu platform before you leave.
When and where
Location
Gallivan Center 239 S Main St Salt Lake City, UT 84111
About this event
It's 2023! This 👏 is 👏 your 👏 year 👏
We know you as a member of Sisu Nation. You're smart, you're motivated, and you're willing to do the things that will make 2023 your best year ever. Which is why attending our January 2023 Sisu Mastery Workshop is for you.
In 2022, we did 4 powerful Sisu Mastery Workshops. This year, we've taken your feedback and revamped the whole experience to make it even more powerful.
This isn't your run of the mill training or workshop. This is an intensive two days of masterminding, learning, and actually implementing new strategies and best practices when it comes to getting the most out of Sisu.
This event is for any leader who plays a key role inside their team or brokerage. This includes owners, sales managers & directors of ops 🎉
- Half day mastermind with like-minded team leaders, led by Sisu CEO Brian Charlesworth.
- We'll be joined by Spring and Justin from The Utah Life, to lay out the playbooks on how they did over 500 transactions and $200M in closed volume in 2021, and are on track to clear 700 in 2022.
- We'll go onsite to the ULRG office to see "The Great Wall of Sisu", attend a team meeting, and see exactly how their business and culture runs on The Sisu Way.
- Half day "Sisu Implementation Lab" so that you can finish out the event implementing the exact strategies you learned at the event, surrounded by Sisu Implementation and Success Team members 🎉
Our biggest goal for this event is that you walk away with real strategies, implemented and in place, before the event is over.
What you do in Sisu is important...
💡 But even more important is how you do it—and that has a whole lot more to do with leadership, accountability, workflows and processes than it does with configuration settings in the admin panel.
✅ Done right, Sisu is a system that reduces workload, drives clarity around what matters most, and gives you leverage and vision as a leader.
So please join us along with other team leaders running Sisu to collaborate around leadership, focus, vision, process and culture 📈
Past Sisu Mastery attendees have said the following:
"I've taken so much already have already implemented a bunch into my business. I've learned a ton from the team here and a ton from everybody in the room. The networking alone was the best part of the entire trip. You gotta get your butt here." -Riley Kratzer
Watch the video below for more 👇
—————————————————————————————————
AGENDA:
Monday, January 9th
Travel Day
6:00pm | Welcome Reception & Networking
Tuesday, January 10th
8:00am | Check In
9:00am | Mastermind with Sisu Executive Team
12:00pm | Lunch on your own
1:15pm | Utah Life Sessions
All things leadership and agent attraction
How to Become and Invaluable Leader
Establishing benchmarks for Agent Attraction
Creating a Recruiting Machine
Lead Gen. Systems. Budgets. Ads, events.
One On One Strategy Sessions
Hello Week
Sisu Onboarding
Utilizing Virtual Assistance for Agent Attraction and Onboarding
Wednesday, January 11th
8:00am | Transportation to Utah Life Farmington Office
9:00am - 12:00pm | Shadow Live Team Huddle
12:00pm | Transportation back to Gallivan Center
12:30pm | Lunch on your own
2:00pm | Roundtables & Implementation Lab 👨‍💻
6:00pm | Event ends
Accommodation Suggestions:
Sheraton, Salt Lake City Hotel