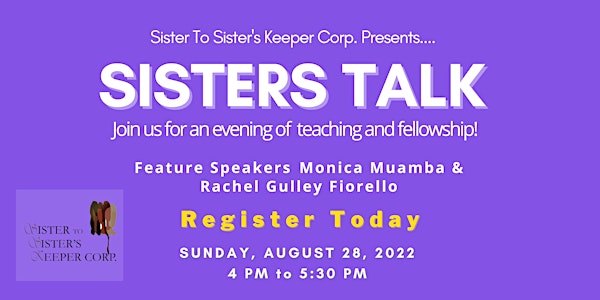 Sisters Talk - August 2022
Sister to Sister's Keeper Corp Women's Conference - Feature Speakers Monica Muamba & Rachel Gulley Fiorello.
About this event
FREE VIRTUAL EVENT
Hello beautiful women of God! Sister to Sister's Keepers Corp invites you to our Sisters Talk Empowerment event, which is a modified version of our Annual Women's Conference! This year's theme is "Remember Not" based on Isaiah 43:18-19.
This amazing virtual event is open to women attendees. The past cannot be changed, no matter how much we try to hold on to it. We must be aware of the things that move us forward. The past should be a learning experience and not an everlasting moment. We need to let go of the past and look forward to the future. What is done is done! We must look forward to experience the new things God has in storage for us.
Join us for an evening of fellowship, inspiration and rediscover the greatness within! Our Powerful Speakers, Monica Muamba & Rachel Gulley Fiorello will cover topics specific for Women. And hear empowering stories from other women who are overcoming their struggles to achieve their goals. We're all facing and we're here to support and serve one another.
WEBINAR RULES
1. Please participate! We want to hear your thoughts; but please also be respectful of time and keep comments or stories to about 5 minutes.
2. Camera on, microphone muted when not talking (hint: if you have a laptop or computer available, it's a little easier to manage than a phone). It's not a requirement to have your camera on, but we would love to see each other's faces.
3. Use Chat or the raise hand emoji if you have a question or would like to let the facilitator know that you have a comment.
4. Confidentiality: We want this to be a safe space for sisters to talk. Please do not share anything said in this meeting outside of this group. Consider participating in the meeting in a private space or with earbuds so others are not listening in.
5. As always, show the courtesy and respect in listening and responding to others that you yourself would want to receive.
REGISTER TODAY
Register Today on Eventbrite. It's Free!
SHARE THIS EVENT
This is a FREE to attend, family-friendly event. Share with your mothers, sisters, aunties, cousins, and friends. You don't want to miss this massive move of God at Sisters Talk on Sunday, August 28, 2022 from 4:00 PM to 5:00PM EST on Zoom.
Pictures from past in-person events below!