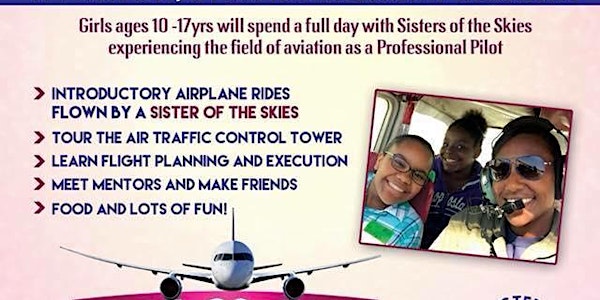 Sisters of the Skies & Legacy Flight Academy presents: Girls Rock Wings!
When and where
Location
Lone Star Flight Museum Ellington Field 11551 Aerospace Ave Houston, Texas 77034
Description
On Saturday, April 28th from 8:00 AM to 4:00 PM at Lone Star Flight Museum (at Ellington Field), Sisters of the Skies (SOS) is partnering with Legacy Flight Academy (LFA) to host a unique 1-Day Outreach and Flight Introduction Program, "Girls Rock Wings," for young women ages 10-17. Formal Check-in is from 8:00AM - 8:45AM. Students MUST show up within the check-in window to be guaranteed admittance to the program. The program will begin immediately following check-in and end at 4:00PM.
Girls Rock Wings is an outreach and flight orientation program designed to inspire young women to reach beyond their familiar circumstances. As part of this objective--and to remove financial barriers--SOS and LFA are absorbing the $250 cost for individual student participation. A $10 tax deductible donation, designated as "Student Registration Fee" is all that is required in order to participate in Girls Rock Wings! (Please note, in the event of a cancellation, donations are NON-Refundable).
In "Girls Rock Wings," under-represented young ladies will have a once-in-a-lifetime opportunity to develop and foster an interest in aerospace careers through flight introductions and mentorship from women who proudly serve in today's aviation and STEM career fields! No previous aviation experience is necessary and space is limited. Parental permission is required prior to participation. Saturday's activities include:
• An orientation flight in a single-engine airplane where the young ladies will actually fly an airplane
• Interaction with civilian, commercial, and military aviation role models
• Tour of the newly-opened Lone Star Flight Museum, including instruction in the cutting-edge Aviation Learning Center
To learn more about the program, visit the website https://www.sistersoftheskies.org/event or email aruss@legacyflightacademy.org