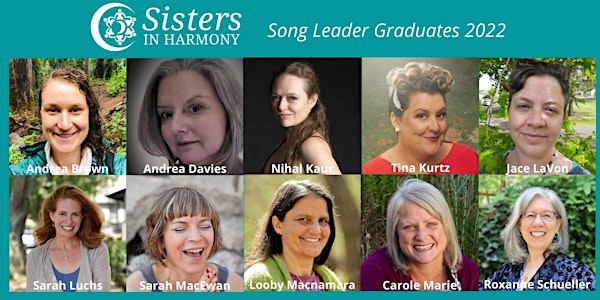 Sisters in Harmony Song Leader Trainees - Graduation Song Circle #2
A community song circle with our 2022 graduates! All are welcome!
Refund Policy
Contact the organizer to request a refund.
About this event
Woo hoo!
Let's support and celebrate our Sisters in Harmony Song Leader Training Graduates as they lead us in some soul-filled singing!
Suggested donation: $20. Thank you for your generosity! Proceeds go to support our Sisters in Harmony Song Leader Training Program and our Video Library. Tickets are non-refundable.
The dates are:
#1 - Monday, June 13th @ 4:00 pm
#2 - Saturday, June 18th @ 11:00 am
These women have just completed an intensive 6-month training and are ready to offer their talents to the world!
Circle #2 - Saturday, June 18th @ 11:00 am:
Andrea Brown (she/her) is a song-keeper, circle tender, land-based ritual artist, experience designer, and community weaver. Andrea honors the power of song to repair our sense of belonging, build individual and collective intuition, and inspire change. Andrea has trained in community song and chant leading with Heather Houston. She is a graduate of the Pratt Institute of Design. She leads song medicine circles, and creative rituals of reciprocity and design consulting from her eco-village in Ithaca, New York.
Andrea Davies has been using community singing with a group who are recovering from health issues, and previously also business groups who are out of tune with themselves. Bringing harmony back to each individual and between/with people is what Andrea crafts with her singers online or in-person groups. She is also a certified embodiment coach/counselor and leads meditation in a voluntary group for people recovering. You can contact Andrea at email: info@scienceandsoulworks.com
Nihal Kaur, MTCM, Dipl. O.M. (NCCAOM®) (She/Her) on unceded Nisenan Land. Nihal is a trauma-informed, medically-intuitive, soul-purpose strategist and embodiment coach. In Nihal's work, you access the source of divinity within yourself. You are invited to link your voice and your soul to heal yourself and expand as a healing force for others.
Tina Kurtz (TiNada) is a Nada Yoga Teacher, Sound Healer, Intuitive Music Therapy enthusiast, former Indi Punk and Ska saxophone player, Community Concert Band, Big Band and Saxy Mama Ensemble Member, and keen participant in Launceston Ukelele Jam based in Trevallyn, Tasmania (Australia). Tina's fundamental belief is the use of Music as a tool for manifestation, fusing positive messaging, frequency, tone, and rhythm with Shinrin-Yoku (Forest Emergence) to attain calm and positive psychological and physiological outcomes. This is the basis for TiNada Lifestyle working with vulnerable members of the Community. Current Song Circle projects Siren Simple Songs and Feeling Forest, Hearing Her Choir, and Eclectic Creative Collective mixing Global Sounds with various creators to develop new and exciting soundscapes.
Jace LaVon My invitation for women when we gather to breathe, hum, sing, tone and move together is to tune into the intimate bodily connection we have with the elements of which we're made. I encourage us to listen to and feel the rhythms and songs of the trees, plants, winds, flames, waters, creatures, and other living beings. Let us offer our songs in reciprocal delight and deep appreciation that we sustain each other. Knowing our collective voices have the power to transform energies within and around us in beneficial ways. In our singing, may we activate and assist in restoring harmonious balance for our interdependent relations.
Sarah Luchs resides in Columbus, Ohio. Despite being new to singing, she's discovered that music like a songbird has nested on more than one branch of her family tree. Sarah is exploring grief and joy as essential expressions of healing and wholeness. A lover of the natural world and the mysteries of life, Sarah practices astrology, ancestral healing, archetypal coaching, dreaming, and energy work. She helps people access their own unique mix of spiritual and intuitive gifts.
Sarah MacEwan is a psychotherapist on a mission to heal through creative self-expression. As an artist, singer and storyteller, Sarah brings her open heart and emotional expertise to every circle she leads, knowing that singing is a therapeutic experience like no other. Join her for the healing at www.healingishappening.com, or find her on Youtube as The Singing Therapist.
Looby Macnamara is a pioneering author and permaculture teacher. She believes in the capacity for all of us to grow and change and knows that singing can support us to find our voices and contributions to the world. Find her at www.cultural-emergence.com
Carole Marie is a song leader and music guide committed to sparking joy and creating connections in times of transition and change. She leads 'Simply Singing', a monthly community song circle, and facilitates workshops integrating music with writing. As a music guide, she teaches introductory ukulele and guitar with a passion for supporting beginners to trust and nurture their innate musicality. Carole Marie lives in Portland, Oregon, and finds inspiration for music and life in the natural beauty of the Pacific Northwest.
Roxanne Schueller has been song-leading since she was a teenager in camp and youth group. She is still song leading as Interfaith Service Leader for the Brookmont, Maryland, community as well as serving as a Cantor in Jewish settings. "I love music that builds bridges between people, no matter what their background," Roxanne says. "Singing together creates community and is often the springboard for feeling part of something greater than ourselves."