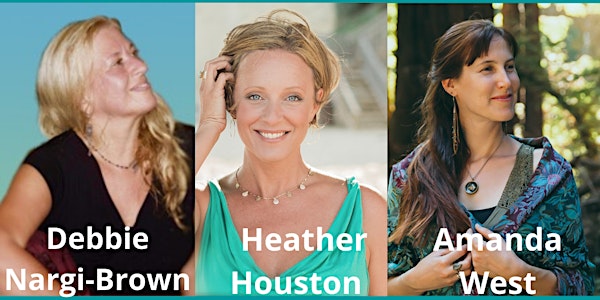 Sisters in Harmony Global with Debbie Nargi-Brown and Amanda West
Weekly Song Circles on Zoom - Facilitated by Heather Houston
Refund Policy
Contact the organizer to request a refund.
About this event
Let's embrace the new year with an open heart and an elevated consciousness!
Learn heart-opening songs for the journey.
Feel fortified, connected, and uplifted.
Atune to the power of our global community!
Held as a women's circle, but all genders are welcome!
Santa Cruz sisters unite! Debbie, Amanda and Heather offer you powerful songs for these transformational times we are living in. Discover the magic of timeless, heart-opening chants and songs from diverse traditions and artists that inspire a deeper connection to ourselves, each other, the planet, and the spirit of Life that moves through us all.
Feel confident, connected, and uplifted as we journey from the depths of vocal mindfulness and mantra to the heights of the most expressive singing.
Classes are held in an easy to follow, call and response style. We use the oral tradition of singing. No need to read sheet music. Participants are on mute and you get to do a duet with Heather. If you haven't tried it yet, it's more fun than you might be imagining. ;)
The weaving of vocal vibration, deep intention, and radiant joy, shared by a sacred community of women is the most powerful form of prayer we know to manifest our dreams and transform our lives! Please join us in lifting your voice with this sacred circle of women!
Donations:
Thank you for your donations. You are helping to keep artists afloat in these times. Suggested Donation is $15 - $20, but no one is turned away.
10% of donations for the month of January go to Rising International, based in Santa Cruz, Ca. "Globaly, we find the world's most forgotten women, and enable them to join the global economy by selling their handmade boutique-quality products online at Rising Virtual Events. Locally, we train women and teens in America, many economically vulnerable, to be Rising Representatives who run their own Rising businesses and sell products made by their global sisters. We search the U.S. for event hosts who invite friends to their Rising virtual events to shop and stay connected. Our model empowers both local and global entrepreneurs to rise together."
Registration:
***The ZOOM LINK will be sent out in the initial reply email from EVENTBRITE, and then again TWO days before, TWO hours before, and again TWENTY minutes prior to the event.
IT WILL BE SENT TO THE EMAIL YOU USED HERE ON EVENTBRITE. It will be sent FROM EVENTBRITE, not from Heather. *** Please check your spam folder.
CALLS WILL BE RECORDED - a replay will be sent out to all ticket holders.
About Sisters in Harmony:
We are devoted to empowering women's voices, uplifting women's lives, and building strong, vibrant communities through the power of singing together. We honor the voice as a vehhicle of healing and transformation. We value inclusivity, authentic expression, open-heartedness, elevated consciousness, and foster a sense of belonging and connection.
About Debbie Nargi-Brown
Debbie started singing and dancing on the day she was born! A gifted community song leader, an award-winning dance teacher, and a talented songwriter, she offers her songs with love, compassion, and the hope of bringing joy and healing to others. Debbie's lyrics and melodies are sung all over the world. She writes songs for the heart, healing, transformation, love, grief, and all that connects us as human beings. Bringing people together in dance and song is one of her greatest joys in life!
https://debbienargi-brown.com.
About Amanda West:
Amanda West is an award-winning singer songwriter, music teacher, community leader and mother. With 7 self-produced albums and numerous singles she has toured in both the U.S. and Europe. In 2014 she co-founded Womb Song, U.S., an organization that supports women into motherhood through song. This work continues through community singing circles, rituals and workshops. Understanding music to be a part of our human birthright, playing an essential role in our experience of being alive, Amanda has found her life path and greatest joy through sharing music with others. She lives, creates and teachers in the Santa Cruz Mountains with her British husband, two children, and many musical instruments.
https://amandawest.com
About Heather Houston:
Heather Houston is passionate about uplifting hearts, freeing voices, transforming lives, and building strong, loving communities through the power of singing. She spreads her magic through her 20+years of international song circle leading, private vocal coaching, and her on-line offerings - The Art of Mindful Singing, S.H.E. Sings, and Sisters in Harmony Song and Chant Leader Training. You can now join her every Monday night on Zoom for a 2-hour Sisters in Harmony Global community song circle with guest artists!
Heather recently released her second solo album Sisters of the Moon which features the ethereal voices of her 40-voice women's choir Yala Lati. Her first solo album, Prayers for the Water is a ZMR Top 10 album. You can find Heather's music on all of the streaming platforms and for download on her website.
Before Covid times, Heather was one of the featured song circle leaders at the annual Singing on the Edge retreat at the Esalen Institute, Song Village in the Santa Cruz Mountains, SongFest in Los Angeles and Sacred Sound Meets Sacred Nature retreat at Pema Osel Ling. She also offered annual Sisters in Harmony Retreats at Skyote Mountain and Om Oasis in the Santa Cruz mountains, and taught a weekly Free Your Voice class to the guests at 1440 Multiversity.
Heather can be also be found dancing or yogaing on her back deck, supping in the ocean, or walking on one of the many hiking trails of the Santa Cruz area where she grew up and has continued to deepen her roots. She loves to give back to her community, and has donated thousands of dollars to Santa Cruz non-profit organizations. Heather is devoted to being an integral part of the healing movement on the planet.
https://heatherhoustonmusic.com