Join us on Saturday, October 3rd from 5-8 pm! Special performances by Yaima, Mayra Stark, Las Curanderas, and more!
About this event
It is the 12th Annual Sister Winds Festival - 1st one virtual- on-line
~~~~~~~~~~~~~~~~~~~~~~~~~~
Sister Winds is an intentional gathering celebrating the divine feminine through women-led music, mindfulness and movement
All genders welcome-and encouraged!
~~~~~~~~~~~~~~~~~~~~~~~~~~~
MUSIC:
YAIMA
Mayra Stark
Las Curanderas
Wayra & Yasha Wagner
Soul Flow Yoga with Melissa Carey
~~~~~~~~~~~~~~~~~~~~~~~~~
SPONSORS & GRANTS from:
HERBS & ARTS
Walking into their shop is like walking through a portal into a place that's altogether different and yet wonderfully familiar. A sanctuary in the city. It's the feeling of entering into sacred space where you immediately feel safe, comfortable, and at peace. You're greeted with an incredible smell that enlivens the senses and a warm smile and hello from their team. With an array of HERBS & ARTS of magic to choose from!- you can also check out their on-line store: https://www.herbsandarts.com/
BOHEMIAN FOUNDATION
Embracing Imagination, Creativity, Innovation, and Spirit
Based in Fort Collins, Colorado, Bohemian Foundation is a private family foundation that supports local, national, and global efforts to build strong communities.
https://www.bohemianfoundation.org/
MUSICAL ARTISTS: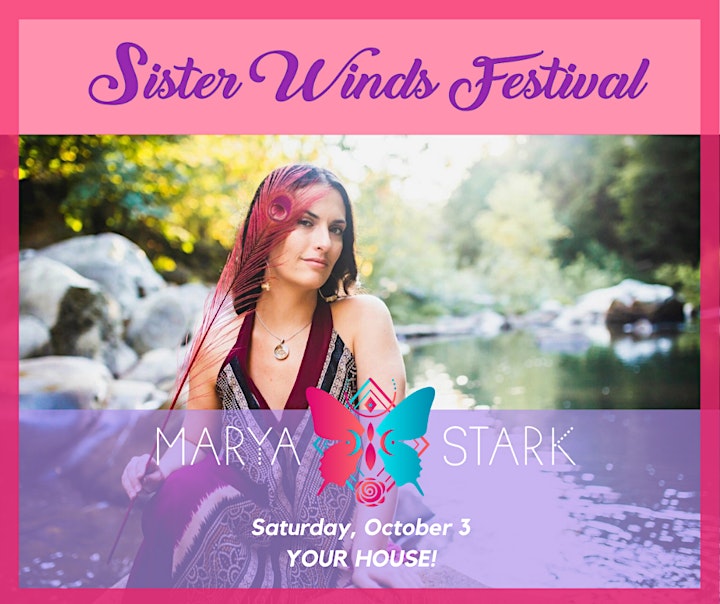 MARYA STARK
Marya Stark is a vocalist, composer, performer, and multi-instrumentalist.
She is a discoverer of archetypes, a storyteller, bard, and muse.
Her most recent release Lineage, inspired by the exploration of healing of ancestral blood lines and the deeper energetics of womb medicine, has been described as "A deep meditation on timeless ancient wisdom to salve our current times. The heartfelt passion in her message strikes a chord, and shines through. There is profound wisdom and knowledge to be found in the lyrics of this new record, while the overall vibe is uplifting, relaxing, and inspiring. She manages to strike a beautiful balance, delivering potent transmissions without coming off as too preachy, or taking too much focus away from the music." - Reality Sandwich
When she is not on stage or composing music, Marya works as a Musical Midwife, supporting the creative journey of her students. She is a mentor in the art of voice and song craft. She is currently leading 'Voice Of MY Womb' vocal enrichment workshops globally and online.
She is a chaser of waterfalls, a lover of bulletproof coffee,
and is a huge fan of the Parade Of Flamingos from BBC's Planet Earth II
And she loves you
just the way you are.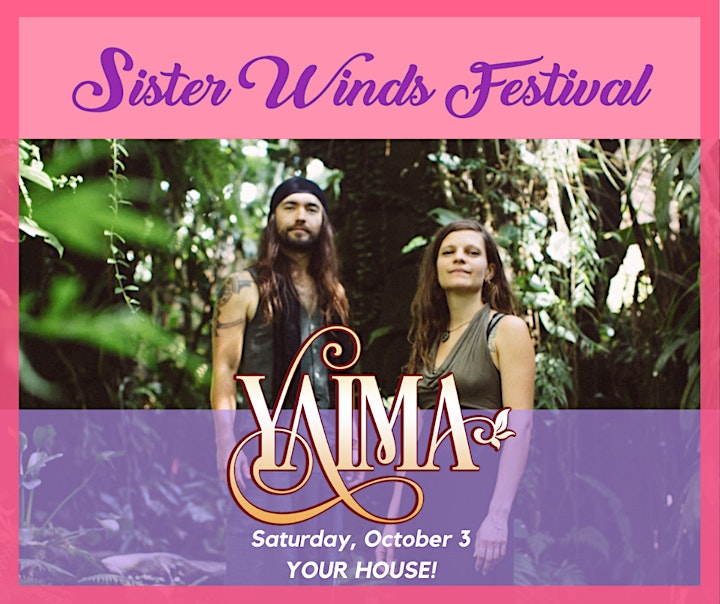 YAIMA
YAIMA is a Cascadian Elemental & Alchemical Electronic Music Duo based in Seattle WA. 2014-present. Creating a finely tuned container for their audience, members- Mas Higasa (Guitar, flutes, handpan) and Pepper Proud (vocals) weave an intricate and soothing musical journey, traversing soundscapes with a familiar yet ancient tune- a truly enchanted experience. Yaima's performances have been remarked to "lead the listeners on a Journey" and whenever possible the music is accompanied by Visual Projections, Interwoven Dance performances & Poetry. Yaima has released 3 full length albums; Pellucidity (2014), OvO (2016), and Antidote (2018)
Yaima's music has gained great acclaim throughout North America with concerts and festival appearances in Quebec, Vancouver, Washington, Oregon, California, North Carolina, Massachusetts, New York, Indiana, Minnesota, Georgia, Tennessee, Hawaii, Texas, Virginia, Idaho, West Virginia, Vermont, Colorado, and New Mexico. Internationally they have been invited to Perform in Bali, New Zealand, Australia, Austria, Costa RIca, and Hungary.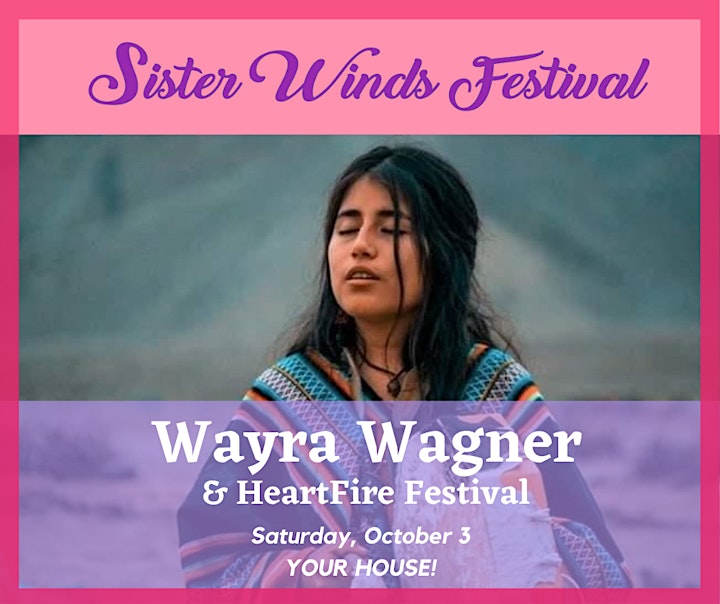 WAYRA WAGNER is a traditional Quechua-Muisca sacred song instructor, visionary artist, and vegetarian chef from South America. She is also a director of Worldchangers Organization 501(c)3 initiatives, co-facilitator at the HauxHouse Land-Based Community Center, and an emcee at HeartFire Festivals worldwide. Wayra will announce the upcoming HeartFire Festival feat. Trevor Hall on All Hallows' weekend.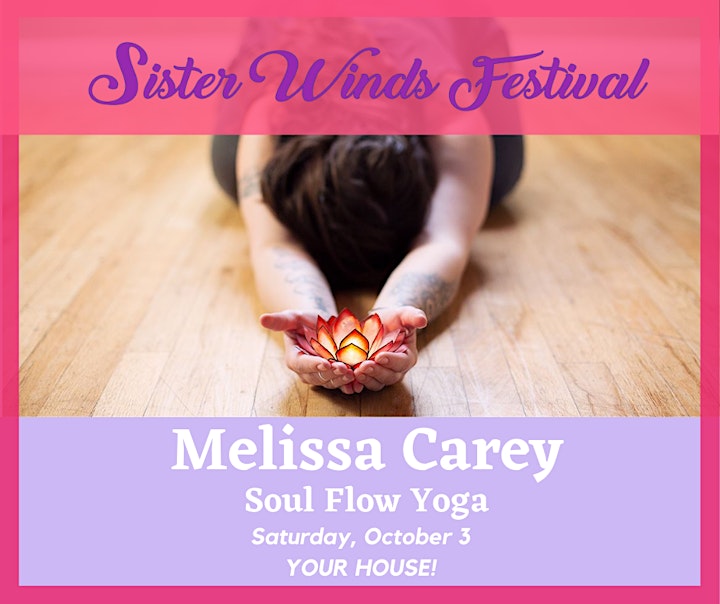 SOUL FLOW YOGA WITH MELISSA CAREY
Melissa is an artist, who expresses life as a dance, through massage from several ancient modalities and practice in yoga, mantra, music, and meditation. She seeks to create a space where people feel comfortable to deeply feel and express themselves. Her journey to her center began with yoga; she began practicing in high school finding personal growth and healing. She continued on to massage school and fell in love with Thai Massage, in part due to it's yogic roots. Traveling to follow her teacher, Melissa studied near and far for the past ten years, developing her skills and practicing as a massage therapist. Her path led to further study in Yoga and Ayurveda at Naropa University, earning her Bachelors degree in Traditional Eastern Arts. She now teaches at the Veteran's Affairs Hospital in Denver working with Service Member's with PTSD and in the Psychology Unit, as well as, at Soul Tree Yoga. She teaches the Bhakti flow, Mellow Flow and Healing Yoga. Creating a sense of community in practice can help us all to find our true gifts and grow into our fullest expression of ourselves. By offering one on one sessions and group classes, Melissa hopes to lead each person back to their depth of self, feeling wholeness, and activate the body's innate wisdom to heal.
Soul Flow aims to expand our edges, soften our resistance and balance us on all levels: physical, mental, emotional and spiritual. Soul Flow rides the wave to yogic bliss using slower transitions and longer holds in poses for a deepened exploration into all parts of our being. Other yogic practices such as mudra (hand gestures), pranayama (breath practice), kriya (purification through heat building), mantra (repetition of sacred words or sounds) and meditation may be woven throughout a seamless flowing sequence to ground you and round out the experience.
~~~~~~~~~~~~~~~~~~~~~~~~~~
LAS CURANDERAS
Las Curanderas love to share world folk songs to uplift the heart and sing their prayers. Founded by Shaela Noella (whom also founded Sister Winds), Chloe Brooke (founder of Intuit Band) and Alais Clay. Currently Alais has focused on her truth-hop music, but her original influence brought forth the name : Las Curanderas: woman healers. The Band has been playing locally in Boulder Colorado with many different guest musicians. This last year Shaela went on a quest to meet Curanderas and study with them. They will be opening-up, blessing-up- the evening on the live-stream.
~~~~~~~~~~~~~~~~~~~~~~~~~~
~~Love from the Sisters of the Winds~~