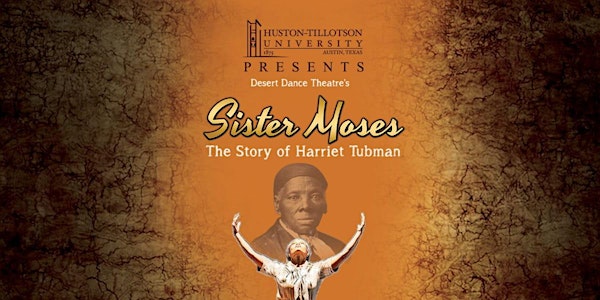 Sister Moses: The Story of Harriet Tubman (Dance/Music/Drama)
When and where
Location
Huston-Tillotson University King-Seabrook Chapel 900 Chicon Street Austin, Texas 78702
Description
Sister Moses: The Story of Harriet Tubman presented by Huston-Tillotson University is a powerful music/dance/drama featuring Desert Dance Theatre with Renee Davis as Harriet Tubman, and traditional spirituals sung by the Huston-Tillotson University Concert Choir. Additional performers include the Narrator/Voice of Harriet by Renee Morgan Brooks, African drumming and music direction by Step Raptis, a string quartet, and local actors and dancers.
The unique blend of this multidisciplinary presentation highlights the most important episodes of Harriet Tubman's life, and shares the knowledge and experience of her struggles and accomplishments that will bring a source of inspiration to our audience.
The program follows Tubman's life as a young slave on a Southern Plantation, her attempts to escape slavery, her work on the Underground Railroad, and her contributions to the Abolitionist movement. Slave songs from that period are featured for their significance as a means of passing information among the slaves. Hidden in the lyrics were vital escape details.
Sister Moses brings history to life through music, dance and drama. Sister Moses is entertaining, educational, and truly inspirational!
REMINDERS:
-NO LATE SEATING allowed as a courtesy to all attendees.
-Please allow extra time for arrival because there is little to no parking adjacent to the venue.

PARKING:
- No parking on campus.
- (Best option) is the parking lot off of Chalmers north of 7th Street, adjacent to the West Campus Security Gate.
- Additional parking may be available on street along Chalmers between 7th & 11th Streets.
- Alternate parking on street throughout the neighborhood off of Chicon between 7th & 11th Streets, adjacent to the East Campus Security Gate.
- All parking locations require a moderate uphill walk that includes stairs.
- Follow signage to guide you along the way.
- To make us aware of accessibility needs, please call 1 week in advance at 512-297-7410 or email at
info@SisterMosesDance.org
Sponsored by the City of Austin Cultural Arts Division, Huston-Tillotson University, Soulciti.com, Motorblade Postering Services, Triaz Digital Printing, MWA Public Relations, Weinheimer Wealth Management, Group Solutions RJW & Central Texas Regional Mobility Authority -183 South Project.