Location
3400 N Post Rd
3400 North Post Road
Indianapolis, IN 46226
First Lady Glenn & the Emmanuel Christian Fellowship Center Women's Department will be hosting "Sister, I Got Your Back" INDY Edition.
About this event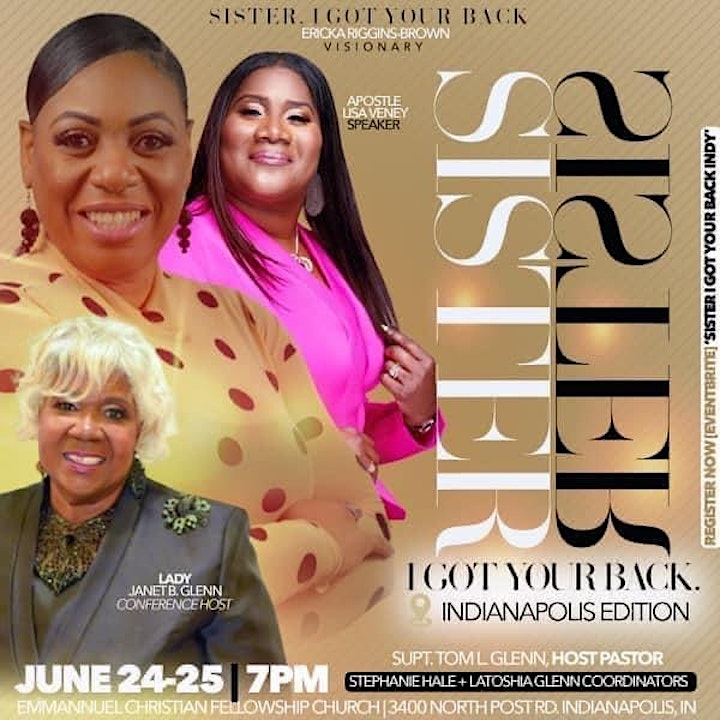 Ladies, this is a two-day conference that you do not want to miss. We want you there!!!
ALL WOMEN ARE WELCOME AND IT IS FREE!!!!
Join us for service on Friday evening at 7PM, then again Saturday morning at 9:30AM for breakfast and a breakout session. Deliverance service on Saturday will start at 12PM.
Lady Ericka Riggins- Brown is the visionary. She is a mighty woman whom God has gifted with the ability to unify women, aiding in combatting the issues that keep them separated from one another and connecting them to a sister- hood that spans not just in their local church or home state, but across this nation.
Register today!!!!
If you are interested in being a vendor, please contact LaToshia Glenn or Madame Stephanie SuZanne Hale for more details.
#TheComeBack
#SisterIGotYourBack