Sister Hazel live at The Lawn at Lake Terrace!
About this event
Show Sponsors:
Ardenland
Stokes Distributing
Hattiesburg Saenger
Coors Lite
Truly Hard Seltzer
Miller Lite
All proceeds benefit the Hattiesburg Zoo and the Sixth Street Museum District expansions.
All seats are socially distanced. Masks must be worn when you are unable to properly social distance.
Originating from Gainesville, FL, Sister Hazel is comprised of five gifted, seasoned musicians whose well-spring of natural talent has been called "one of the Top 100 Most Influential Independent Performers of the last 15 years" by Performing Songwriter Magazine. Song "All for You," topped the adult alternative charts during the summer of 1997 and the success propelled their album to platinum status. Since then, the band has become firmly established not only in rock and alternative music, but now in country with four back-to-back Billboard Top Country Album Chart entries. Living up to their fan-centered reputation, the band was a pioneer in the themed cruise industry by co-founding "The Rock Boat" and annually hosts events like the "Hazelnut Hang," and "Camp Hazelnut" that focuses on creating unique experiences and interacting with the fans. Sister Hazel has been equally attentive to connecting with their audience through social media having amassed over a million social followers. In addition to the events and touring, the band also gives back with "Lyrics For Life." Founded by singer Ken Block, the charity unites musicians and celebrities for concerts and auctions to benefit cancer research and patient-care charities.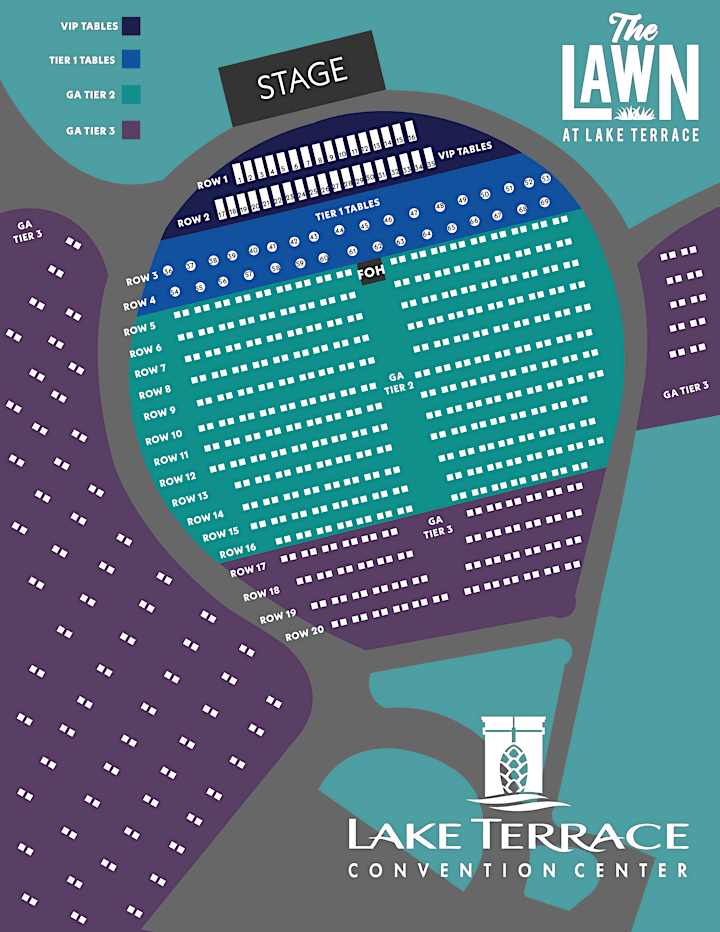 FAQ:
1. How does ticketing for this event work? You are required to purchase a GA (General Admission) set of 2 or 4 tickets, or a VIP table of 6 tickets.
2. How do reserved tables work? VIP tables are sold as best available and include 6 seats. When you purchase a VIP table, table service is included (service, not product). Tables of 4 seats are sold as best available.
3. How do GA tickets work? You are required to purchase a set of 2 seats in a specific GA tier. General admission seats in each tier are available on a first come, first served basis.
4. Can I purchase multiple sets of tickets or tables? Yes, but they will have to be purchased through multiple transactions.
5. Where are you located? The Lawn at Lake Terrace is located behind the Lake Terrace Convention Center. The address is 1 Convention Center Plaza, Hattiesburg, MS 39401.
6. Do I have to wear a mask? Yes, anytime that you are unable to properly social distance.
7. Do you have ADA seating? All seating areas are ADA compliant.
8. What happens if it starts raining during the event? The show will go on. We are a rain or shine event venue.
9. Can I refund my ticket? No, all sales are final.
10. Do you have restrooms onsite? Yes, there are restrooms for all guests.
11. Can I bring my own food and beverage? No, outside food and beverage is prohibited. There will be concessions/bars on site.
12. Are pets allowed? Service animals will be allowed on site (sorry, no emotional support animals allowed), but all other animals are not allowed.
13. What can I bring with me? Please check on The Lawn at Lake Terrace's Facebook page for the updated list of allowed and prohibited items.
14. Is the event safe? The safety of our patrons, artists, staff and crew is our number one priority. The Lawn at Lake Terrace is taking all the necessary precautions, outlined by the CDC and the State of Mississippi, to provide proper and comfortable social distancing for all.
15. How do I purchase tickets? You must purchase tickets through Eventbrite. You can find the exact event through Eventbrite's website or through The Lawn at Lake Terrace's Facebook page.
Weather Policy: *THIS IS A RAIN OR SHINE EVENT* Please plan accordingly.
NOTICE FOR ALL TICKET BUYERS - By attending this event, you and your guests voluntarily assume all risks related to exposure to COVID-19, and agree not to hold the artist, the venue, the event presenter, or any of their affiliates, directors, officers, employees, agents, contractors, or volunteers liable for any illness or injury.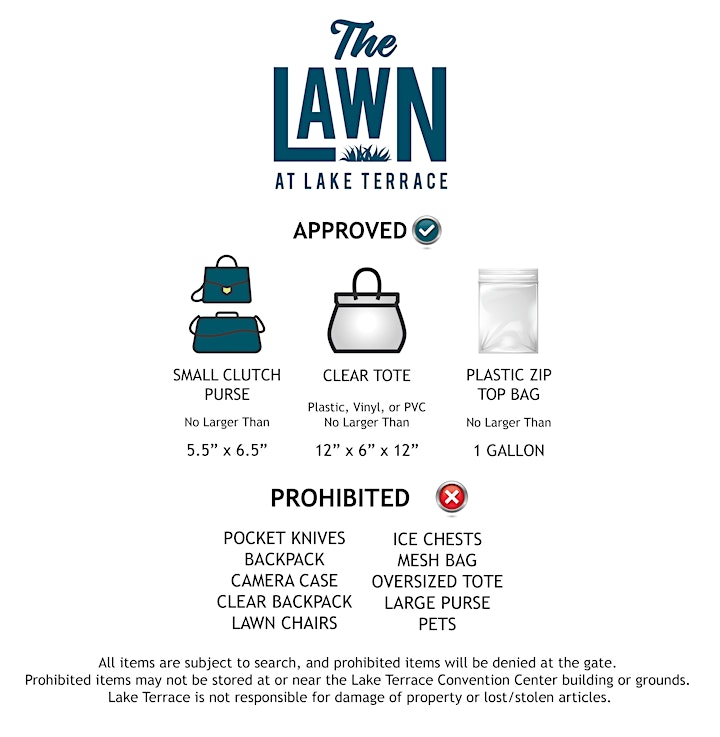 Performers
Date and time
Location
Refund policy